2018 MRC Conference
20th Annual Marine Resources Committee Conference
Click here to view the full conference agenda. and click here to view session descriptions. 
Linked below are pdf versions of presentations, where available. Additional video and audio is pending, so check back again soon for updated information. 
Short and Sweet Success Stories: MRC Ignite
Whatcom MRC - Eleanor Hines and Glen "Alex" Alexander, with bonus video of singalong
Snohomish MRC - Susan Tarpley
Skagit MRC - Pete Haase
San Juan MRC - Lovel Pratt
Jefferson MRC - Cheryl Lowe
Island MRC - Anna Toledo
Clallam MRC - Ann Soule
Understanding Tribal Treaty Rights in Western Washington - Cecilia Gobin, Tulalip Tribes, NW Indian Fisheries Commission
Southern Resident Orca Recovery
Moderator: Christina Koons, San Juan MRC
Sheida Sahandy, Puget Sound Partnership
Dr. Joseph Gaydos, SeaDoc Society
San Juan County MRC Southern Resident Killer Whale Recovery Efforts - Dr. Frances Robertson, San Juan MRC
20th Anniversary Reception - view a slideshow of legacy members and their reflections on the Northwest Straits Initiative.
Keynote Presentation: Washington State Senator Kevin Ranker (video courtesy Al Bergstein)
Video -Evening welcome by Northwest Straits Commissioner Tom Cowan, with brief remarks from Mrs. Norma Metcalf, wife of the late Congressman Jack Metcalf (video courtesy Al Bergstein)
Indicators of Straits Ecosystem Health: Actions to Impacts
Dana Oster, Northwest Straits Commission
Dr. Heida Diefenderfer, Pacific Northwest National Labs
Hugh Shipman, WA Department of Ecology
Dr. Katharine Wellman, Northern Economics
MRC Story-crafting: Building and Sharing our Personal MRC Stories
Kate Dean, Jefferson County Commissioner
Tarrell Kullaway, Northwest Straits Foundation
Sasha Horst, Northwest Straits Commission
Marine Debris: Taking Action to Clean up the Salish Sea
Moderator: Jason Morgan 
Petite Plastics in Puget Sound: 2008 to Present - Julie Masura, University of Washington
Plastic Free Salish Sea - Karin Roemers-Kleven, San Juan MRC
Northwest Straits Initiative Derelict Gear Program: Past, Present, Future - Jason Morgan, Northwest Straits Foundation
A Window into the Future: Sea Level Rise, Storms, Citizen Science and Visualization Tools
Moderator: Dr. Bill Labiosa, US Geological Survey
Puget Sound Coastal Storm Monitoring System - Dr. Eric Grossman, US Geological Survey
Using Technology to Improve Coastal Change Predictions - Dr. Shawn Harrison, US Geological Survey
New Relative Sea Level Rise Projections for Washington State - Dr. Ian Miller, Washington Sea Grant
No bull! The Devastating Consequences of Losing Nereocystis (bull kelp) Ecosystems -
Dr. Mark Carr, University of California Santa Cruz
Sponsors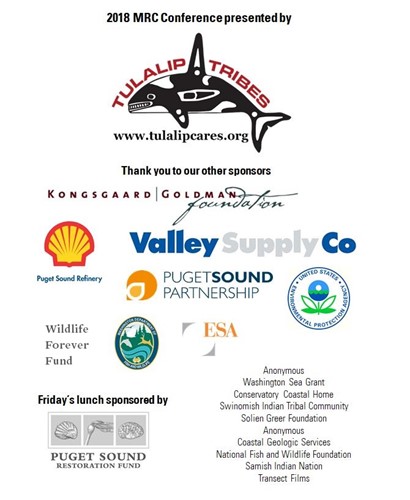 Look for more information and photos on social media tagged with  #NWSI2018.
conference sponsorship information is on the NOrthwest straits Foundation website at: