2018 MRC Conference
20th Annual Marine Resources Committee Conference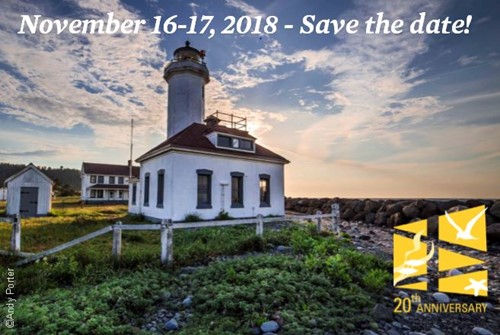 Location
This year we will be at the beautiful Fort Worden State Park and Conference Center. Click here to check out the area!
Click here for a map of the Fort Worden conference center. The event will be held in The Commons building. 
Hotel reservations can be made directly though Fort Worden's reservation system.
Session Topics
The agenda is now available, click here to view.
Descriptions of conference sessions is also available, click here to view. 
Please check back for any updates as the event date approaches. 
Keynote presentation: Washington Senator Kevin Ranker
No bull! The devastating consequences of losing Nereocystis (bull kelp) ecosystems
Understanding Tribal Treaty Rights in Western Washington
Southern Resident Orca Recovery Efforts
Indicators of Straits Ecosystem Health: Actions to Impacts
MRC Success Stories
Marine Debris: Taking Action to Clean Up the Salish Sea
A Window into the Future: Sea Level Rise, Storms, Citizen Science and Visualization Tools
Faq
When will the full agenda be ready?
A draft agenda is available now. Please check back for updates as the date approaches. 
What is the goal of the MRC Conference?
To bring the Northwest Straits Initiative "family" together to build relationships, feature MRC projects, celebrate accomplishments and bring in experts to present emerging issues.
Who attends the MRC Conference?
The conference is invitation only. All members of the seven MRCs; members of the NWS Commission and NWS Foundation board; Commission, Foundation and MRC staff; individuals from partner organizations that contribute to or can speak to the success of the NWS Initiative; local, regional, state and federal elected officials and their staff; agency leaders and staff; event sponsors and funders; and coastal MRCs staff and members.
If you wish to attend and did not receive an invite you can email Nicole at jordan@nwstraits.org to be put on the waitlist. We also need volunteers!
Can I bring my spouse/partner?
You can pay a small fee to bring them during any of our meals. To attend the entire conference (including sessions, keynote and activities) they will need to be put on our waiting list.
How is the location chosen?
We try to rotate between NWS Initiative counties but are restricted to a certain facility size and budget. Ideas are always welcome - just email us at info@nwstraits.org.
Feel free to email Nicole at Jordan@nwstraits.org with any logistical questions.
Don't forget to use #NWSI2018 on all your social media posts at the conference!

Those interested in sponsorship should visit the Northwest Straits Foundation here: https://nwstraitsfoundation.org/2018-mrc-conference-sponsorship/