Back to Our Work
Marine Debris
Overview
Litter on the shoreline is usually from either land or sea, although sometimes it comes from the air, such as a latex party balloon. You'll see everything from construction project wood scraps to fireworks residue, old diapers and worse, at the beach.
What we're doing
This past year the Commission wrapped up a 16-month project to remove marine debris from local beaches, working with Washington Conservation Corps Veterans crews. These cleanup efforts removed 91,863 pounds (41.13 tons) of marine debris from 30 project sites in six counties. Much of the debris consisted of small plastic and foam fragments, drink bottles, large Styrofoam blocks, car tires, preservative-treated wood, and derelict fishing/aquaculture gear.
The Commission also collaborated with the Anacortes Arts Festival to turn marine debris into works of art. Portions of debris collected during cleanup projects
were donated to the Anacortes Arts Festival staff for a community-based art project called "Tidecraft" in which salvaged marine debris was used to construct artwork.
Click here to view a story map illustrating the accomplishments of the Marine Debris Program.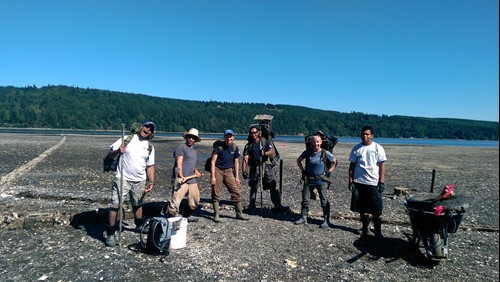 Some things you can do
Take everything with you when you leave the beach
Keep trash cans and dumpsters tightly covered
Never release a helium balloon outdoors
Always pick up after your pets, even at the beach