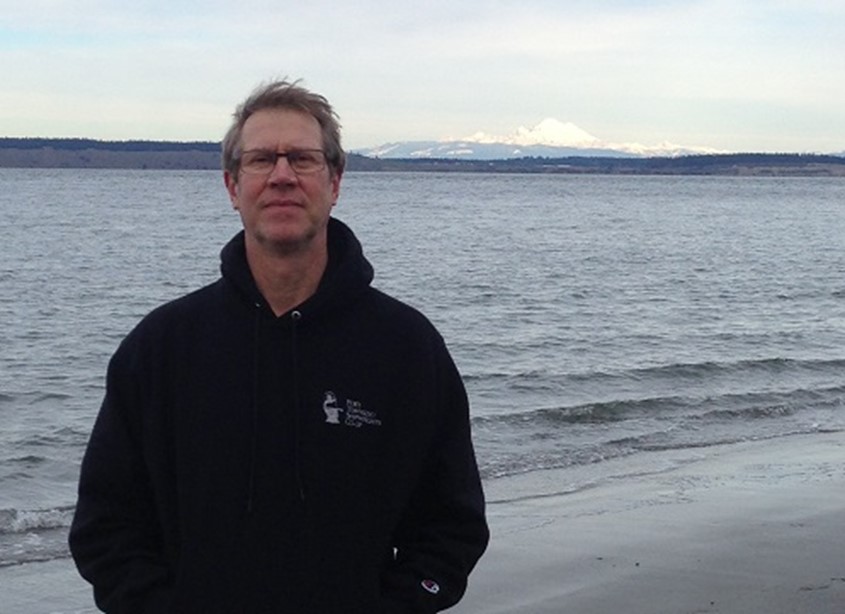 Welcome our new director!
Please join us in welcoming Rich Childers as the Northwest Straits Commission's incoming director! Selected from a pool of highly-qualified candidates, Rich comes to us from the Washington Department of Fish and Wildlife, where he has served as the shellfish policy lead since 2005.
 "It is such a privilege to join a team with so much talent and enthusiasm towards protecting our marine resources," says Rich. "It truly is an honor to serve as your new director."
 Rich's interest in marine issues goes back to the start of his career as a commercial diver in Santa Barbara. He left the commercial diving world to pursue a career in fisheries, earning a bachelor's degree in marine fisheries at Humboldt State University and a master's degree in parasitology from Oregon State. Rich spent four years on the coast of Ecuador working for the Inter-American Tropical Tuna Commission managing tuna fisheries and effecting changes in fishing methods to reduce dolphin mortalities in the tuna fishery. He's been managing shellfish fisheries in Puget Sound since 1995 and is enthusiastic about working more closely with the local Marine Resources Committees.
The Northwest Straits Commission is a regional coordinating body comprised of people who care about the marine areas where they live, and who work together to protect and restore marine resources.
The Northwest Straits Commission carries out regional conservation projects and supports the work of seven Marine Resources Committees through funding, technical support, training and regional coordination.
Find us on Facebook.     Follow us on Twitter.
More About Us and the Northwest Straits Region »
March NWSC Meeting
March 31
*Conference call*
Many thanks to Ginny!

Northwest Straits Commission

Rich's arrival means we also extend a grateful farewell to our outgoing director, Ginny Broadhurst. After thirteen years with the Northwest Straits Commission, including nine as director, she has been a steady hand, a trusted colleague, and an incredible ambassador for us throughout the region and beyond.

 "The Commission has been extremely fortunate to have had Ginny as its leader," said Nan McKay, Northwest Straits Commission Chair "Ginny has been adept at policy and strategy, working with people, communicating our story and mission, managing multiple processes, and acting as our ambassador to partners. Everyone involved with the Commission wishes her all the best in this next chapter of her life."

Citizen scientists featured in kelp survey video

Northwest Straits Initiative

There are 23 species of kelp in Puget Sound and volunteers in all seven counties of the Northwest Straits region are conducting surveys to document the location of bull kelp forests. These citizen scientists are supported by the Northwest Straits Initiative - watch the story of their work - and see some incredible scenery - in this short video produced for the Northwest Straits Foundation by Transect Films.

Tip of the month

Northwest Straits Commission

When recycling plastic bottles, remove caps before placing them in the bin. Why? These grades of plastic are not recyclable in Washington, and mixing lids with bottles will diminish the value of bottle-grade plastic.
Member Spotlight: Arnold Schouten
Clallam MRC
Arnold Schouten and his wife Debbie created the Dry Creek Waterfowl Sanctuary in Port Angeles, Washington. The Schoutens have spent 34 years transforming 50 acres of Olympic wilderness into their home and that of threatened and endangered northern sea ducks; establishing international recognition for their successful captive breeding program.
Continue Reading »
Upcoming Events
Tuesday
February 21
7:00 PM

Jonathan White will be at Village Books in Bellingham signing copies of his new book Tides: The Science & Spirit of the Ocean.  Co-sponsored by the Northwest Straits Foundation, this FREE event is a must see!             

Village Books, 1200 11th St, Bellingham, WA 98225

Thursday
February 23


Join Jonathan White at the Maritime Center in Port Townsend as he signs copies of his new book Tides: The Science & Spirit of the Ocean.  Co-sponsored by the Northwest Straits Foundation, this FREE event is a must see!           

Maritime Center, Port Townsend, WA

Northwest Straits Initiative 2017 Annual Retreat

Thursday-Friday
February 23-February 24


This event helps build relationships throughout the initiative. More information to come!  

Padilla Bay Research Reserve, Skagit County