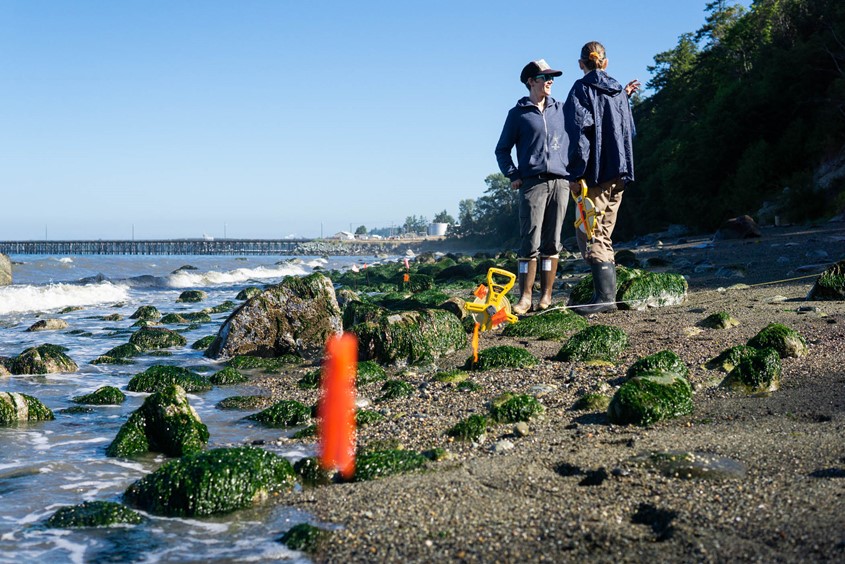 Citizen Science Opportunities: North Sound Stewards and Salish Sea Stewards
There are miles and miles of beautiful shoreline in Whatcom and Skagit counties, and both have amazing volunteer citizen science programs that help protect these ecologically, economically, and culturally-important places.

Volunteers receive free training from regional experts, and are paired up with local opportunities to put that training to use benefiting our coastlines and marine waters. Applications are now open for the 2019 season - no experience needed! If you are interested in protecting the Salish Sea you are qualified.

Whatcom: more information and an application can be found here, or contact Austin Rose at arose@co.whatcom.wa.us.

Skagit: more information and an application can be found here, or contact Joan Drinkwin at salishseastewards@gmail.com. The application deadline is March 1 for Salish Sea Stewards, and space is limited.
The Northwest Straits Commission is a regional coordinating body comprised of people who care about the marine areas where they live, and who work together to protect and restore marine resources.
The Northwest Straits Commission carries out regional conservation projects and supports the work of seven Marine Resources Committees through funding, technical support, training and regional coordination.
Find us on Facebook.     Follow us on Twitter.
More About Us and the Northwest Straits Region »
May Commission Meeting
May 31
WebEx
Be Whale Wise at the Seattle Boat Show

San Juan

If you are headed to the Seattle Boat Show stop by the San Juan MRC's Be Whale Wise booth to learn what you can do to help protect the endangered Southern Resident Killer Whales. Pledge to Be Whale Wise and enter to win Seahawks season tickets! Look for them at booth #58 in the West Hall. The Boat Show goes through February 2.

If you can't make the Boat Show, you can still learn how to help the Southern Resident Killer Whales on the San Juan MRC website.

More derelict vessels removed in Snohomish

Snohomish

Thanks to the Snohomish MRC and the Department of Natural Resources for removing two more derelict vessels from the Snohomish River Estuary this month, bringing the total number removed under this project to seven. Removal of these abandoned and derelict boats improves habitat for salmon, prevents water pollution, and improves public safety and navigation.

Grant funds from the Local Integrating Organization and Department of Natural Resources were matched by Snohomish County Surface Water Management Utility fees to fund this project. Learn more at www.snocomrc.org.

New beaches added to MyCoast

Island

Visiting Camano Island? The MyCoast smartphone app has two new beaches on Camano, where you can contribute to a time-lapse photo series. Download the app for iPhone or Android before your next visit to Camano Island State Park and Utsalady Point. Learn more at https://mycoast.org/wa.
Member Spotlight: Sarah Brown
Snohomish MRC
Sarah Brown is a biologist with a lifelong addiction to all things marine. She began her career at the molecular level, performing gene-related research on melanoma and pyogenic granuloma. She transitioned to teaching, connecting students with the wonders of the natural world and sharing her passion for science.
Continue Reading »
Upcoming Events
Saturday
March 02
8:00 AM-5:00 PM

Clallam MRC is hosting an 8-hr HAZWOPER training provided by WDFW, US Coast Guard, Department of Ecology and Focus Wildlife.

Port Angeles City Council, 321 E 5th St, Port Angeles

April Commission Meeting

Friday
April 26
10:00 AM-3:00 PM

Northwest Maritime Center, Port Townsend

Saturday
April 27
8:00 AM-5:00 PM

A one-day interactive training that focuses on the effects of oil on wildlife; why rehabilitation of oiled wildlife is important; aquatic bird behavior and anatomy; wildlife handling; and how to provide initial care for oiled birds.

387 E. Washington St. Sequim, WA