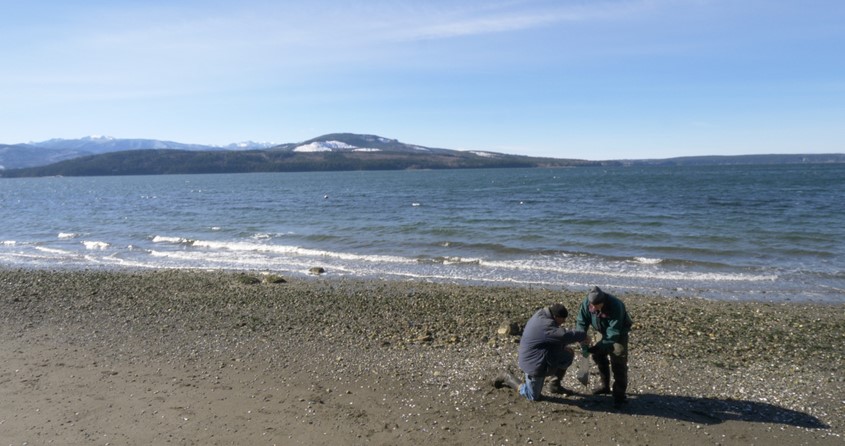 Wintery beach surveys yield big results
Since winter 2016, six MRCs have participated in a Forage Fish Index Site monitoring program, where volunteers conduct monthly surveys at index sites to document seasonal and long-term trends in forage fish spawning in the Northwest Straits region. This work contributes to the WA Dept. of Fish and Wildlife forage fish spawning database, and provides baseline data for model development and a better understanding of forage fish spawning patterns in Puget Sound.

Monthly sampling through inclement weather conditions and long stretches of finding no eggs takes serious dedication. For example, Jefferson MRC volunteers have taken samples at Adelma Beach in Discovery Bay since November 2016. This past November and December the crew documented surf smelt and sand lance spawning events on the same beach, so a seasonal pattern of late fall/early winter spawning in Discovery bay is finally becoming apparent in MRC data collection!

"Forage fish monitoring is a great example of how the citizen science done by local MRC's can have value that exceeds the dollar equivalent of the volunteer time. Initial monitoring at Adelma Beach was a struggle. We did surveys for nearly a year without finding any eggs. The first time we found eggs was such an exciting feeling. Our work paid off and proved our volunteer hours have immense value!" - Jeff Taylor, Jefferson MRC

Learn more about the work of MRCs and forage fish on our website.
The Northwest Straits Commission is a regional coordinating body comprised of people who care about the marine areas where they live, and who work together to protect and restore marine resources.
The Northwest Straits Commission carries out regional conservation projects and supports the work of seven Marine Resources Committees through funding, technical support, training and regional coordination.
Find us on Facebook.     Follow us on Twitter.
More About Us and the Northwest Straits Region »
May Commission Meeting
May 31
WebEx
Northwest Straits at Sound Waters University

Northwest Straits Initiative

The Northwest Straits (NWS) Initiative was well represented at the recent Sound Waters University on Whidbey Island. This "one-day university" brings together concerned residents, knowledgeable presenters, citizen scientists, volunteers, and a slew of important conservation-focused organizations to discuss the issues of restoration, conservation and the health of the Puget Sound region.

The NWS Commission and NWS Foundation co-hosted a booth focused on our regional kelp project, a hot topic at this year's Sound Waters University. Island MRC and Snohomish MRC also hosted booths with several MRC members and staff.

The event itself boasted over 600 eager attendees, and the Commissioner of Public Lands, Hilary Franz, gave an upbeat keynote presentation titled "Shared Values, Shared Success: Uniting to Protect Our Waters." Franz delved into how necessary it is to have hope and optimism in this time of many environmental challenges. The event includes 58 different classes this year - 40 of them new this year -  ranging from Dungeness Crab History in the Puget Sound to Toxic Phytoplankton.

A special thank you to all the Northwest Straits representatives who taught classes, hosted booths or simply attended to share the work of the Northwest Straits Initiative at this great event!

Welcome, Chris Castner!

Northwest Straits Commission

The Northwest Straits Commission extends a warm welcome to Chris Castner as our newest gubernatorial appointee. Chris was part of a Coast Guard family and grew up in Connecticut, SE Alaska, Portland and Seattle. He was introduced to the vision of marine stewardship as a volunteer at People For Puget Sound in the late 80's and early 90's, and earned his BA in Economics/Environmental Studies from Western Washington University's Huxley School of the Environment in 2000. After that he was hired by the US Environmental Protection Agency, working both in Washington DC and EPA's Seattle office.

In 2009 Chris joined the EPA Puget Sound geographic program where he served as Team Lead for 3 years, and then as a senior level Puget Sound program analyst for another 5 years. His EPA experience included federal budgeting, water infrastructure finance, strategic planning and grant program development and management. Chris retired from EPA in 2017. In addition to Salish Sea boating, fishing, beach walking, and serving on the NWSC Board, Chris enjoys playing the piano. Welcome, Chris!

A message from the Northwest Straits Foundation Welcome, Don Hunger

Northwest Straits Foundation

The Northwest Straits Foundation would like to welcome Interim Executive Director, Don Hunger, to the team. Don has been a "friend of the family" to the Northwest Straits Initiative for many years. He's worked on national, landscape-scale conservation and restoration initiatives, while being part of the ongoing dialogue among friends managing the Northwest Straits Initiative, Commission and Foundation. Don's lived in the Puget Sound region for 30 years and enjoys paddling, skiing and hiking throughout the year. Welcome, Don!

Stay in touch with the Northwest Straits Foundation for up-to-date news on derelict fishing gear removal and nearshore restoration projects in your community, the MRC Opportunity Fund and more! Keep informed on how the Foundation is growing by liking us on Facebook, following us on Twitter and Instagram, and signing onto our mailing list. 
Member Spotlight: Jeff Ward
Clallam MRC
Jeff Ward is a marine ecologist who retired in March 2015 as Senior Program Manager at the Pacific Northwest National Laboratory in Sequim. He has over 35 years' experience designing, implementing, and managing multidisciplinary environmental projects that assess ecological and human health risk and explain the tradeoffs associated with various management actions.
Continue Reading »
Upcoming Events
April Commission Meeting

Friday
April 26
10:00 AM-3:00 PM

Northwest Maritime Center, Port Townsend

Saturday
April 27
8:00 AM-5:00 PM

A one-day interactive training that focuses on the effects of oil on wildlife; why rehabilitation of oiled wildlife is important; aquatic bird behavior and anatomy; wildlife handling; and how to provide initial care for oiled birds.

387 E. Washington St. Sequim, WA

May Commission Meeting

Friday
May 31
10:00 AM-12:00 PM

WebEx