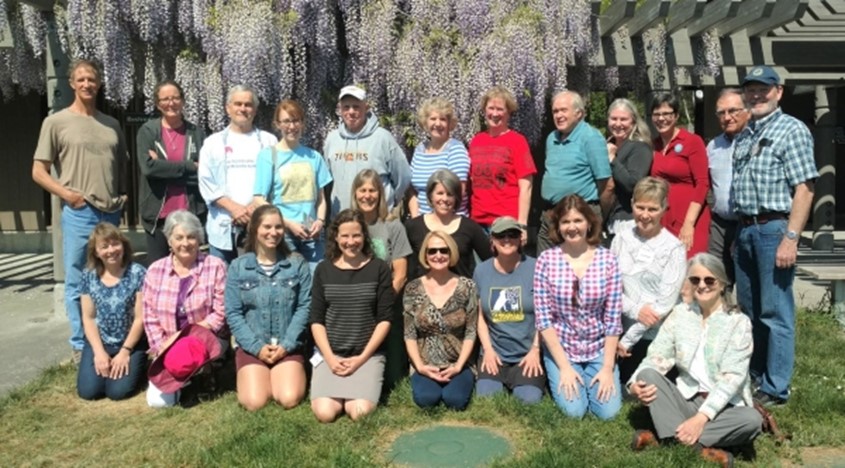 Congratulations Salish Sea Stewards Class of 2018!
Skagit MRC and the Northwest Straits family proudly welcome the Salish Sea Stewards Class of 2018. Twenty-five eager community members recently completed the ten-week course, which included hands-on training in forage fish spawning monitoring, intertidal monitoring, and crabber outreach. Many thanks to the regional experts who gave their time to the class, presenting on a variety of important topics, such as ocean acidification, the importance of citizen science, and tribal treaty rights. The training included field time at Bowman Bay, the shoreline of Fidalgo Bay and the mudflats of Padilla Bay.
The new Salish Sea Stewards have committed to give back to the Salish Sea 50 hours of their time over the next year, and class participants have already started volunteering on projects that interest them. When these Salish Stewards complete their service in twelve months, the Salish Sea will have benefitted from a whopping 1,250 hours of dedicated volunteer energy, though many contribute much more. To date, Salish Sea Steward volunteers have contributed over 20,000 hours of service!
Learn more about the program and other work of the Skagit MRC at www.skagitmrc.org.
The Northwest Straits Commission is a regional coordinating body comprised of people who care about the marine areas where they live, and who work together to protect and restore marine resources.
The Northwest Straits Commission carries out regional conservation projects and supports the work of seven Marine Resources Committees through funding, technical support, training and regional coordination.
Find us on Facebook.     Follow us on Twitter.
More About Us and the Northwest Straits Region »
We're hiring!

Northwest Straits Commission

The Northwest Straits Commission is seeking a Marine Program Manager to provide resources and technical support to the seven county-based Marine Resource Committees and carry out marine conservation projects throughout the Northwest Straits region. Learn more about the position and apply online at https://goo.gl/J4h63P. Application deadline is July 4.

Kelp surveys: it all adds up

In 2014 Northwest Straits launched a regional survey of bull kelp via kayak. Since then, volunteer citizen scientists have collected more than 200 tracks at more than 40 sites in seven counties. We now have multi-year surveys at 21 sites! Earlier this year, we presented the results of this MRC kelp canopy monitoring project in a session at the Salish Sea Ecosystem Conference in Seattle. It shows that the data is useful and that consistent, long-term volunteer kelp surveys contribute to our understanding of kelp patterns over time, and contribute to a regional database for Kelp Recovery Plan for Rockfish. Read about the project on our website, view the data online at SoundIQ or click here to view the presentation given at the Salish Sea Conference.

Karin Roemers-Kleven, San Juan MRC

San Juan

Karin is one of the newest members to the San Juan MRC, relocating from Tacoma to Friday Harbor in 2015 to be close to the resident orcas. As the whales' numbers began to decline, Karin wanted to help, and devoted nearly 200 hours on training focused on the environment the whales depend on. She sought avenues to pass that knowledge on to others and engage them through storytelling to change their impact on the ecosystem.

Karin regularly volunteers for Friends of Limekiln Society, the Marine Mammal Stranding Network, Soundwatch and the Center for Whale Research. She joined San Juan MRC to help improve the health of the Salish Sea and look for solutions that bring local and regional changes. Her first project is to lead their new "Plastic Free Salish Sea" project.

Karin is a registered nurse and wound care specialist who consults with hospitals nationwide. In that role she has learned to collaborate with different stakeholders and develop programs that have the potential to scale up from local to regional. She hopes the work of the MRC can serve as a model for others to expand the impact throughout the Salish Sea.
Member Spotlight: Franchesca Perez
Snohomish MRC
Franchesca Perez joined Snohomish MRC in 2011. She grew up near the beach and learned the hard way she needs quick access to the marine environment to be happy. Franchesca works as marine biologist for the Stillaguamish Tribe developing their Marine Stewardship and Shellfish Program.
Continue Reading »
Upcoming Events
July Northwest Straits Commission Meeting

Friday
July 27
10:00 AM-12:00 PM

Open to the public

WebEx - Conference call

Friday
July 27


Save the date!

Jefferson County

Friday
July 27
10:00 AM-1:00 PM

Island MRC is partnering with the Northwest Straits Foundation and Skagit Fisheries Enhancement Group to provide weeding and maintenance to the newly restored Cornet Bay shoreline restoration site.

Gloves and tools will be provided, but you are also encouraged to bring your own if you like.

For more detailed information, or to sign up ahead of time, please contact Kelsey at: ktaylor@skagitfisheries.org.

Cornet Bay