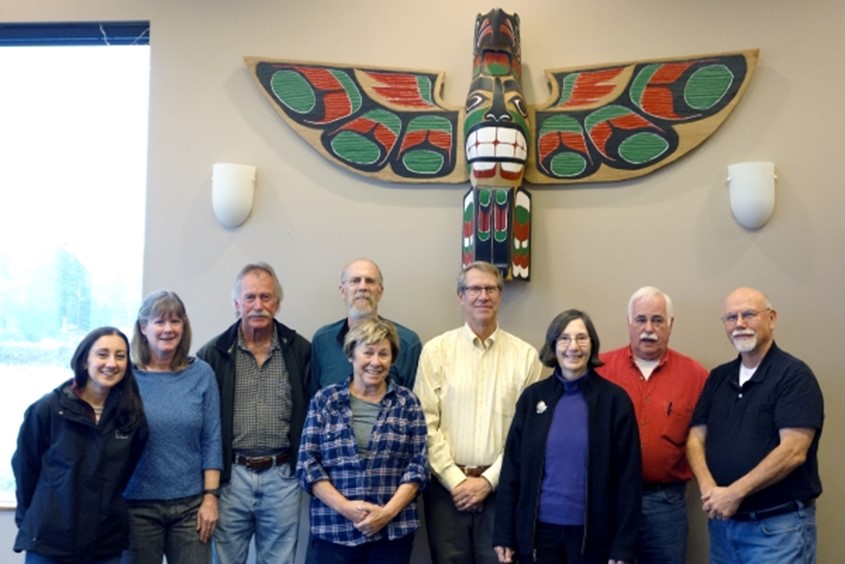 Makah Tribe hosts Clallam MRC
Members of the Clallam MRC extend their thanks to the Makah Tribe for hosting the October MRC meeting in Neah Bay. Greig Arnold, Tribal Vice-Chair and member of the MRC, welcomed the participants with a tribal song after which a wonderful dinner was made and served by Rosina DePoe.

Adrianna Akmajian of the Makah Fisheries Department presented on some of the current research projects conducted by the Makah Tribe, and Jeff Ward of the MRC provided a brief summary of current MRC projects as an introduction to a discussion of how the Clallam MRC and the Makah Tribe can increase their collaboration.

For more information about the work of the Clallam MRC, click here.
The Northwest Straits Commission is a regional coordinating body comprised of people who care about the marine areas where they live, and who work together to protect and restore marine resources.
The Northwest Straits Commission carries out regional conservation projects and supports the work of seven Marine Resources Committees through funding, technical support, training and regional coordination.
Find us on Facebook.     Follow us on Twitter.
More About Us and the Northwest Straits Region »
December 2017 NWSC meeting
December 08
WebEx
Ready for rain in Port Townsend

Jefferson

Two new rain gardens now filter stormwater in Jefferson County, just in time for the start of the fall rainy season! Last month, Jefferson MRC members, local student volunteers, and WSU Extension staff installed rain gardens at Port Hadlock and Chetzemoka Park in Port Townsend. In addition to volunteer support, the City of Port Townsend Parks Department provided site work for the Chetzemoka Park garden.

Installation of these two new MRC co-sponsored rain gardens will also be featured in a WSU Extension film about how to build a rain garden. WSU film crews documented every step of both site installations.

Many thanks to all project partners, including City of Port Townsend and First Security Bank, WSU Extension and the EPA/Puget Sound Partnership for their support. Learn more about Jefferson MRC's rain gardens on their website.

Catch More Crab - summer season's end

Northwest Straits Initiative

With silly crab hats, enthusiasm and a list of best practices for recreational crabbers, volunteers in all seven Northwest Straits counties hit the boat launches and docks this past summer to help reduce the number of lost crab pots in Puget Sound. With an estimated 12,000 pots lost each year, MRCs have focused on outreach to help reduce that number.

As a follow up to on-the-dock outreach, a short online survey showed that more than two-thirds of those responding changed their behavior to avoid losing their pots – adding weight to their pot and using longer line were the two most frequently mentioned. New crabbers especially appreciated the tips, which make it less likely for their pot to be lost. Learn more about our Catch More Crab campaign and look for us again next summer season!

Dungeness River Festival

Clallam

Clallam MRC member, Bob Vreeland, at the MRC's booth at the Dungeness River Festival, which reached an estimated 1,500 festival participants, including local elementary school students with information about the importance of clean water for shellfish.
Member Spotlight: Phil Green
San Juan MRC
Phil Green joined the San Juan MRC in August, 2013 though he has been attending MRC meetings regularly for many years. Born and raised in Massachusetts, Phil made his way to Washington State in 1973 for a job with the National Park Service.
Continue Reading »
Upcoming Events
December 2017 NWSC meeting

Friday
December 08
10am-12pm

WebEx

January Northwest Straits Commission Meeting

Friday
January 26
10:00 AM-3:00 PM

Open to the public.

Snohomish County

Northwest Straits - Annual Retreat

Thursday-Friday
March 01-March 02


Padilla Bay Reserve, 10441 Bayview Edison Rd. Mount Vernon, WA 98273