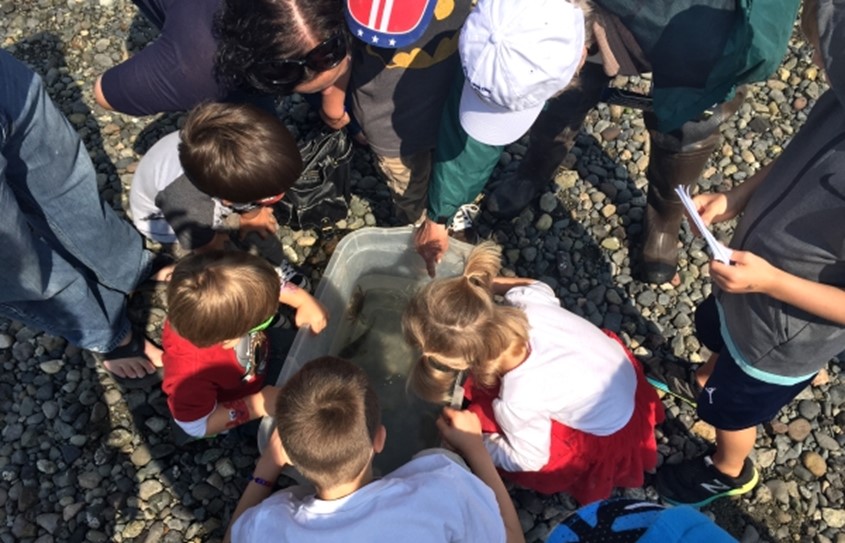 2017 Fidalgo Bay Day
Skagit MRC hosted their 14th annual Fidalgo Bay Day this month, bringing together community members and visitors with volunteers and marine-focused organizations to celebrate Fidalgo Bay and the marine environment. Rosie Cayou-James of the Samish Indian Nation provided a heartfelt welcome to over 200 participants who spent the day exploring activity booths, sampling local shellfish and watching educational demonstrations from partner organizations, all with an interest in protecting our Salish Sea.

Highlights included the beach seining presentation, a touch tank courtesy of Shannon Point Marine Center, beach walks, interactive displays and complimentary seafood samples.

To learn more about the work of the Skagit MRC and other upcoming events, click here.
The Northwest Straits Commission is a regional coordinating body comprised of people who care about the marine areas where they live, and who work together to protect and restore marine resources.
The Northwest Straits Commission carries out regional conservation projects and supports the work of seven Marine Resources Committees through funding, technical support, training and regional coordination.
Find us on Facebook.     Follow us on Twitter.
More About Us and the Northwest Straits Region »
September NWSC Meeting
September 29
*Conference call*
Olympia oysters thriving in Discovery Bay

Jefferson

Jefferson MRC volunteers were recently on the beach at Discovery Bay monitoring Olympia oysters at their restoration site and are happy to report that it's looking great! Their small but efficient crew counted and measured over 600 oysters using quadrats, setting a series of squares set out on the beach to identify and record a sampling of what the oyster population is like. They found new little spat from this season along with larger ones from 2014 that were up to 68mm long, which is about as large as these small oysters get.

Learn more about Jefferson MRC's work to restore native Olympia oysters on their website.

In memoriam, Kit Rawson

Northwest Straits Initiative

The Northwest Straits family lost a treasured member of our community this month with the passing of Kit Rawson, a current member of the Skagit MRC. Kit was previously a long-time member of the San Juan MRC, where he led the committee as chair for five years. During his tenure the San Juan County Marine Stewardship Area Plan was developed, and he was a key contributor to that document, among many other accomplishments.

Kit worked tirelessly on behalf of the Salish Sea for decades, including many years with Tulalip Tribes in their Natural Resources Department. Though he retired in 2013, he never stopped working on issues that mattered most to him, such as salmon restoration, nearshore processes, Olympia oysters, and forage fish. Because of his work, the Salish Sea is a better place and we know that he influenced many others in circles beyond the Northwest Straits, including the Skagit Land Trust, SeaDoc Society, and the League of American Bicyclists. Our hearts are heavy with his passing, but we are grateful to have had the opportunity to work with him, and share his passion for protecting the Salish Sea.

Seminars explore alternative energies in the Salish Sea and Pacific Coast

Northwest Straits Initiative

Breaking waves and the relentless motion of the tides are powerful forces at work in the ocean—forces that could be used to produce electricity. The ocean is a yet-untapped resource for electricity generation. Attendees at a series of three marine renewable energy seminars held this month in coordination with Washington Sea Grant learned about the ocean's potential contribution to future energy needs, the current status of marine energy research, and what forces will shape its development, particularly off the Pacific Northwest coast.

Commission staff coordinated to host one event in Port Townsend and another at Padilla Bay Reserve in Mount Vernon. A third was hosted in partnership with the North Pacific Coast MRC in Forks. If you missed them, check out the University of Washington Northwest National Marine Renewable Energy Center website, or Washington Sea Grant's website.
Member Spotlight: Al Bergstein
Jefferson MRC
Al Bergstein's interest in environmental issues goes back to the 1970s when he volunteered as a publicity director for Seattle Audubon. His career path spanned computer sales - back when personal computing was a fledgling industry - into work on the technical side that included twelve years with Microsoft. But this self-described "geek" didn't limit himself to the technical world: he's one of those rare people who understands what's under the hood of computers while also having an artistic and social side.
Continue Reading »
Upcoming Events
Wednesday-Thursday
September 20-September 21


Join Whatcom MRC in association with the Whatcom Watersheds Information Network for this two day conference that will engage agriculture, business, fisheries, forestry, tribal, environmental, and other interests in natural resource topics that are important to the economic and environmental wellbeing of our community.

 

Ferndale Event Center, Whatcom County, WA

Saturday
September 23
9:30 AM-12:30 PM

Learn how you can protect your investment in your property and protect the coastline.

 

This workshop is FREE.

Fidalgo Bay Resort Convention Center in Anacortes, 4701 Fidalgo Bay Rd, Anacortes

September NWSC Meeting

Friday
September 29
10:00 AM-12:00 PM

This meeting will take place over WebEx.

*Conference call*