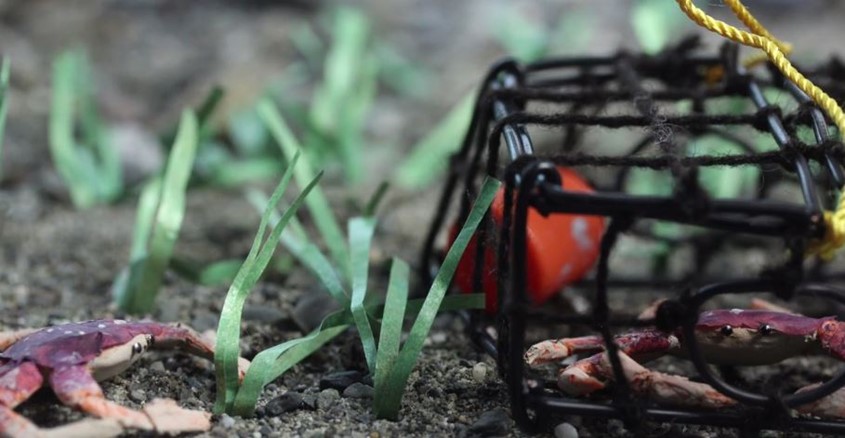 Watch Now: Engaging Conservation Leaders
Click here to watch now on Facebook or Vimeo. Please share widely!
Puget Sound is a living jewel that encompasses thousands of shoreline miles in Washington state and is home to more than 4 million people. However, this fjord-like estuary is experiencing continued ecological decline and loss of critical marine habitat. 
Animator Andrea Love created this beautiful short film to highlight the work of the Initiative and how it contributes to the goal of protecting and restoring local marine waters. The short film illustrates how we partners with scientists, locally-based advisory groups, and volunteers who all share the common goal of protecting local marine waters through programs such as the removal of derelict fishing gear, and restoration of many shoreline sites.
The Northwest Straits Commission is a regional coordinating body comprised of people who care about the marine areas where they live, and who work together to protect and restore marine resources.
The Northwest Straits Commission carries out regional conservation projects and supports the work of seven Marine Resources Committees through funding, technical support, training and regional coordination.
Find us on Facebook.     Follow us on Twitter.
More About Us and the Northwest Straits Region »
August NWSC Meeting
August 25
Pacific Rim Institute, 180 Parker Road, Coupeville, WA
Tri-county collaboration energizes local volunteers

Clallam, Jefferson, Island

One of the cornerstones of the Northwest Straits Initiative is our ability to collaborate and cross-pollinate ideas from one Marine Resources Committee (MRC) to another. Recently members of the Jefferson, Clallam and Island MRCs held a joint meeting and potluck to ask questions and share ideas on strategies to maintain and improve upon the eelgrass project and potential collaborative projects.

Fifty volunteers and staff from each of the three MRCs, along with staff from the Northwest Straits Commission and the Northwest Straits Foundation discussed everything from educating the public on shellfish harvest and engaging youth to mapping eelgrass with multi-beam sonar. Educating the public on our unique organizational structure and exposing them to on-the-ground projects emerged as important aspects of outreach. You can expect to see multi-beam sonar expanding in this three-county area in the near future--a great example of how effective we can be when we work together.

Learn more about the local Marine Resources Committees on our website.

#CatchMoreCrab

Northwest Straits Initiative

Crabbing season is well under way in Puget Sound and so is our #CatchMoreCrab campaign! The Northwest Straits Initiative is working collaboratively to help recreational crabbers reduce crab pot loss–estimated in the thousands yearly. Watch for volunteers sharing information at boat launches and marinas this season, or grab one of our cards at many local retailers where crabbing gear is sold.

Check your pots for these simple ways to reduce loss:

Make buoys more visible by adding a second buoy or a stick and flag.
Use a weighted line to sink below the surface and avoid being cut by passing boats.
Weight your crab pots so they don't move with currents or tidal changes.
Use longer line. Use 1/3 more line than the water depth to allow for changes in tides and currents.
Secure the lid and escape panels with biodegradable cotton cord so that crabs can escape if your pot is lost.
When you head out on the water, check the local tides and currents, and avoid high traffic areas like marine transit and ferry lanes.

Doug Stark, Whatcom MRC

Whatcom

Doug Stark is a true nature enthusiast. His involvement with Whatcom MRC started in 2003 and he now serves as the representative for the MRC on the Northwest Straits Commission. Originally from a farm in Minnesota, he worked his way west dabbling in field sciences and environmental education. His fascination in diverse habitats afforded him many opportunities to work in many fields, from a ranch hand in the Rocky Mountains to helping-hand as a diver harvesting clams. Doug is particularly drawn to the intertidal zone and nearshore habitats and served as an educator for Public Works Natural Resources Division with the City of Bellingham traveling to various school teaching about stormwater.

Doug's philosophy is best summed best in his own words, "I truly appreciate the MRC's mission of bringing diverse groups together to facilitate agreeable solutions to challenges posed to our Salish Sea environments."
Member Spotlight: Patti Gobin
San Juan MRC
Patti Gobin has over 25 years of Community Development experience with the Tulalip Tribes. Presently, Ms. Gobin is with the Natural Resource Treaty Rights office working with state, local and federal agencies regarding those issues that impact the life ways of the Tulalip Tribes. In addition to her years of experience, Ms. Gobin is a member of the Tulalip Tribes and is well versed in the culture and history of her people. Her personal goal is to invest in the future of the Coast Salish community, helping to affect a sustainable future for the next generations to come.
Continue Reading »
Upcoming Events
Monday
August 21
6:00 PM-8:00 PM

Join the National Northwest Marine Renewable Energy Center, Washington Sea Grant and members of the Northwest Straits Initiative for expert speakers, facilitated discussion and hands-on demonstrations exploring the potential of marine renewable energy in Puget Sound!

Northwest Maritime Center, Port Townsend

August NWSC Meeting

Friday
August 25
10:00 AM-3:00 PM

Dr. Ron Thom and Dr. Tom Mumford will present on net ecosystem improvement in the Northwest Straits Initiative's work.

Pacific Rim Institute, 180 Parker Road, Coupeville, WA

Saturday
September 16
10:00 AM-12:00 PM

Join the Northwest Straits Chapter of the Surfrider Foundation and the Whatcom Marine Resources Committee at Locust Beach for a local beach cleanup. Trash bags and gloves provided. Bring proper clothing for walking the shoreline. This event is part of the annual Whatcom Water Week.

Locus Beach, WA