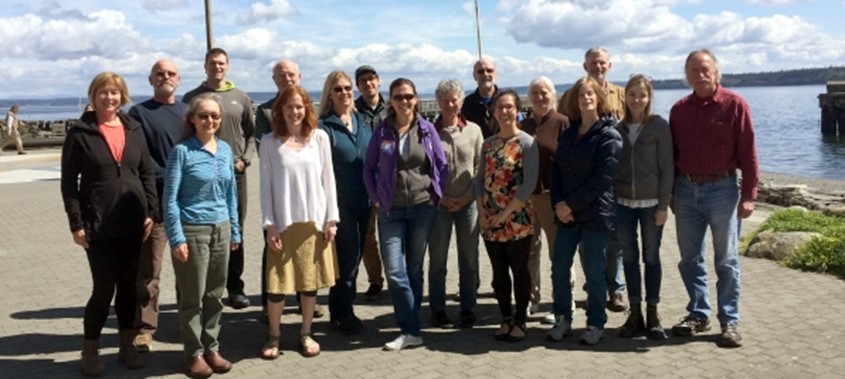 Kelp volunteers prepare for launch
As the weather begins to improve, MRC volunteers eagerly await the return of bull kelp to Puget Sound as an excuse to launch their kayaks for the upcoming survey season. Northwest Straits recently hosted a workshop to prepare for the third summer of these volunteer bull kelp surveys.

Nineteen volunteers and Northwest Straits staff spent a full day discussing the many ways volunteers can contribute to monitoring changes in Puget Sound kelp. The group recommended some new techniques for 2017 to go along with the kayak-based surveys that have been the centerpiece of volunteer kelp monitoring since 2014.

Surveys begin in July when the kelp is in the peak of its growing season, but plenty of preparation lies ahead to be ready! Click here to read more about our regional kelp surveys.
The Northwest Straits Commission is a regional coordinating body comprised of people who care about the marine areas where they live, and who work together to protect and restore marine resources.
The Northwest Straits Commission carries out regional conservation projects and supports the work of seven Marine Resources Committees through funding, technical support, training and regional coordination.
Find us on Facebook.     Follow us on Twitter.
More About Us and the Northwest Straits Region »
May NWSC Meeting
May 26
WebEx
Pigeon Guillemot surveys

Island

Govinda Rosling grew up on Whidbey Island, and has studied the local Pigeon Guillemots for years, both as an intern for the project in Island County and as a volunteer. This season she joins the team with a new role as regional coordinator as the project expands into Clallam County.

These seabirds are an important indicator of the health of the Puget Sound ecosystem, and a growing team of volunteers is spending their early mornings on the beach observing them and collecting data. Their season kicks off next month with a volunteer training, after that they'll spend the next ten weeks or so monitoring burrows found in the bluffs along the shoreline. Sitting quietly nearby they can take population counts, record behavior such as carrying food to the nests, and document any disturbance.

Govinda says, "I'm excited about the new partnership with Clallam MRC, and interested to see how the burrows are different from those on Whidbey." The project team hopes to add Camano Island sites to the list as well. For those with a bit of cabin fever after the long, wet winter, this citizen science project is a great opportunity to get outside! 

Learn more about this project on the Island MRC website.

Marine Managers' Workshop

San Juan

Both large and small shipping vessels headed for various ports throughout Puget Sound transit the marine waters of San Juan County.  Shipping and vessel safety has improved, yet gaps remain in assuring the best incident response and prevention technologies are in place.

This month, San Juan MRC brought together 70 participants from a wide range of organizations and agencies to consider the environmental and socioeconomic impacts to Salish Sea communities resulting from vessel traffic including prevention and response to an oil spill. Representatives from the US Coast Guard, Transportation Canada, and the shipping industry provided an overview of the vessel safety program and regulations governing the shipping industry.  Group breakout sessions provided an opportunity for participants to identify gaps, challenges, and needed actions for addressing a maritime accident and the potential environmental impacts that could result from an oil spill.

This event is the latest in the series of Marine Managers' Workshops designed by the MRC to focus on key issues for the County and its surrounding marine waters. Learn more about this project on their website.

Welcome Hugh Shipman

Science Advisory Committee

Hugh Shipman, a Coastal Geologist with the WA Department of Ecology, is the newest member of the Northwest Straits Commission's Science Advisory Committee. Hugh brings valuable experience and understanding of shoreline protection, beach restoration actions and geological processes. He's already familiar with many Marine Resources Committee restoration projects in the region. We're looking forward to bringing him closer to the action!
Member Spotlight: Phil Green
San Juan MRC
Phil Green joined the San Juan MRC in August, 2013 though he has been attending MRC meetings regularly for many years. Born and raised in Massachusetts, Phil made his way to Washington State in 1973 for a job with the National Park Service.
Continue Reading »
Upcoming Events
May NWSC Meeting

Friday
May 26
10:00 AM-12:00 PM

To join the WebEx meeting, click here. Enter your name and email address and click "Join."

For audio conference only, dial:1-877-668-4493, access code: 928 902 642

WebEx

Thursday
June 01
6:00-6:45

Whatcom MRC is hosting Port of Bellingham staff who will be providing information on the Bellingham waterfront redevelopment. This will take place during the first portion of the MRC's general meeting.

Meetings are open to the public!  Join the group to learn more about the improvements underway.

Civic Annex Building, Garden Room, 322 N. Commercial St. Bellingham

Friday
June 09
9:00 AM-11:30 AM

This site is a wonderful place to learn about harvesting oysters and several clam species from our expert WDFW shellfish biologists. Learn, then dig for your dinner on the beach with their guidance. More info HERE. Click here to register.

Dosewallips State Park in Brinnon