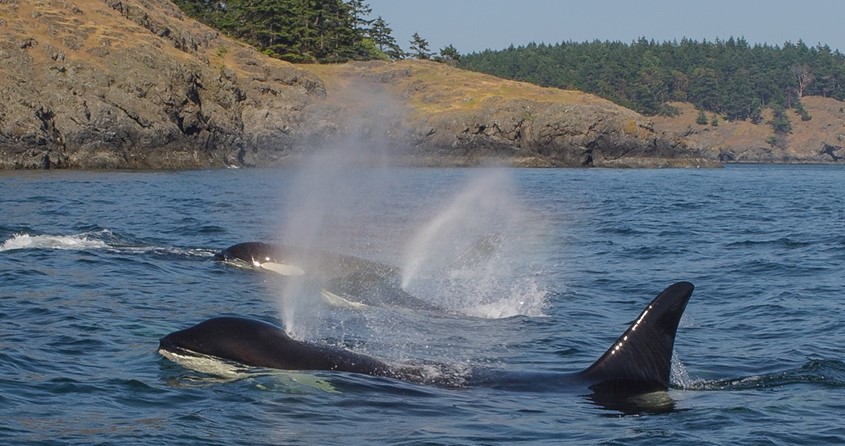 What can you do to help the orcas?
News of our struggling resident orcas is all over the news, but what can you do to help? Snohomish MRC created a useful guide with tips ranging from small steps to take in your household to engagement opportunities throughout the Salish Sea.

Eight things you can do to help:
You can share this information from the Snohomish MRC's website or download the printable version.
The Northwest Straits Commission is a regional coordinating body comprised of people who care about the marine areas where they live, and who work together to protect and restore marine resources.
The Northwest Straits Commission carries out regional conservation projects and supports the work of seven Marine Resources Committees through funding, technical support, training and regional coordination.
Find us on Facebook.     Follow us on Twitter.
More About Us and the Northwest Straits Region »
May Commission Meeting
May 31
WebEx
Puget Sound Kelp Conservation and Recovery Workshop

Northwest Straits Initiative

Kelp enthusiasts from around the Salish Sea gathered at Padilla Bay on February 28 to talk all things kelp. The workshop is part of an effort being led by the Northwest Straits Initiative and funded by NOAA to develop a Puget Sound Kelp Conservation and Recovery Plan. Forty-seven people representing marine resources committees, tribes, universities, non-governmental organizations, federal and state agencies, and county government shared their perspectives on kelp.

In focused working groups the participants developed a prioritized set of actions needed to better understand kelp in Puget Sound to provide best available science for managers and policy makers and to protect our favorite brown macroalgae! Learn more about our kelp program.

2019 Northwest Straits Initiative Retreat

Northwest Straits Initiative

The NWS Initiative team held a fantastic retreat on Camano Island this month. Elsa Schwartz, Island MRC representative on the NWS Commission, generously hosted the event at her home. The agenda was designed to celebrate accomplishments and further collaborate on protecting the Northwest Straits.

Over two days, participants discussed opportunities and priorities for the coming year and beyond. Among the priorities were a focus on nearshore and marine habitat protection and restoration, and messaging the Initiative's work to new audiences. Participants left the retreat feeling inspired to take action toward our shared mission.

2018 Annual Report

Northwest Straits Initiative

Click here to read the full report.
Member Spotlight: Jeff Ward
Clallam MRC
Jeff Ward is a marine ecologist who retired in March 2015 as Senior Program Manager at the Pacific Northwest National Laboratory in Sequim. He has over 35 years' experience designing, implementing, and managing multidisciplinary environmental projects that assess ecological and human health risk and explain the tradeoffs associated with various management actions.
Continue Reading »
Upcoming Events
Thursday
April 25
2:00 PM-5:00 PM

Join San Juan MRC as they talk trash!

Brickworks, 150 Nichols Street, Friday Harbor, WA

April Commission Meeting

Friday
April 26
9:45 AM-2:30 PM

Northwest Maritime Center, Port Townsend

Saturday
April 27
8:00 AM-5:00 PM

A one-day interactive training that focuses on the effects of oil on wildlife; why rehabilitation of oiled wildlife is important; aquatic bird behavior and anatomy; wildlife handling; and how to provide initial care for oiled birds.

387 E. Washington St. Sequim, WA