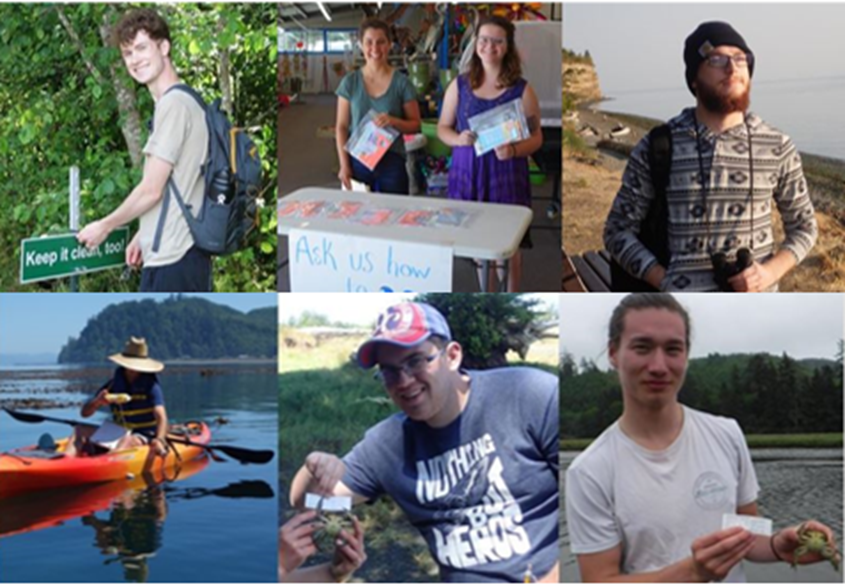 Celebrating the 2018 Clallam Interns
Undeterred by the smoky air last week, Clallam County community members joined the MRC to celebrate the work of their excellent 2018 program interns. A large and enthusiastic crowd attended to hear how these seven local students dedicated their summer to work on projects that affect people, species and habitats of the Clallam County marine waters:
Kelp bed monitoring: Griffin Hoins conducted three kayak-based kelp surveys and explored collection of plankton samples.
Beach use at the Elwha River estuary: Collin Boe conducted more than 18 surveys of people and dog usage of the Elwha estuary, evaluated the use of signage for their outreach, and performed pet waste surveys on the beach access path.
Outreach to recreational crabbers: Kennedy Cameron and Lael Butler supported the regional effort to conduct outreach at boat ramps and local stores to reduce the number of lost crab pots.
Invasive green crab removal: Rylan MacDonald, in partnership with the Jamestown S'Klallam Tribe, supported exploratory trapping in eastern Clallam County and at the Dungeness National refuge. Cole Svec with the Makah Tribe participated in the intensive trapping effort in the Wa'atch and Tsoo-Yess rivers and on the shore of Neah Bay, setting and recording catch in 60 traps twice a month.
Pigeon guillemot breeding surveys: Christopher Reis conducted breeding surveys on the Strait of Juan de Fuca and managed data collected by volunteers to contribute to a multi-county database.
We extend a huge thank you and round of applause to all of the interns for being part of this important community effort!

Since 2010 Clallam MRC has offered internships to high school and college students to work with scientists and other professionals on current environmental projects. Learn more about the program on their website.
The Northwest Straits Commission is a regional coordinating body comprised of people who care about the marine areas where they live, and who work together to protect and restore marine resources.
The Northwest Straits Commission carries out regional conservation projects and supports the work of seven Marine Resources Committees through funding, technical support, training and regional coordination.
Find us on Facebook.     Follow us on Twitter.
More About Us and the Northwest Straits Region »
There's food in that mud?

Jefferson

Jefferson MRC held their popular annual Digging for Dinner events this summer, drawing quite an impressive crowd: 43 participants harvested from Quilcene Bay on June 30, and another 44 participants harvested from Doeswallips on July 27! The MRC continuously gets positive feedback during these events as most attendees are not familiar with shellfish gathering. As one participant said: "I really enjoyed the Digging for Dinner event. It was informative, fun and tasty! I plan to do a lot of digging and shucking this year!"

The MRC proudly continues to emphasize the connection between safe shellfish harvesting and individual water quality actions. To learn more about the Jefferson MRC, click here.

Elected officials explore MRC sites

Snohomish and Skagit

MRC projects in Snohomish and Skagit received some well-deserved attention recently, with site visits at the Snohomish Meadowdale beach park restoration area and in Skagit at the Fidalgo Bay Olympia oyster restoration site.

At Meadowdale Park, Snohomish MRC shared their progress to date on a project to find an alternative to a culvert that drains a creek into Puget Sound, preventing people from easily reaching the beach and salmon from getting upstream to spawn. US Congressman Rick Larsen, Snohomish County Councilmember Stephanie Wright and staff for US Senator Maria Cantwell joined members of the MRC, Snohomish County representatives and project partners to explore the area and learn more about the work of the MRC.  

In Skagit County, the MRC's thriving Olympia oysters in the Fidalgo Bay restoration site were visited by US Congressman Rick Larsen and staff, County representatives, MRC members and project partners. Hosted by Shell Puget Sound Refinery to provide beach access, the tour was a great opportunity to see how this boots-in-the-mud project with dedicated volunteers has brought the population of these native oysters up from just 50,000 to several million since 2002.

MRCs check up on their Olympia oysters

Clallam, Jefferson and Skagit

Clallam, Jefferson and Skagit MRCs put a lot of work into restoring healthy populations of Olympia oysters in their counties. Over the summer, MRC members bring their monitoring equipment out to the beach to observe the progress of their plantings. The good news? These native oysters have thrived in nearly every location MRCs plant them. With continued work, we hope healthy populations of these creatures will be found again throughout the Salish Sea.

Learn more about what each MRC is doing here:
Member Spotlight: Atina Casas
Whatcom MRC
Atina Casas has been a Whatcom MRC member for over 5 years. As a scientist, she values the opportunity the MRC provides to collect data about our local marine environment that otherwise might not be collected, and to share this information with the public and elected officials.
Continue Reading »
Upcoming Events
Saturday
September 22


Visit Whatcom MRC's booth at this family friendly, free event.

Bellingham, WA

September Northwest Straits Commission Meeting

Friday
September 28
10:00 AM-12:00 PM

Open to the public.

WebEx - Conference call

Saturday
September 29
10:00 AM

Join San Juan MRC for this National Public Lands Day event focused on local beach clean up.

San Juan Islands