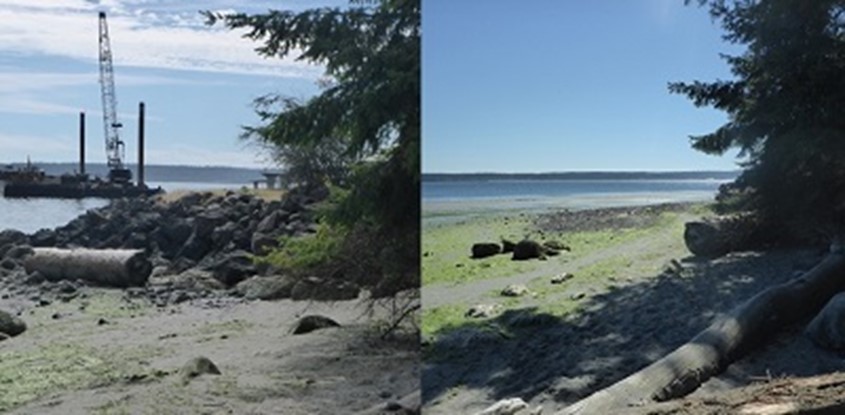 Long-lost beach uncovered at Fort Townsend
Beach restoration at Fort Townsend State Park in Jefferson County is nearly complete!
Jefferson MRC worked with the Northwest Straits Foundation and Washington State Parks and brought in the local community to make this project successful.  Over 40 volunteers assisted the project by monitoring for fish use before and after the construction and providing guided beach walks to explain the changes to the beach for people and wildlife.
 For more information about the project, check out the Jefferson MRC website.
The Northwest Straits Commission is a regional coordinating body comprised of people who care about the marine areas where they live, and who work together to protect and restore marine resources.
The Northwest Straits Commission carries out regional conservation projects and supports the work of seven Marine Resources Committees through funding, technical support, training and regional coordination.
Find us on Facebook.     Follow us on Twitter.
More About Us and the Northwest Straits Region »
September NWSC Meeting
September 30
WebEx Conference Call
Job Opening

Commission

The Northwest Straits Commission is seeking an Executive Director. To learn more about the work of the Commission and read the full position announcement, click here.

Clallam summer interns graduate!

Clallam MRC

Colleagues, friends, family and local residents recently gathered to celebrate the work of Clallam MRC's 2016 summer interns: Haley Gray, Anthony Creasey and Douglas Parks.

Snohomish beach restoration

Snohomish MRC

It has been a busy summer for restoration projects, as the Snohomish MRC's Nearshore Beach Restoration and Nourishment Project also nears completion! Project construction entailed moving more than 1,500 truckloads of beach sand from the upper Snohomish River dredge material storage location out to four miles of beaches between Mukilteo and Everett.
Member Spotlight: Lyn Muench
Clallam MRC
Lyn Muench of the Clallam MRC came to the Olympic Peninsula by way of Bangladesh and nearly twenty years of living overseas in Africa and Asia. An article in the New York Times about the "blue hole" of clear skies over Sequim and a job starting an aquaculture business for the Jamestown S'Klallam Tribe brought her here with her husband and daughters.
Continue Reading »
Upcoming Events
Saturday-Saturday
September 24-October 01


Visit several businesses, non-profits and community groups celebrating water resources in this two weeks long event.

Co-sponsored by Whatcom MRC! 

Wednesday
September 28
6pm-8:30pm

Changing chemistry in our marine waters is changing the food web and the industries that depend upon it. Learn how those changes occur and what each of us can do to help reduce them. Sponsored by Clallam County Marine Resources Committee and Olympic Climate Action.

Port Angeles Red Lion, 221 N Lincoln Street

September NWSC Meeting

Friday
September 30
10:00 AM-12:00 PM

WebEx Conference Call