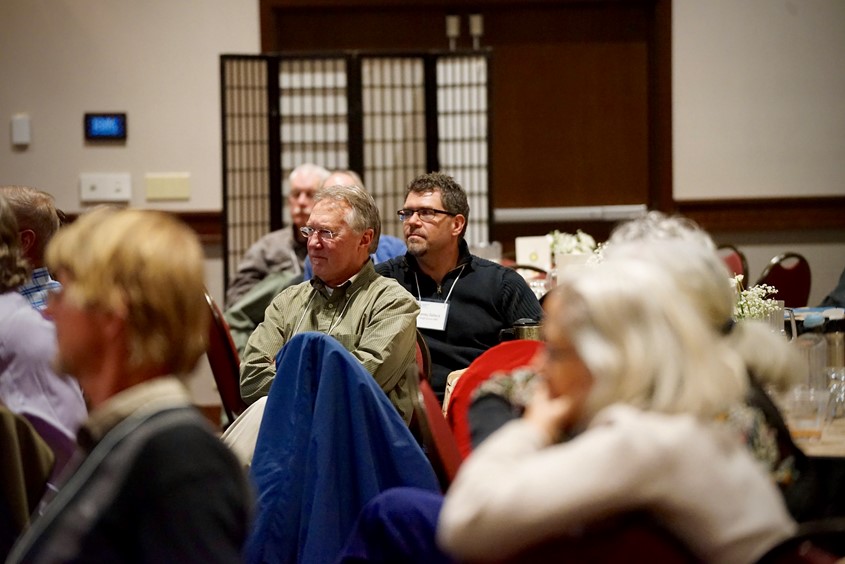 19th Annual Northwest Straits Initiative Conference
The Northwest Straits Initiative hosted our annual Marine Resources Committee conference this month, bringing together our entire "family" – members of the local Marine Resources Committees, Northwest Straits Foundation board and the Northwest Straits Commission. Joining us were project partners from various agencies and organizations, as well as event sponsors and invited guests.
An estimated 140 participants arrived on a snowy day in Bellingham to hear about kelp, forage fish, ocean acidification, marine renewable energy, innovative tools for collecting data, a variety of recent MRC projects and much more. There is so much good work happening that we all leave this event energized for the coming year!
For some participants, this is their first conference – one participant said that "as a very new MRC member the conference gave me such a wonderful overview of how all the organizations are connected and the wonderful work that is being done by everyone involved at all levels". Veteran attendees appreciate the mix of structured sessions and informal networking time, being able to connect with old friends and learn new information.
 
On Friday evening, we held a special recognition for our longest-serving member of the Commission, Terry Williams. Serving in the tribal seat and representing Tulalip Tribes, Terry is one of the original members of the Commission and helped lay the groundwork for the Northwest Straits Initiative's success. We are thankful for his contributions and the conference was an excellent opportunity to honor him for his service.
On our website we have posted lots of follow up information from the conference – links to presentations, a slide show photo gallery, and a list of our sponsors. Many thanks to the sponsors that make this event possible, and to the many speakers who made time to join us and share their expertise. Please take a moment to explore what's there: http://www.nwstraits.org/2017-mrc-conference.  
The Northwest Straits Commission is a regional coordinating body comprised of people who care about the marine areas where they live, and who work together to protect and restore marine resources.
The Northwest Straits Commission carries out regional conservation projects and supports the work of seven Marine Resources Committees through funding, technical support, training and regional coordination.
Find us on Facebook.     Follow us on Twitter.
More About Us and the Northwest Straits Region »
January Northwest Straits Commission Meeting
January 26
Snohomish County
San Juan Hosts Southern Resident Killer Whale Workshop

San Juan

Over 100 concerned citizens attended a Southern Resident Killer Whale Protection Workshop hosted by San Juan County MRC late last month. The workshop focused on identifying and prioritizing individual and local community actions that will help protect Southern Resident Killer Whales from the threats of toxins and pollution, vessel traffic, and limited food resources. Another workshop goal was to elicit personal commitments to act on priority actions.

In preparation for the workshop, attendees were encouraged to provide input and guidance on workshop priorities through an online survey. The workshop was held at the Brickworks community hall in Friday Harbor, followed by a social open house hosted by the MRC. More information about what the San Juan MRC is doing to explore what local government and residents can do to protect Southern Resident Killer Whales, including results from the pre-workshop survey, can be found on San Juan MRC's website.

Goodbye to Lois Farrington

Island

It is with gratitude we say goodbye to Island MRC member Lois Farrington. Lois was active in several MRC projects including Pigeon Guillemot, European green crab and forage fish spawning surveys. She also participated in Sound Waters University and the Olympia oyster project. As a retired microbiologist, she brought scientific expertise to the MRC and was especially crucial in the forage fish surveys. Her love for the outdoors brought her to Island County beaches, rain or shine, to search for the tiniest of evidence that the MRC's beach restoration efforts were successful. Thank you, Lois, for your enthusiasm in Puget Sound restoration.

Northwest Straits Foundation receives award for salmon recovery

Congratulations to the Northwest Straits Foundation, our non-profit partner, for their recent award of $138,000 from the National Fish and Wildlife Foundation's Killer Whale Research and Conservation Program to boost the protection and recovery of Chinook salmon that are key prey for killer whales in this region.

Funding will support monitoring of forage fish and bull kelp by Marine Resources Committees, removal of 500' of unnecessary shoreline armor, restoration of .5 acres of riparian habitat, and educational outreach in support for killer whale conservation.
Member Spotlight: Dr. Megan Dethier
San Juan MRC
Dr. Megan Dethier is a Research Professor in the Biology Department at the University of Washington but is in full-time residence at the Friday Harbor Laboratories, where she is Associate Director for Academics and the Environment. She did her undergraduate work at Carleton College in Minnesota, then PhD work at the University of Washington. Since ~1978 she has been in working on the shoreline ecology of the Pacific Northwest.
Continue Reading »
Upcoming Events
Bowman Bay Holiday Planting/Weeding Party

Friday
December 29
10:30 AM-1:00 PM

Join Skagit MRC, Skagit Fisheries Enhancement Group and the Northwest Straits Foundation to plant native shrubs and do some end-of-the-year weeding of the restoration site. Hot beverages will be provided but dress warm!

Bowman Bay, Skagit County

January Northwest Straits Commission Meeting

Friday
January 26
10:00 AM-3:00 PM

Open to the public.

Snohomish County

Monday
January 29
6:30 PM-8:30 PM

Join Snohomish MRC for this special series of Puget Sound focused films and guest speakers.

Everett Community College