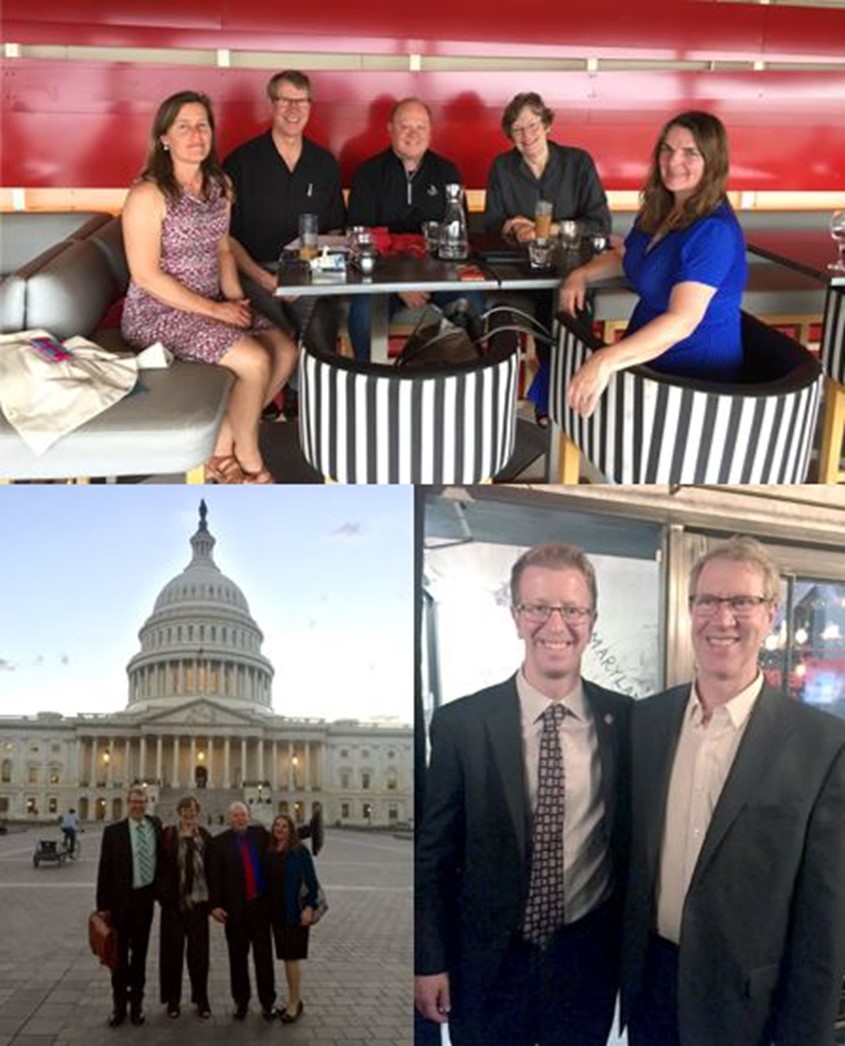 Puget Sound Day on the Hill
An energized delegation of Northwest Straits Initiative representatives recently joined the 60-strong partners in Washington D.C. for Puget Sound Day on the Hill to inform decision-makers on the progress and importance of Puget Sound protection and recovery. Nan McKay, Jerry Masters, Ginny Broadhurst, Rich Childers, and Caroline Gibson all participated. The team also had an opportunity to meet with Senator Patty Murray to acknowledge the years of support she's provided to our organization.

Congressmen Denny Heck and Derek Kilmer gave a thoughtful and personal welcome to the coalition, followed by three jam-packed days of meetings. Tribal representation was a critical voice with the risk to treaty rights resulting from ecosystem degradation underscoring the importance of protecting Puget Sound. Thanks to the Puget Sound Partnership staff for coordinating this successful event. Click here for event highlights and information.
The Northwest Straits Commission is a regional coordinating body comprised of people who care about the marine areas where they live, and who work together to protect and restore marine resources.
The Northwest Straits Commission carries out regional conservation projects and supports the work of seven Marine Resources Committees through funding, technical support, training and regional coordination.
Find us on Facebook.     Follow us on Twitter.
More About Us and the Northwest Straits Region »
June NWSC Meeting
June 30
Skykomish Conference Room, Snohomish County Campus (Admin East Building, Room number 1F03), 3000 Rockefeller Ave., Everett, WA
More Information
Commission elections

Northwest Straits Commission

Nan McKay was elected to serve another one-year term as Chair of the Commission and Jamey Selleck was elected to serve another one-year term as Vice-Chair of the Commission.

Olympia oyster workshop

Northwest Straits Initiative

Restoration of the native Olympia oyster is a priority for several Marine Resources Committees and their partners, and the Northwest Straits Initiative recently hosted a workshop to establish common protocols and restoration data metrics, and discuss overall restoration goals for the region.

Among the many constructive discussions, the group agreed that we need to continue our work to restore this native species and emphasize re-establishing Olympia oysters as reef habitat that supports many other marine organisms. In the coming months, we'll continue our work to create common methods that will guide a collective citizen approach to restoring this important piece of the Puget Sound puzzle. Learn more about our Olympia oyster restoration efforts on our website.

Digging for Dinner

Jefferson

Jefferson MRC recently hosted their first Digging for Dinner event of the year in Quilcene, and more than 40 participants came out to this free event with their buckets and boots to learn all about harvesting steamer clams on local beaches.

Thanks to expert Washington Department of Fish and Wildlife shellfish biologists, enthusiastic families learned about the different types of clams, where to find them, and how to harvest safely and sustainably. The notoriously difficult spring weather even cooperated, giving them a sunny Saturday to enjoy on the beach while they collected clams for dinner.

They'll be hosting another on June 9 in Dosewallips State Park. Learn more about this event or register to attend at www.jeffersonmrc.org.
Member Spotlight: Frances Wood
Island MRC
Frances Wood, MRC Chair, of Langley is a nature writer with particular interest in birds and bird watching. A WSU Beach Watcher and Shore Steward, she has served as president of Whidbey Audubon and represents environmental and conservation interests.
Continue Reading »
Upcoming Events
Friday
June 30
10:00 AM-3:00 PM

Dave Somers, Snohomish County Executive will provide a welcome at this meeting. Also hear about the MyCoast Mobile App and the new Salish Sea Institute!

 

 

Skykomish Conference Room, Snohomish County Campus (Admin East Building, Room number 1F03), 3000 Rockefeller Ave., Everett, WA

July NWSC Meeting

Friday
July 28
10:00 AM-12:00 PM

This meeting will take place over WebEx

*Conference call*

Padilla Bay - Marine Energy Seminar

Tuesday
August 08


Check out the first of two public seminars exploring the potential of marine renewable energy in Puget Sound. Hosted by Washington Sea Grant and Northwest Straits Commission.

More details to come.

Padilla Bay Reserve