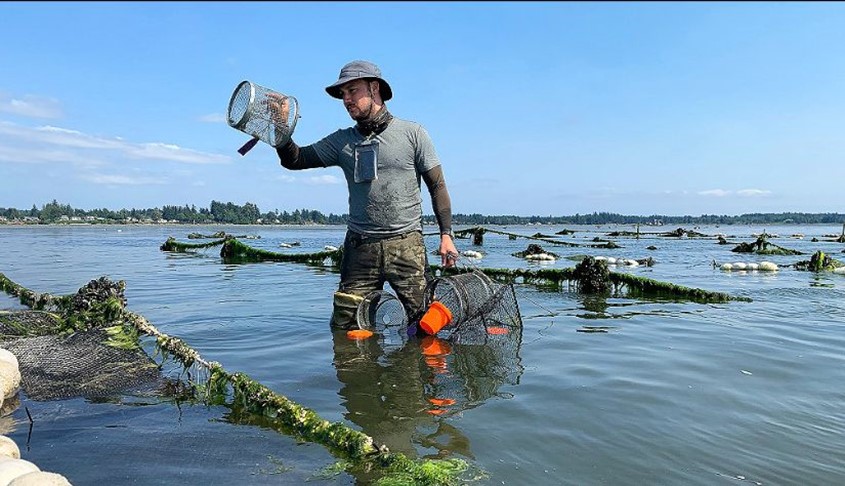 Green crab season comes to an end
This year's field season for trapping European green crabs has come to a close in Drayton Harbor. As one of the world's worst invasive species, they destroy eelgrass habitat, decimate shellfish beds and compete with juvenile Dungeness crabs for resources. It's likely this destructive invasive species washed into Drayton Harbor as larvae on currents, becoming one of the largest populations of green crabs in the Salish Sea.
Crews set over 4,000 traps and removed 146 green crabs, and joined together to create and send an informational mailer about green crabs to over 1,000 residents in Blaine, WA and held an outreach event where volunteers educated 140 people on the importance of green crab removal efforts.
Click here to learn more about our work on invasive green crab.
The Northwest Straits Commission is a regional coordinating body comprised of people who care about the marine areas where they live, and who work together to protect and restore marine resources.
The Northwest Straits Commission carries out regional conservation projects and supports the work of seven Marine Resources Committees through funding, technical support, training and regional coordination.
Find us on:  Facebook   Twitter   Instagram   LinkedIn
More About Us and the Northwest Straits Region »
December 2021 Commission Meeting
December 10
Zoom
Olympia oysters in Jefferson

Jefferson MRC

Jefferson MRC continued their work in Discovery Bay to restore native Olympia oysters. Their latest task was to scatter three cubic yards of oyster shell from Taylor Shellfish in the lower intertidal area of their restoration site. Those empty oyster shells will provide a suitable place for natural settlement of Olympia oyster larvae. Read more about the project.

Whatcom Beach Cleanup

Whatcom MRC

As part of Whatcom Water Week and to celebrate International Coastal Cleanup, the Whatcom MRC partnered with RE Sources, the Ocean Conservancy, Surfrider, and the Port of Bellingham to host beach cleanups at four locations: Cliffside, Locust Beach, I&J Waterway, and Marine Park.

Whatcom MRC and the Port of Bellingham hosted the cleanup at Locust Beach. Thanks to the help of 28 volunteers, an estimated 300-400lbs of trash no longer litters the beach!

Cornet Bay

Island MRC

Island MRC members and staff got out on the beach to water and weed out at the restoration site at Cornet Bay. Throughout the summer months, they've been doing this important maintenance every few weeks, and a final volunteer event will wrap up the season in early October.

Many thanks to all the volunteers who help ensure this restoration site flourishes! Read more about Cornet Bay.
Member Spotlight: Glen Alexander, "Alex"
Whatcom MRC
Alex serves as a citizen at large on Whatcom MRC. He was born and raised in Wisconsin, on the shore of Lake Michigan. He moved to Bellingham in 1972 for a temporary job in education and stayed. After some gill netting, carpentry and amateur theater and music performance he completed a Masters of Environmental Education at Western, married and raised two daughters. Glen retired in 2017 as Education Coordinator at Padilla Bay National Estuarine Research Reserve.
Continue Reading »
Upcoming Events
December 2021 Commission Meeting

Friday
December 10
10:00 am-12:00 pm

Check back for meeting materials and agenda. 

Click here to join the meeting. 

Dial in at 253-215-8782. 

Zoom

Climate Change Symposium Series - 2

Thursday
December 16
3:30pm-5pm

Our 2021 conference will be held as a symposium series of four virtual events centered on climate change impacts and local action in the Salish Sea region. This is the second event in the series, open by invitation only to MRC members, staff, and other Northwest Straits Initiative participants. More information will be sent by email. 

Zoom

Climate Change Symposium Series - 3

Thursday
January 20
3:30pm-5:00pm

Our 2021 conference will be held as a symposium series of four virtual events centered on climate change impacts and local action in the Salish Sea region. This is the third event in the series, open by invitation only to MRC members, staff, and other Northwest Straits Initiative participants. More information will be sent by email. 

Zoom