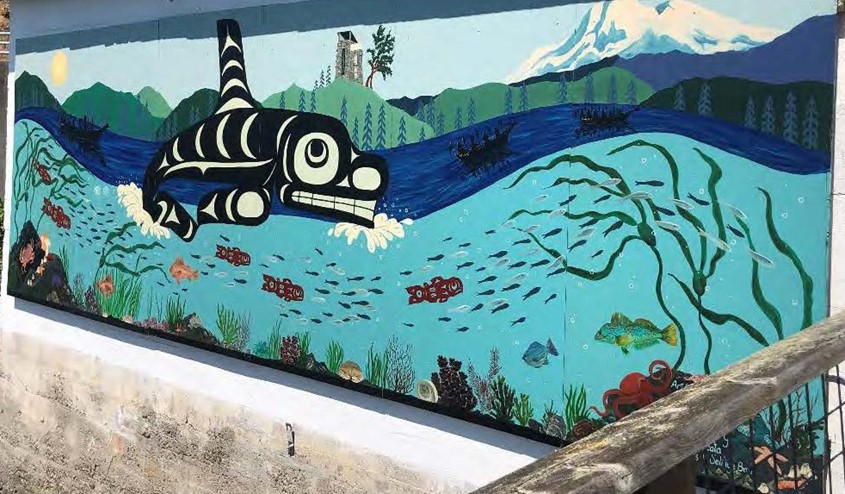 Grand opening at Orcas Landing
San Juan County recently hosted a long-awaited celebration and grand opening of the Orcas Landing Marine Interpretive Outlook, including the unveiling of a mural created by a team of young Coast Salish artists from the Samish, Port Gamble, and Cowlitz tribes.
The area also includes interpretive signage developed by the MRC: one panel takes viewers under the bay to learn about the local ecosystem and species, and the other shares traditional Coast Salish fishing methods and how important the culture and actions of fishing are to local residents of the San Juan islands today.
San Juan MRC would like to acknowledge MRC tribal representative Patti Gobin for her continued guidance, teachings, and patience in helping both the MRC and the County to tell the right stories of the first peoples of the islands.
The Northwest Straits Commission is a regional coordinating body comprised of people who care about the marine areas where they live, and who work together to protect and restore marine resources.
The Northwest Straits Commission carries out regional conservation projects and supports the work of seven Marine Resources Committees through funding, technical support, training and regional coordination.
Find us on:  Facebook   Twitter   Instagram   LinkedIn
More About Us and the Northwest Straits Region »
July 2021 Commission Meeting
July 30
Zoom
Spring gardening to help the bay

Jefferson MRC

There have been lots of busy bees in Jefferson this spring, as new plants arrived at several of the MRC's local rain garden sites, and MRC members and community volunteers weeded, planted and mulched the rain gardens that filter stormwater runoff before it drains to Port Townsend Bay.

If you're in the area, check out the new native plants taking root at Chetzemoka Park and the Northwest Maritime Center. Learn more about Jefferson MRC's rain gardens here.

Congrats, grads!

Skagit MRC

Congratulations to the 2021 Salish Sea Stewards graduates, who completed their last class June 1! This group of 39 graduates are the largest cohort to complete Skagit MRC's annual training program for volunteers interested in the marine environment. Learn more about Salish Sea Stewards.

Eelgrass in Island County

Island MRC

Island County Marine Resources Committee is pleased to announce publication of a new Story Map all about eelgrass! This story is more than ten years in the making.

The Story Map covers what eelgrass is and its role in our ecosystem, the research that this community science team conducted, Island County MRC, and ways that you can help protect this critical habitat. Check it out here: Eelgrass Story Map
Member Spotlight: Barbara Bennett
Island MRC
Barbara Bennett has loved the ocean for years. As a recreational scuba diver since the 1970's and ocean kayaker since the 1980's, she's had the opportunity to observe marine life and habitat in many prime locations around the world. Through her explorations she became aware of the pressures on marine ecosystems and decided she was not content to stand by as marine resources declined. In 2008, she took an early retirement to enter the UW School of Marine Affairs and after completing her MMA, became Program Coordinator for WSU Island County Beach Watchers where she served for 5 years. She observed the work of the Northwest Straits Commission and the Island County Marine Resources Committee for 5 years and in 2016, was appointed to the Island MRC where she represents the MRC on the Island County Local Integrating Organization and works with other members on educational outreach and kelp research. I her words, "The tangible results of this work to date are impressive and I look forward to participating in the Commission's next generation of pro-active, solution-focused initiatives to conserve and restore the remarkable marine resources of Puget Sound and the greater Salish Sea."
Continue Reading »
Upcoming Events
July 2021 Commission Meeting

Friday
July 30
10:00 am-12:00 pm

Click here to join the Zoom meeting. 

Meeting ID: 876 1258 0777
Passcode: 128024
Dial in: 253-215-8782

Zoom

August 2021 Commission Meeting

Friday
August 27
10:00 am-12:00 pm

Click here to join the Zoom meeting. 

Meeting ID: 836 7222 4871
Passcode: 246901
Dial in: 253-215-8782

Zoom

September 2021 Commission Meeting

Friday
September 24
10:00 am-12:00 pm