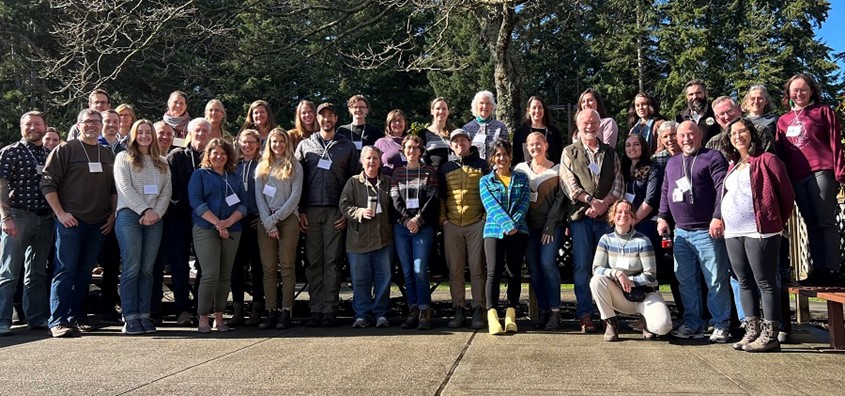 Northwest Straits Initiative Recent Event: Kelp Plan Action Workshop!
Northwest Straits Commission staff hosted a Kelp Plan Action Workshop this month, bringing together representatives from over 25 agencies, tribes, universities, and various non-governmental organizations to review the status of and collect recommended next steps for the 65 actions within the Puget Sound Kelp Conservation and Recovery Plan.

When asked what attendees appreciated about the workshop, one wrote "hearing various perspectives on what progress has been made, and what progress looks like, was incredible!" Another attendee said that "it was well represented across organizations, from agencies and tribes to non-profits too, offering a strong range of knowledge". 

Findings from the workshop will be synthesized in a summary of the Kelp Plan in June. Read more about the Kelp Plan here.
The Northwest Straits Commission is a regional coordinating body comprised of people who care about the marine areas where they live, and who work together to protect and restore marine resources.
The Northwest Straits Commission carries out regional conservation projects and supports the work of seven Marine Resources Committees through funding, technical support, training and regional coordination.
Find us on:  Facebook   Twitter   Instagram   LinkedIn
More About Us and the Northwest Straits Region »
April 2023 Commission meeting
April 28
2023 Jan Holmes Award winner

Island MRC

Congratulations to John Lovie, recent recipient of the 2023 Jan Holmes Award. The award is presented by Island MRC, Sound Water Stewards, and WSU Extension Island County to an outstanding volunteer whose efforts contribute to the protection and restoration of the Island County marine ecosystem and coastal resources.

John is an avid volunteer, dedicating countless hours as part of community science organizations and community-driven boards to improve the water quality, coastal resources, and health of Island County. He will take on projects and do the difficult work to drive environmental actions and ideas forward. Island County and the Puget Sound region have benefited from his scientific background and expertise, and his prolific volunteering in multiple areas has given him a vast well of knowledge and context to work from.

The award is named to honor the memory of Jan Holmes, an exemplary marine scientist, educator, and champion for stewardship of the marine environment. To learn more about the Jan Holmes Award, click here!

Congratulations to John! Thank you for all of your hard work to make the Salish Sea a better place!

Be Whale Wise with San Juan MRC

Island MRC

San Juan MRC staff and other partners hosted a booth at the Seattle Boat Show in February to share information about how to safely boat in areas with whales. They handed out more than 500 whale warning flags for boaters to fly when whales are present to warn fellow boaters to slow down and be alert. 

Click here

 to learn more about San Juan MRC and their work to support Southern Resident Killer Whale recovery. 

 

Warm welcome to new MRC members!

San Juan, Whatcom, Snohomish

An enthusiastic welcome to two new San Juan MRC members this month. Craig Smith, Professor Emeritus of Oceanography at the University of Hawaii, and Aaron Boyles, marine and shoreline ecologist at Jen-Jay Consulting. In Whatcom, the MRC welcomes Hannah Pittman, the new forage fish project intern, who will take the lead on monthly surveys and volunteer coordination.

Snohomish MRC is looking for new members to represent economic interests, local government interests, and an at-large position. Click here to learn more and link to the application.

(please fill out this application)
Member Spotlight: Alan Clark
Clallam MRC
The Northwest Straits Commission welcomed Alan Clark to the Initiative family in 2015, when he joined the Clallam MRC. Alan grew up near the beach in southern California where he enjoyed exploring the ocean and working in biological sciences. After moving to Washington, he met an MRC member who invited him to one of their meetings, where Alan realized how important the MRCs were in addressing local marine conservation issues.
Continue Reading »
Upcoming Events
Northwest Straits Retreat

Thursday-Friday
March 30-March 31


Retreat for members of the Northwest Straits Commission. Location and agenda pending. 

April 2023 Commission meeting

Friday
April 28
10am

Check back for agenda and meeting materials. 

Join Zoom meeting - click here.

Meeting ID: 845 1561 9598
Passcode: 974813


May 2023 Commission meeting

Friday
May 26
10am

Check back for agenda and meeting materials. 

Join Zoom meeting - click here.

Meeting ID: 899 9051 3830
Passcode: 322035

Zoom