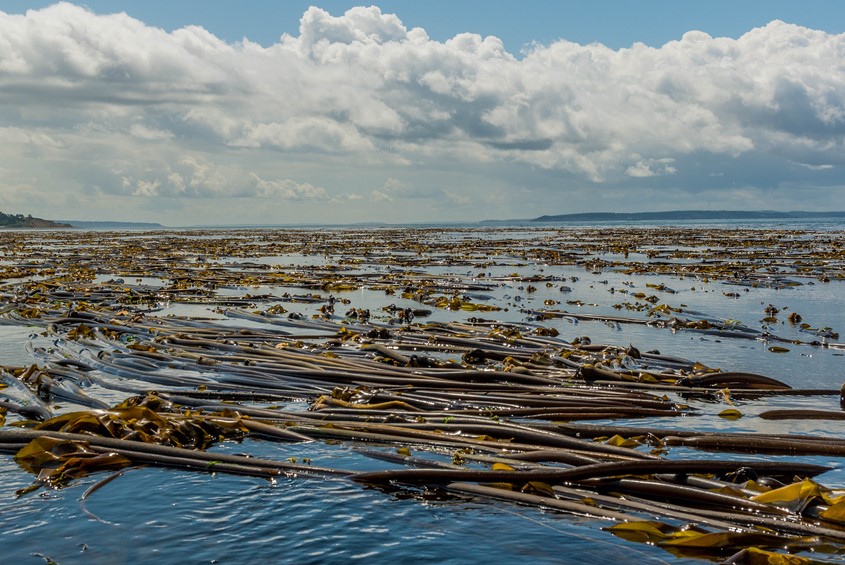 Puget Sound Kelp Conservation and Recovery Plan Released
Vibrant kelp forests are vital to the health of Puget Sound and Salish Sea. The recently published Puget Sound Kelp Conservation and Recovery Plan provides an overview of kelp forests in Puget Sound, including distribution and trends, stressors, critical ecosystem roles, and cultural values.
The plan also recommends strategies to reduce stressors, provides a blueprint to protect and restore kelp forests, and urges continued and strengthened collaboration between diverse groups.
There is broad support for the Kelp Plan and many partners have signed onto a shared vision for thriving kelp forests in Puget Sound. Download the plan and find more information here.
2019 Annual Report
We've recently released our 2019 annual report, in which we showcase recent community-led actions that result in positive impacts to Puget Sound. Organized around four categories - conservation and restoration, monitoring, education, and advisory - this report is part of our collective story, which is made possible through the dedicated network of volunteers, staff, and partners. Click here to read the report. 
The Northwest Straits Commission is a regional coordinating body comprised of people who care about the marine areas where they live, and who work together to protect and restore marine resources.
The Northwest Straits Commission carries out regional conservation projects and supports the work of seven Marine Resources Committees through funding, technical support, training and regional coordination.
Find us on:  Facebook   Twitter   Instagram   LinkedIn
More About Us and the Northwest Straits Region »
July Commission Meeting
July 31
Zoom
Calling all young artists!

Island MRC

Looking for a creative outlet for your kids? Island MRC and Sound Water Stewards have partnered to host an art contest this summer! Students in Island County entering grades 2-7 in the fall are invited to submit original artwork depicting a Salish Sea animal of their own design. Students will also be asked to name their newly-designed species.

Read more and find out how to submit your artwork here. The due date is Friday, July 17, 2020.

Clallam MRC fills their first fellowship position

Clallam MRC

We'd like to extend a warm welcome to Alisa Taylor to the Clallam MRC in their first fellowship position. Alisa served as the kelp monitoring intern in 2019 and provided a lot of help with developing the plankton sampling effort and being the master GPS navigator. She gave an excellent presentation on her work at both the Intern Celebration and for the Northwest Straits Commission's September 2019 meeting.

This summer Alisa will be working closely with the kelp monitoring group and will also provide support for the pigeon guillemot, Olympia oyster restoration, and forage fish projects. Welcome, Alisa!

Learn more about the projects of the Clallam MRC.

North Sound Stewards iNaturalist Program

Whatcom MRC

As a way to keep volunteers and the community engaged while following social distancing rules, the North Sound Stewards program is using iNaturalist this summer to gather observational data on species. iNaturalist is a community science project and online social network of naturalists, community scientists, and biologists built on the concept of mapping and sharing observations of biodiversity across the globe. It's easy to participate, and everyone is welcome! Click here to learn more. North Sound Stewards is a program of the Whatcom MRC and RE Sources for Sustainable Communities.
Member Spotlight: Jay Lind
Skagit MRC
Jay Lind was born and raised in the Seattle area and graduated from the University of Puget Sound with a business degree in 1969. Married to April since 1969, they have two sons and two granddaughters. He started sport fishing after retiring and joined the Skagit MRC to become involved with enhancing the local marine resources.
Continue Reading »
Upcoming Events
Virtual MRC Symposium: Session #6

Thursday
July 23
3:30 PM-5:00 PM

This is the sixth of a multi-part series called the Virtual MRC Symposium. Representatives from San Juan MRC will highlight projects, successes and lessons learned during this session. Register here.

WebEx

July Commission Meeting

Friday
July 31
10:00 AM-1:00 PM

Click here to join the Zoom meeting.

Meeting ID: 845 6330 3405
Password: 655732
Dial in: 253-215-8782

For meeting security, you'll be placed in a waiting room before being directly admitted to the meeting. 

Zoom

Virtual MRC Symposium: Session #7

Thursday
August 06
3:30 PM-5:00 PM

This is the seventh of a multi-part series called the Virtual MRC Symposium. Representatives from Island MRC will highlight projects, successes and lessons learned during this session. Register here.

WebEx