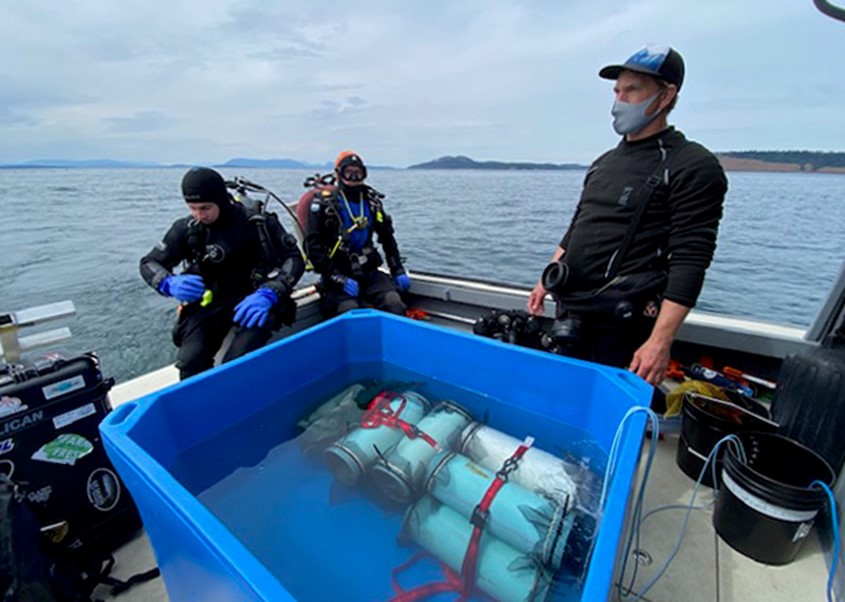 Pinto abalone restoration - Skagit MRC
Pinto abalone restoration and monitoring efforts in Skagit County began anew this season with an exciting discovery: project partners, WA Dept. of Fish and Wildlife and Puget Sound Restoration Fund divers, found lots of juvenile pinto abalone at two sites previously thought to have very low survival rates! Those two sites have been added back on the list for future population restoration by continuing to outplant juveniles.
Other good news for 2021 is that this year was a bumper crop for hatchery abalone, so there will be about twice as many outplanted as proposed this year for four restoration sites in Skagit County. Read more about Skagit MRC's role in bringing back this state endangered species.
Annual Report
We are pleased to share with you our 2020 Annual Report! The successes highlighted in our 2020 annual report demonstrate the perseverance of volunteers and staff in the face of adversity. It's also testament to the culture of community across the Initiative. Thank you to our volunteers, staff, and partners for making 2020 a successful year. Please take a few moments to see what we accomplished together in 2020! https://bit.ly/NWSI2020
The Northwest Straits Commission is a regional coordinating body comprised of people who care about the marine areas where they live, and who work together to protect and restore marine resources.
The Northwest Straits Commission carries out regional conservation projects and supports the work of seven Marine Resources Committees through funding, technical support, training and regional coordination.
Find us on:  Facebook   Twitter   Instagram   LinkedIn
More About Us and the Northwest Straits Region »
June 2021 Commission Meeting
June 25
Zoom
Making an oyster bed

Jefferson MRC

Jefferson MRC volunteers recently gathered for a shell toss to spread 80 bags of Pacific oyster shell at their Discovery Bay oyster restoration site, delivered by Taylor Shellfish.

12 MRC members and community volunteers placed shell in several areas along the shoreline to help provide a place for little oyster larvae to land and grow.

Click here to learn more about the Jefferson MRC Olympia oyster restoration project.

Seahorse Siesta beach cleanup

Island MRC

Island MRC recently worked with the Seahorse Siesta community to organize a cleanup of tires and marine debris along the shoreline west of the Seahorse Siesta restoration site. Volunteers gathered 70 tires along with a broken kayak, rebar, and other debris. WA Department of Natural Resources marine debris removal program will dispose of the debris when higher tides allow them to access the site.

NW Straits Commission elections

Northwest Straits

At our April 30 meeting the Northwest Straits Commission elected a new slate of officers. We're excited to announce that Island MRC representative Elsa Schwartz will serve as the chair of the Commission for the next year. Tom Cowan, Governor's appointee to the Commission will serve as the vice chair. We're looking forward to this fantastic leadership team!

Many thanks to our outgoing chair, Clallam MRC representative Alan Clark, for serving and leading during such a challenging time this past two years. We appreciate your energy and ability to maintain momentum!
Member Spotlight: Patti Gobin
San Juan MRC
Patti Gobin has over 25 years of Community Development experience with the Tulalip Tribes. Presently, Ms. Gobin is with the Natural Resource Treaty Rights office working with state, local and federal agencies regarding those issues that impact the life ways of the Tulalip Tribes. In addition to her years of experience, Ms. Gobin is a member of the Tulalip Tribes and is well versed in the culture and history of her people. Her personal goal is to invest in the future of the Coast Salish community, helping to affect a sustainable future for the next generations to come.
Continue Reading »