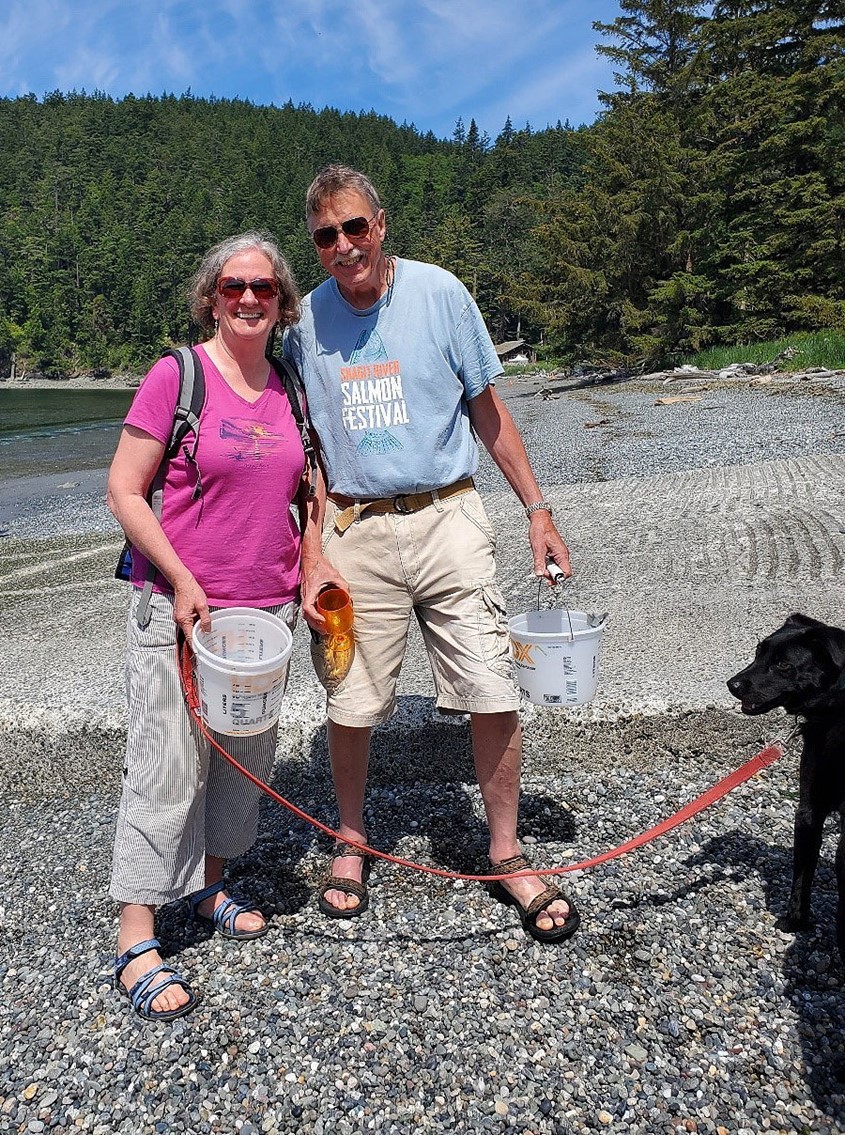 Farewell to Salish Sea Steward stars!
"The moment I met Dale and Brad during a Salish Sea Stewards training I knew I would be working on the beach with them for years to come," shared NW Straits Foundation Marine Projects Manager Jason Morgan. And he was right! As two dedicated volunteers and trained Salish Sea Stewards, Dale Fournier and Brad Smith have been constant in contributing their enthusiasm, time, and leadership to the work of not only Skagit MRC, but the NW Straits Foundation, Padilla Bay Reserve and other local organizations working to protect our nearshore ecosystems. But alas, Brad and Dale are moving east and leaving behind a grateful Salish Sea community of nearshore critters and people so we're taking a moment to celebrate and thank them!
Skagit MRC member Pete Haase recounted an example of ingenuity and can-do attitude "in a recent forage fish survey Brad and Dale were collecting gravel samples along a very long stretch of beach using small buckets. They left two empty buckets along the beach to pick up and use as they worked their way back. When clam diggers absconded with the buckets, they still managed to collect the last two samples using what appeared to be old bread sacks!"
From boots in the mud to paddles in the water and Zoom rooms, Dale and Brad graciously provided time and effort to support a variety of programs like Kids on the Beach, forage fish surveys, kayak kelp monitoring, intertidal surveys, Salish Sea Stewards, volunteering time at Padilla Bay, serving on the Padilla Bay Foundation Board and much more. Padilla Bay Director Jude Apple shared "Over the past few years, Dale and Brad have been two of the most steadfast and reliable volunteers at Padilla Bay."
No matter who you ask, the sentiment is the same. Brad and Dale, thank you! Your new community will be lucky to have you both!
MRCs drive local marine conservation work and provide opportunities to connect community members with volunteer opportunities. If you live in a county with an MRC, learn more about getting involved!
The Northwest Straits Commission is a regional coordinating body comprised of people who care about the marine areas where they live, and who work together to protect and restore marine resources.
The Northwest Straits Commission carries out regional conservation projects and supports the work of seven Marine Resources Committees through funding, technical support, training and regional coordination.
Find us on:  Facebook   Twitter   Instagram   LinkedIn
More About Us and the Northwest Straits Region »
August 2022 Commission meeting
August 26
Island MRC engages Oak Harbor Biology class

Island MRC

In the final weeks of the school year, Island MRC was pleased to work with the Oak Harbor 12th grade Advanced Placement Biology students to set up an initial marine debris survey site for Fort Casey State Park. The site will be monitored by students in the future. This is a collaborative effort with WA State Parks, Sound Water Stewards, and NOAA.

The marine debris data will be entered into a NOAA database to help them learn more about how and where marine debris shows up on our local shorelines. Getting to work with students was a highlight for the MRC they look forward to continuing to support these emerging scientists!

Jefferson MRC Olympia oyster team gets their boots in the mud

Jefferson MRC

Jefferson MRC members and volunteers held a work day last month to haul and spread 16 half barrels of oyster shell from Taylor Shellfish at their Olympia oyster restoration site in Discovery Bay. Getting the shell to the beach means loading wheelbarrows and taking them down the beach trail, across the spit and lagoon at low tide. The deposited shell material will provide a perfect place for little oysters known as "spat" to attach and grow.

Clallam and Jefferson at Streamfest

Clallam and Jefferson MRC

Summer is festival season, and the Clallam and Jefferson MRC's teamed up to share information at the recent Forever Streamfest in Port Angeles. Jefferson MRC also joined the Shrimpfest event in Brinnon. We're excited to get back out into the local communities as these events return to in-person! Look for your local MRC at events near you – check out our events list for a few coming up!
Member Spotlight: Alan Clark
Clallam MRC
The Northwest Straits Commission welcomed Alan Clark to the Initiative family in 2015, when he joined the Clallam MRC. Alan grew up near the beach in southern California where he enjoyed exploring the ocean and working in biological sciences. After moving to Washington, he met an MRC member who invited him to one of their meetings, where Alan realized how important the MRCs were in addressing local marine conservation issues.
Continue Reading »
Upcoming Events
August 2022 Commission meeting

Friday
August 26
10am

Check back for agenda and meeting materials. 

September 2022 Commission meeting

Friday
September 30
10am

Check back for agenda and meeting materials. 

December 2022 Commission meeting

Friday
December 09
10am

Check back for agenda and meeting materials.