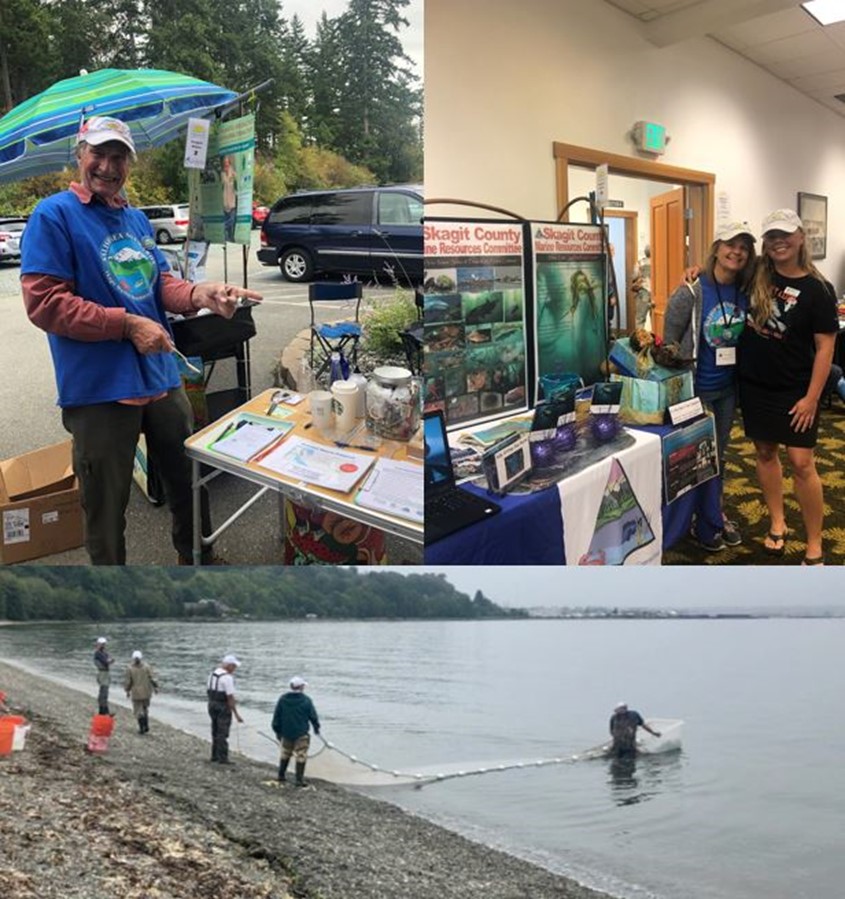 2019 Fidalgo Bay Day
On August 24, the 16th annual Fidalgo Bay Day brought the community together in celebration of our amazing local marine environment. Skagit MRC's annual public outreach event is hosted by the Samish Indian Nation at their Fidalgo Bay Resort clubhouse. Rosie Cayou-James of the Samish Nation provided a heartfelt morning welcome to participants who spent the day learning about the Salish Sea through visiting activity booths, sampling local seafood and educational demonstrations from partner organizations. The event hummed along with support from volunteers, staff and many local organizations and event partners.
Highlights included a 3D virtual tour of the Salish Sea from Diver Laura, a beach seining demonstration to get a glimpse of sea creatures just off the shore, beach walks, interactive displays and complimentary seafood samples.
To learn more about the work of the Skagit MRC and other upcoming events, click here.
The Northwest Straits Commission is a regional coordinating body comprised of people who care about the marine areas where they live, and who work together to protect and restore marine resources.
The Northwest Straits Commission carries out regional conservation projects and supports the work of seven Marine Resources Committees through funding, technical support, training and regional coordination.
Find us on Facebook.     Follow us on Twitter.
More About Us and the Northwest Straits Region »
September Commission Meeting
September 27
WebEx
Port Hadlock buoys cleaned and floating high again!

Jefferson MRC

Jefferson MRC's voluntary no-anchor zones help boaters protect eelgrass and shellfish beds from boat damage. In Port Townsend, the no anchor zone buoys are replaced seasonally with marker buoys, and they are cleaned in the off season. In Port Hadlock the no anchor zone buoys mark the area year round, and after installation they need regular maintenance.

These Port Hadlock buoys got a good scrubbing this month to help ensure that they are visible to boaters. Jefferson MRC members Troy McKelvey and Gordon King were this year's "cleaning crew", scraping off accumulated shellfish and other 'fouling" that weighs down the buoys. Check out the before and after photos to see how much higher the buoys float when cleaned!

Learn more about this project here.

2019 Clallam intern celebration

Clallam MRC

Our June meeting was packed with presentations on what is around the corner for 2020. Representatives from the MRCs shared just one of the many projects they'll be working on in their counties in the coming year.

Learn more about the work of the MRCs on our website.Clallam MRC hosted their annual celebration for the 2019 summer interns as they wrapped up their projects this month. This public event draws a great crowd to support these rising stars of the science community, and interns leave with valuable field experience as they continue their studies. Alisa Taylor shared her work on the kayak-based kelp surveys conducted at three locations along the Strait of Juan de Fuca; Alisandra Baccus focused on Olympia oyster restoration effort in Sequim Bay and her participation in the monitoring effort for the invasive European green crab; on behalf of Shae Pozarzyski, Jeff Ward presented on the Pigeon Guillemot monitoring project; and Raven Sharpe shared results from outreach to recreational crabbers, including inviting the audience to participate in a game to learn how to "catch more crabs". Thanks to all these interns and their MRC mentors for taking on these projects!

Learn more about the Clallam MRC's intern program here.

Island Outdoor Discovery Day

Island MRC

Island MRC took their marine outreach outdoors this month at Family Outdoor Discovery Day at Fort Casey, joining up with Sound Water Stewards, Washington State Parks and many other local organizations to host outdoor discovery stations focused on the local environment and activities.

Hands-on activities and a sunny day were the perfect combination to bring people outdoors to engage and learn about the Salish Sea! Thanks to Island MRC volunteer Gwendolyn Hannam, and MRC staff Anna Toledo for bringing big smiles and their enthusiasm to the event! Follow the work of Island MRC at www.islandcountymrc.org.
Member Spotlight: Elsa Schwartz
Island MRC
Elsa joined Island MRC in January 2015 after she became intrigued by the concept of Marine Resources Committees while studying at the University of Washington under Dr.Terrie Klinger, a former San Juan MRC member and Northwest Straits Commissioner. The idea of a localized, bottom-up approach to protecting and restoring marine resources appealed to her as she was forming a career around her love of the marine world. Elsa is the Senior Director of Restoration for Restore America's Estuaries (RAE), an Instructor of Marine Science at Trinity Lutheran College in Everett and is also a member of The Coastal Society and the Coastal and Estuarine Research Federation.
Continue Reading »
Upcoming Events
Saturday-Sunday
September 14-September 22


Join Whatcom MRC as they participate in this week long annual event through various outreach activities.

Whatcom County, WA

Friday
September 20
10:00 AM-1:00 PM

 Join Skagit MRC and Skagit Fisheries Enhancement Group in maintaining their restoration sites.

Bowman Bay

Saturday-Sunday
September 21-September 22


Come see Whatcom MRC's booth at this 2 day event on Bellingham's waterfront.

Bellingham, WA