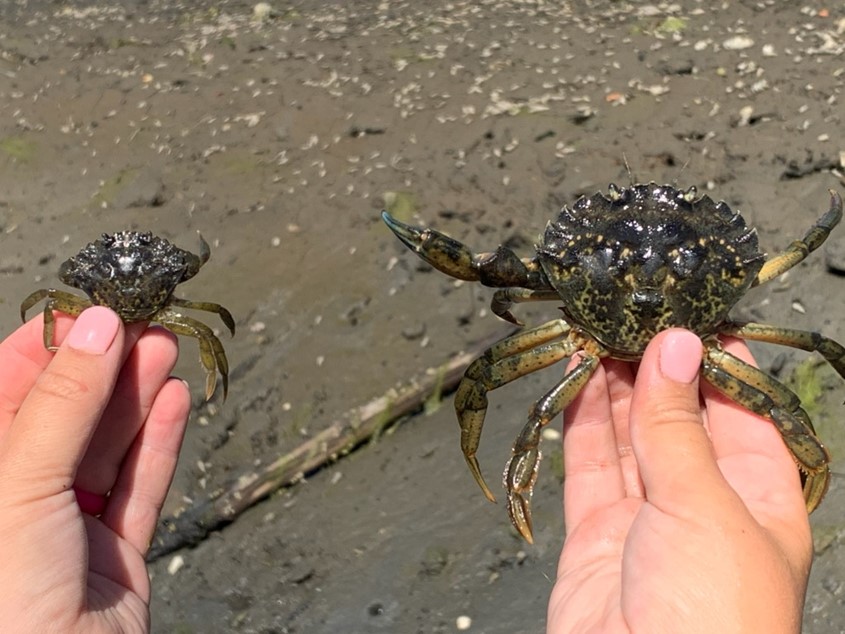 Green crab trapping is done for the year
European green crab trapping in Drayton Harbor has finally wrapped up for the year. Green crabs can cause devastating ecological and economic damage so removing them from Drayton Harbor was a top priority for the Northwest Straits Commission and our multiple partners.
This year we faced many hardships establishing a green crab trapping program in Drayton Harbor. In addition to all the normal trouble with nearshore field work like getting stuck in the mud or having our boots flooded with seawater, many unexpected problems arose as well. With the onset of the COVID pandemic, field work in early spring - when green crabs are most active - was restricted, forcing trapping to start over a month later than we anticipated. As a fitting bookend, smoke from the wildfires made it nearly impossible to do field work during our last really low tide at the end of the season. Initially, we also intended to have volunteers assisting with trapping efforts but to ensure everyone's health and safety, we weren't able to do so. We definitely missed not having a dedicated corps of volunteers with us!
Despite all these hardships, we still managed to trap much of the Drayton Harbor shoreline and in multiple areas along California and Dakota Creeks. In total, we set over 3,000 traps and were able to remove 253 green crabs from Drayton Harbor. We're crossing our fingers that next year we'll be able to start on time and invite volunteers helping us out!
Follow our work on green crab here.
The Northwest Straits Commission is a regional coordinating body comprised of people who care about the marine areas where they live, and who work together to protect and restore marine resources.
The Northwest Straits Commission carries out regional conservation projects and supports the work of seven Marine Resources Committees through funding, technical support, training and regional coordination.
Find us on:  Facebook   Twitter   Instagram   LinkedIn
More About Us and the Northwest Straits Region »
Winter buoys in Port Townsend

Jefferson MRC

You know winter is officially on its way when Jefferson MRC replaces the summer buoys with winter buoys in the voluntary no-anchor zone in Port Townsend Bay!

Jefferson MRC has three buoy fields that protect eelgrass beds. The buoys encourage boaters to anchor outside eelgrass beds to prevent anchors and chains from swinging around the bottom and scraping eelgrass. The weather conditions at two of the sites (Mystery Bay and Port Hadlock) are relatively benign, so the MRC leaves the same buoys in place all year.

Port Townsend Bay gets significantly more waves and wind action in the winter months, so MRC members pull the large (66 pound) buoys out in the fall and replace them for the winter months with much smaller buoys (yellow net buoys with markings) that can ride the waves better and do not exert as much pull on the auger anchors and anchor lines during the winter. They'll place the larger buoys again in late spring before the next summer boating season gets underway.

Learn more about Jefferson MRC's voluntary no-anchor zones on their website at www.jeffersonmrc.org.   

Marine Stewardship Area update

San Juan MRC

In 2004, the San Juan Board of County Commissioners created the San Juan Marine Stewardship Area (MSA) and asked the MRC to work with scientists and community leaders to create a management plan that would achieve a healthy marine ecosystem in balance with human use and enjoyment, finalized in 2007.

San Juan MRC is now updating that original Marine Stewardship Area Plan, bringing on fellow Abigail Ames in 2020 to help lead the process. Her experience ended up being a catalyst for a new focus in her career path:

"When I began working with the MSA, I wasn't quite sure what my future had in store, but I knew I wanted to be at the intersection of science and tangible, community driven change," Abigail noted of her role. "Throughout the process of working on the MSA update, I have developed my skills in interviewing and synthesizing information across industry, tribes, government, and the public. Engaging with this collaborative approach motivated me to pursue a master's degree with the UW School of Marine and Environmental Affairs, where I aim to further develop skills in community based policy and management with an emphasis on Indigenous communities."

As Abigail begins her graduate program and continues on her career path, the MRC continues the MSA update process. Stay tuned for the updated plan and read more about the original plan on the San Juan MRC website.

Representative Rick Larsen site visit series

Whatcom MRC

Over the last month and a half, Congressman Rick Larsen visited five Marine Resources Committees (MRC) in his congressional district to see firsthand how volunteers are helping to restore and protect Puget Sound.

MRC volunteers and staff highlighted bulkhead removal projects (Seahorse Siesta and Sunlight Shores – Island County), beach restoration (Lummi Island quarry – Whatcom County), creosote piling identification (Snohomish Estuary – Snohomish County), community education programs (Kids on the Beach and Salish Sea Stewards - Skagit County), and outreach efforts to engage the public in Southern Resident Killer Whale protection and marine resources stewardship (San Juan County). The projects were great examples of how MRCs bring together scientists and community members to accomplish impactful projects using a bottom-up approach.

Click here to learn more about what your local MRC is doing.
Member Spotlight: Linda Rhodes
Island MRC
Linda Rhodes, PhD, of Greenbank is a research microbiologist at the National Oceanographic & Atmospheric Administration's (NOAA) Northwest Fisheries Science Center in Seattle. She has conducted research in salmon infectious disease and immunology and in aquatic toxicology around Puget Sound since the mid-1970s.
Continue Reading »
Upcoming Events
Friday
January 29
10am-12pm

Monthly meeting of the Northwest Straits Commission. Check back for meeting agenda and materials. 

Zoom