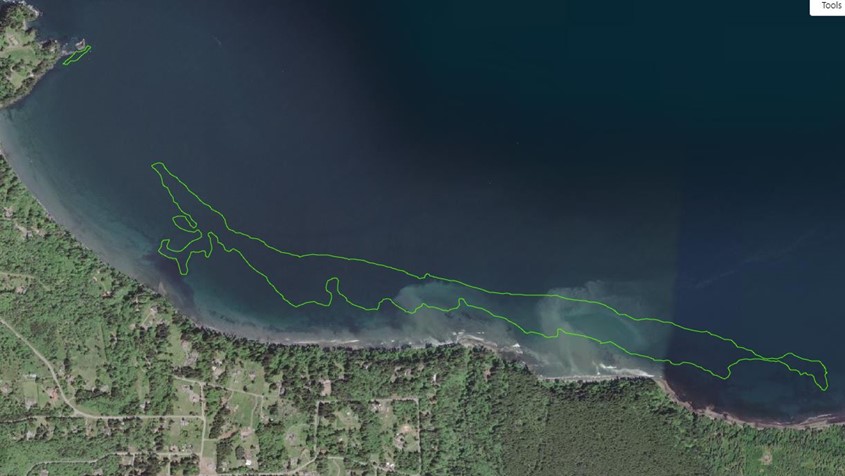 2020 Kelp Data Now Available on SoundIQ
In a labor of love, multiple MRCs continue to champion our community science effort to monitor select bull kelp beds by kayak in the Northwest Straits. Despite 2020's many challenges, over 40 volunteers got out on the water to paddle around kelp bulbs to contribute to our growing long-term data set.  
This past summer the volunteers surveyed 22 different bull kelp beds, documenting 416 acres of bull kelp forest, all while paddling over 230 miles collectively. The data gathered in 2020 helps to paint a picture of how our local bull kelp beds vary year to year in the hopes to document natural variability and emerging trends. 
We've recently added the 2020 MRC kelp data to our Sound IQ web-map. Take some time to dive in and explore some of your local bull kelp forests. 
The Northwest Straits Commission is a regional coordinating body comprised of people who care about the marine areas where they live, and who work together to protect and restore marine resources.
The Northwest Straits Commission carries out regional conservation projects and supports the work of seven Marine Resources Committees through funding, technical support, training and regional coordination.
Find us on:  Facebook   Twitter   Instagram   LinkedIn
More About Us and the Northwest Straits Region »
Join the Salish Sea Stewards!

Skagit MRC

The 2021 Salish Sea Stewards training program begins February 23 and there is still time to apply. Training includes ten virtual classes held Tuesday afternoons and two optional small group field sessions. Check out the training program flyer and registration form on the MRC website at www.skagitmrc.org.

Community Action with MyCoast

Island MRC

One of the biggest impacts that MRCs have on their counties' natural environment is connecting people to the nearshore environment, and empowering community members to become stewards. One important tool in that effort is MyCoast, which enables community members to share information about local conditions with decision-makers and stakeholders. Beachgoers are able to take photos and submit reports about derelict vessels and large marine debris.

Island MRC member Randy Berthold knows the value of MyCoast when put in the hands of community members. He teaches friends, neighbors, and other community groups how to use MyCoast, and has seen immediate results. Last week, when a roll of barbed wire showed up on the beach, a community member (who Randy had taught to use MyCoast) used the app to submit a report, and the timing worked for a WA Dept of Natural Resources clean up team to remove it right away. Randy thinks that the simplicity of the MyCoast app is the key to ensuring community members use it, and he is quick to offer his services to tutor interested folks on the app so that as many people as possible know about the tool and can use it to improve their community.

Do you want to be part of the MyCoast movement? You can find the app in the App Store or on Google Play.

Community Science in the time of COVID

Whatcom MRC

Community science volunteers, like North Sound Stewards, help protect the Salish Sea. While 2020 was very different than any other year, North Sound Stewards were still able to fill important data gaps to inform management plans and more!

The North Sound Stewards partners, Whatcom MRC and RE Sources for Sustainable Communities, recently shared this video highlighting all the amazing work North Sound Stewards did in 2020!

Interested in learning more or signing up to become a North Sound Steward? Learn more at www.whatcomcountymrc.org.
Member Spotlight: Patti Gobin
San Juan MRC
Patti Gobin has over 25 years of Community Development experience with the Tulalip Tribes. Presently, Ms. Gobin is with the Natural Resource Treaty Rights office working with state, local and federal agencies regarding those issues that impact the life ways of the Tulalip Tribes. In addition to her years of experience, Ms. Gobin is a member of the Tulalip Tribes and is well versed in the culture and history of her people. Her personal goal is to invest in the future of the Coast Salish community, helping to affect a sustainable future for the next generations to come.
Continue Reading »
Upcoming Events
Friday
February 26
10:00 am-12:00 pm

Click here to join the Zoom meeting.
Meeting ID: 857 0759 0222
Passcode: 527115

March 2021 Commission Meeting

Friday
March 26
10:00 am-12:00 pm

Click here to join the Zoom meeting.
Meeting ID: 821 4031 6063
Passcode: 408138


Northwest Straits Initiative 101- April 2021

Thursday
April 15
12:00 pm-1:00 pm

Join us for a primer on the Northwest Straits Initiative! Gain an understanding of the Initiative, the roles and responsibilities of the Commission, Foundation and MRCs, and ask questions to Initiative leadership and seasoned MRC members.

Click here to join the Zoom meeting. 

Meeting ID: 811 4738 6686
Passcode: 273884
Call in: 253-215-8782

Zoom