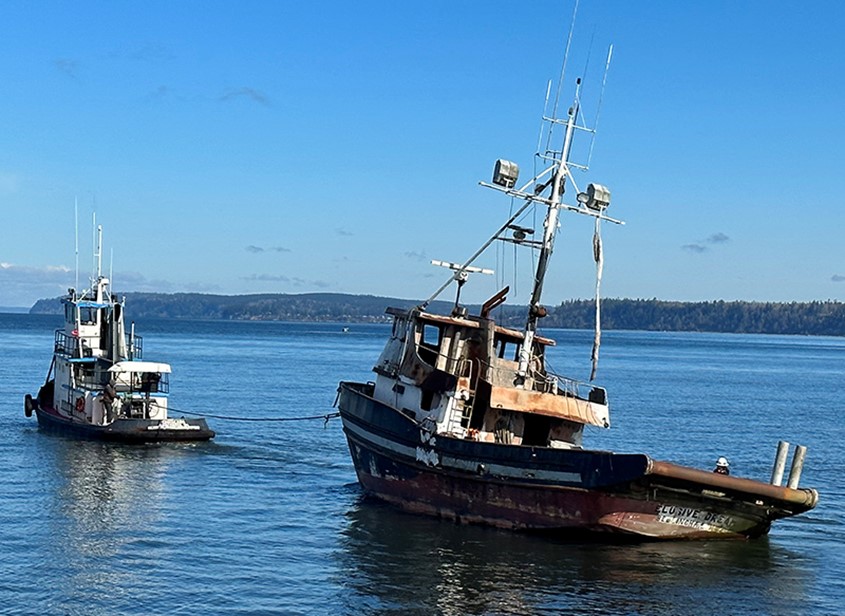 Derelict Vessels: An Elusive Dream come true in Snohomish County
Within the Snohomish Estuary, derelict and abandoned vessels are a concern for navigation and environmental conditions. In Steamboat Slough, a derelict dock played host to the equally derelict F/V Elusive Dream, which has been in Washington State's Derelict Vessel Inventory since 2006 - but likely sitting derelict for much longer. In 2021, the Shilo joined the same dock and sunk to the bottom of the slough. 

In April, Snohomish MRC, Snohomish County Surface Water Management, WA Department of Natural Resources (DNR), and the NW Straits Commission partnered to remove both vessels. The Elusive Dream was towed away for disposal, while the Shilo had sunk and was partially buried, making removal more complex. Contractors removed as much as possible, including the two main engines, an auxiliary engine, and multiple fuel tanks with an estimated 100 gallons of fuel. 

Elisa Dawson, staff for Snohomish MRC and Surface Water Management, said "It feels monumental for us in Snohomish County. Staff and MRC members have dreamed of removing the Elusive Dream and the Shilo for years. I know I can speak for everyone at Snohomish County when I say really nice work by all! We appreciate the NW Straits Commission putting the funds together and the work by DNR to make this happen. An elusive dream come true!"

Follow along as we continue to tackle derelict vessels in the NW Straits region in partnership with DNR, MRCs, and tribes, with Congressionally Directed funds from NOAA.

Click here to learn more about our Derelict Vessel removal efforts.
The Northwest Straits Commission is a regional coordinating body comprised of people who care about the marine areas where they live, and who work together to protect and restore marine resources.
The Northwest Straits Commission carries out regional conservation projects and supports the work of seven Marine Resources Committees through funding, technical support, training and regional coordination.
Find us on:  Facebook   Twitter   Instagram   LinkedIn
More About Us and the Northwest Straits Region »
June 2023 Commission meeting
June 23
Lopez Island, San Juan County
Beach seine with schools

Whatcom MRC

Whatcom MRC held their first 2023 Beach Seine with Schools event in April, with Lummi School 4th graders hitting the beach on a sunny spring day! While kids ate their lunch, Lummi Elder and retired Skookum Hatchery Manager Bill Finkbonner spoke about the history of salmon fishing using fish traps and reef net gear and the important role of salmon hatcheries in providing sustainable populations.


Many thanks to the Lummi Nation School teachers and Natural Resources staff, along with Whatcom MRC members who developed the project and led the classroom activities, as well as the many volunteers and SSCC members who helped ensure a successful event on the beach.

Click here to learn more about this project.

Save the Date! Fidalgo Bay Day at Fidalgo Bay Resort - August 26!

Skagit MRC

August 26

 – Save the date! 

Fidalgo Bay Day 

at Fidalgo Bay Resort. 11am-3pm. Check back at 

www.skagitmrc.org

 for more information as the event date approaches.

 

Congratulations Salish Sea Steward Grads!

Skagit MRC

Congratulations to the 2023 graduating class of Salish Sea Stewards! On April 24, these 24 new volunteers joined the growing network of Salish Sea Stewards in Skagit County. Over the last 11 weeks, the 2023 cohort participated in 40 hours of training on the Salish Sea and the many ways to volunteer in Skagit County. 

The 2023 cohort of Salish Sea Stewards committed to volunteering for at least 40 hours over the next year. We look forward to their contributions to the health of the Salish Sea in the next year and beyond.  

Click here

 to learn more about the Salish Sea Stewards, a program of the Skagit MRC.

 
Member Spotlight: Natasha Cuomo
Snohomish MRC
Natasha Cuomo was inspired to help restore and protect the environment after moving here from Macedonia and seeing the wealth of marine resources in the Pacific Northwest. She is a restoration ecologist representing the Tulalip Tribes on the Snohomish MRC. Her specialty is in restoring salmon habitat, especially Chinook and coho in estuaries and rivers.
Continue Reading »
Upcoming Events
June 2023 Commission meeting

Friday
June 23
10am

Check back for agenda and meeting materials. 

Lopez Island, San Juan County. Contact Caitlyn Blair for more information and details. 

Lopez Island, San Juan County

July 2023 Commission meeting

Friday
July 28
10am

Check back for agenda and materials. 

Padilla Bay Reserve, Skagit County

Padilla Bay Reserve

August 2023 Commission meeting

Friday
August 25
10am

Check back for agenda and meeting materials.

Join Zoom meeting - click here.
Meeting ID: 814 7664 5479
Passcode: 045521