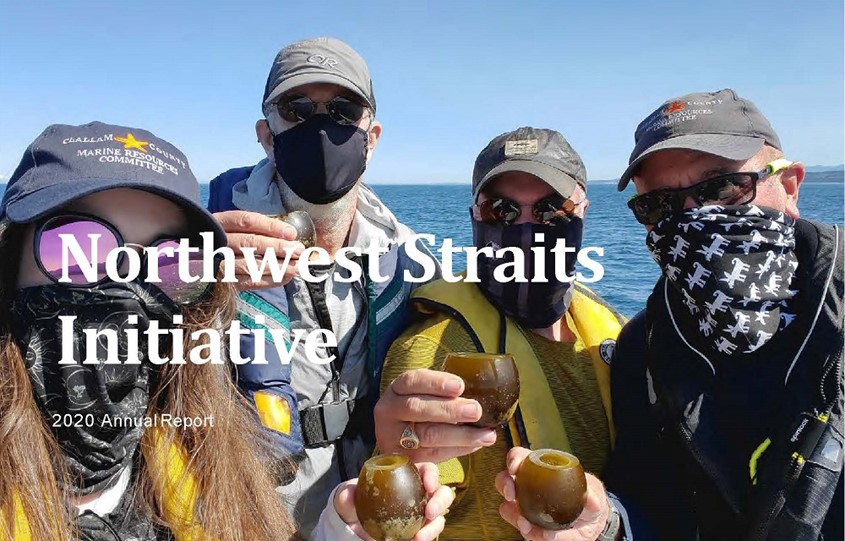 2020 Annual Report
This month, we're pleased to share with you our 2020 Annual Report! In 2020, we faced unanticipated challenges as the global pandemic created a public health emergency that affected countless lives and livelihoods. It also created enormous obstacles to mission driven organizations whose existence depends upon community and volunteer engagement.

The successes highlighted in our 2020 annual report demonstrate the perseverance of volunteers and staff in the face of adversity. It's also testament to the culture of community across the Initiative. Thank you to our volunteers, staff, and partners for making 2020 a successful year.
Please take a few moments to see what we accomplished together in 2020! https://bit.ly/NWSI2020 
The Northwest Straits Commission is a regional coordinating body comprised of people who care about the marine areas where they live, and who work together to protect and restore marine resources.
The Northwest Straits Commission carries out regional conservation projects and supports the work of seven Marine Resources Committees through funding, technical support, training and regional coordination.
Find us on:  Facebook   Twitter   Instagram   LinkedIn
More About Us and the Northwest Straits Region »
April 2021 Commission Meeting
April 30
zoom
Welcome, Jonathan

Northwest Straits

Welcome to Jonathan Hallenbeck, our new Marine and Nearshore Project Technician. Jonathan completed his Bachelor of Applied Science in Environmental Conservation at Skagit Valley College in 2020, and is eager to continue using and building his skills and knowledge. A Marine Corps Veteran, we were able to bring Jonathan on to our team through the NOAA WDVA Veterans Conservation Corps Fisheries Internship Program.

Navy Aircraft Noise Science Symposium

San Juan MRC

San Juan MRC recently co-hosted a science symposium with the Salish Sea Institute on the subject of Navy Jet Noise and potential impacts to the marine and terrestrial habitats of the Salish Sea and Olympic Peninsula including impacts on endangered species such as the Southern Resident killer whale and the marble murrelet. If you missed the event, it's not too late to watch. Click here to view the recorded webinar.

Adopt a Beach!

San Juan MRC

San Juan MRC's Plastic Free Salish Sea campaign launched a new feature! Local residents are invited to Adopt a Beach, pledging to take time to clean litter from the beach at regular intervals. These beach stewards help keep San Juan County's shorelines and beaches beautiful. Click here to learn more and choose a beach.
Member Spotlight: Paul Clampitt
Snohomish MRC
Paul Clampitt provides the MRC with detailed insight to the economic aspects of the fishing industry, specifically how to be environmentally conscious harvesting from the sea. A decorated fisherman, Paul owns the fishing vessel Augustine, has served on multiple government committees (the Advisory Panel to the North Pacific Fisheries Management Council & the Marine Fisheries Advisory Committee to the U.S. Dept. of Commerce), and is the Vice President of the Fishing Vessel Owners Association.
Continue Reading »
Upcoming Events
April 2021 Commission Meeting

Friday
April 30
10:00 am-12:00 pm

Click here to join the Zoom meeting.
Meeting ID: 853 4062 4867
Passcode: 097596

zoom

May 2021 Commission Meeting

Friday
May 28
10:00 am-12:00 pm

Click here to join the Zoom meeting.
Meeting ID: 896 0185 9147
Passcode: 119163


 

Zoom

June 2021 Commission Meeting

Friday
June 25
10:00 am-12:00 pm