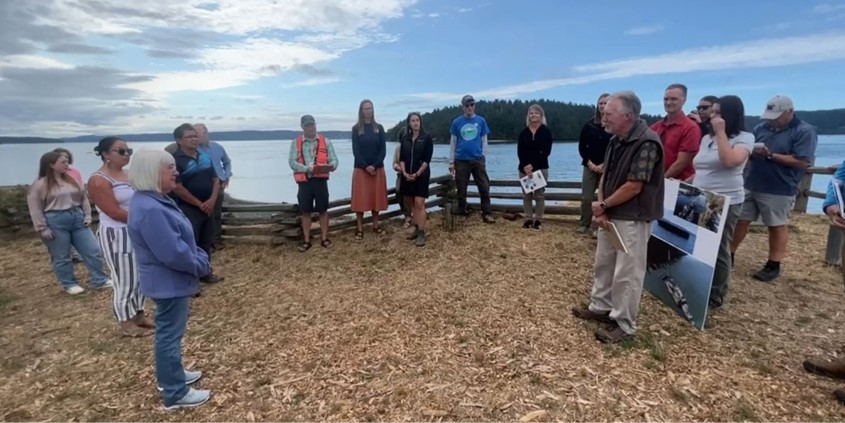 Senator Patty Murray visits Lone Tree Point
In August, U.S. Senator Patty Murray (D-WA), Chair of the Senate Appropriations Committee, visited Lone Tree Point to learn about several collaborative marine conservation and restoration projects and work being done between the Swinomish Indian Tribal Community, Northwest Straits Commission, and Skagit Marine Resources Committee (MRC). The Northwest Straits Commission provides funding, coordination, and technical support to seven county-based MRCs. Senator Murray successfully led authorization of the Northwest Straits Commission in 1998 and has secured federal funding for the Commission repeatedly in the decades since. During her visit, Senator Murray saw those federal funds at work restoring important ecosystems through collaboration with tribal partners. Tribal leaders, environmental experts, and volunteers and staff from the Skagit MRC and the Northwest Straits Commission also talked with Senator Murray about the work that remains to protect the Northwest Straits. 

Senator Murray is currently leading Northwest Straits Initiative reauthorization, a crucial step towards safeguarding our unique marine ecosystems and coastal communities within the region. The Initiative's strength and significance is rooted in local community partnerships through MRCs. These partnerships preserve and restore the delicate ecosystem of the Northwest Straits, renowned for its ecological richness and economic importance. 

Through permanent reauthorization, the Northwest Straits Initiative would be recognized as a federal program that works by consensus and drives important work from the grassroots level. 

United States Senate Committee on Appropriations
The Northwest Straits Commission is a regional coordinating body comprised of people who care about the marine areas where they live, and who work together to protect and restore marine resources.
The Northwest Straits Commission carries out regional conservation projects and supports the work of seven Marine Resources Committees through funding, technical support, training and regional coordination.
Find us on:  Facebook   Twitter   Instagram   LinkedIn
More About Us and the Northwest Straits Region »
September 2023 NW Straits Commission meeting
September 29
Coupeville Town Library - 788 NW Alexander St, Coupeville, WA 98239
Marine critter coasters

Clallam MRC

Clallam MRC developed six different outreach coasters to provide information about marine critters and the environment, and to raise awareness of the MRC and outreach opportunities. The front of the coaster shows a colorful marine photo, while the back highlights key educational facts and provides a QR code that links to the MRC website for more information. 

Last year kicked off with pigeon guillemots, sea otters, and orcas, designed by MRC intern McKenzie Ginther and MRC mentor Ann Soule. The MRC members distributed them to around twenty local business, the Port Angeles library, and they were a hit at the StreamFest community event.

This year, three new species joined the lineup: Dungeness crab, kelp, and Olympia oysters. County fair visitors picked them up at Clallam County's Department of Community Development fair booth, and the MRC is distributing them to local businesses. 

Cultivating sustainability with rain gardens

Jefferson MRC

In recent weeks, the Jefferson MRC rain garden initiative has seen enthusiastic participation and progress. Isabelle Jones, the MRC's dedicated rain garden intern, spearheaded a successful weeding and mulching work party with the MRC project lead, Janette Mestre, at the Northwest Maritime Center on August 1. Supported by MRC member, Frank Handler, and the MRC Coordinator, the event showcased collaborative efforts to maintain the rain gardens. Another rain garden highlight took place on August 10, where a dedicated team - including Master Gardener Ellen Larkin, Isabelle, and the MRC Coordinator - once again came together to weed and mulch the Jefferson County Courthouse rain garden. With the expertise of Bob Simmons at WSU Extension, the MRC is gearing up for its final rain garden installation, anticipated in late September, near the Swan School in Port Townsend. Learn more at the Jefferson MRC website.

Removal of the Wander Lust derelict vessel

Whatcom MRC

Whatcom MRC, Northwest Straits Commission (NWSC), and Washington State Department of Natural Resources Derelict Vessel Removal Program teamed up to remove the vessel known as Wander Lust. The abandoned vessel has been on the land of a private property owner on the Nooksack River Delta in Bellingham Bay, Whatcom County since 2018.

"We would like to extend a huge thank you to all our partners who made this removal possible. We are especially grateful to Smith Gardens Inc. for granting a staging area and beach access during the day," said Bob Cecile, Whatcom MRC Derelict Vessel Workgroup. 

Read the press release to learn more about derelict vessel removal efforts.
Member Spotlight: Kelly Zupich
Island MRC
Kelly is passionate about the marine environment and her values and interests align well with the mission of the Island County MRC. For the last 7 years, Kelly has devoted most of her life to volunteering and working for local environmental organizations, such as The Guillemot Research Group and Sound Water Stewards of Island county.
Continue Reading »
Upcoming Events
September 2023 NW Straits Commission meeting

Friday
September 29
10 AM-3 PM

Click here for Meeting Materials

Coupeville Town Library - 788 NW Alexander St, Coupeville, WA 98239

Northwest Straits 2023 Conference

Friday-Saturday
November 03-November 04


Annual conference for members of the Northwest Straits Marine Resources Committees. 

December 2023 NW Straits Commission Meeting

Friday
December 08
10 AM-12 PM

Virtual on Zoom