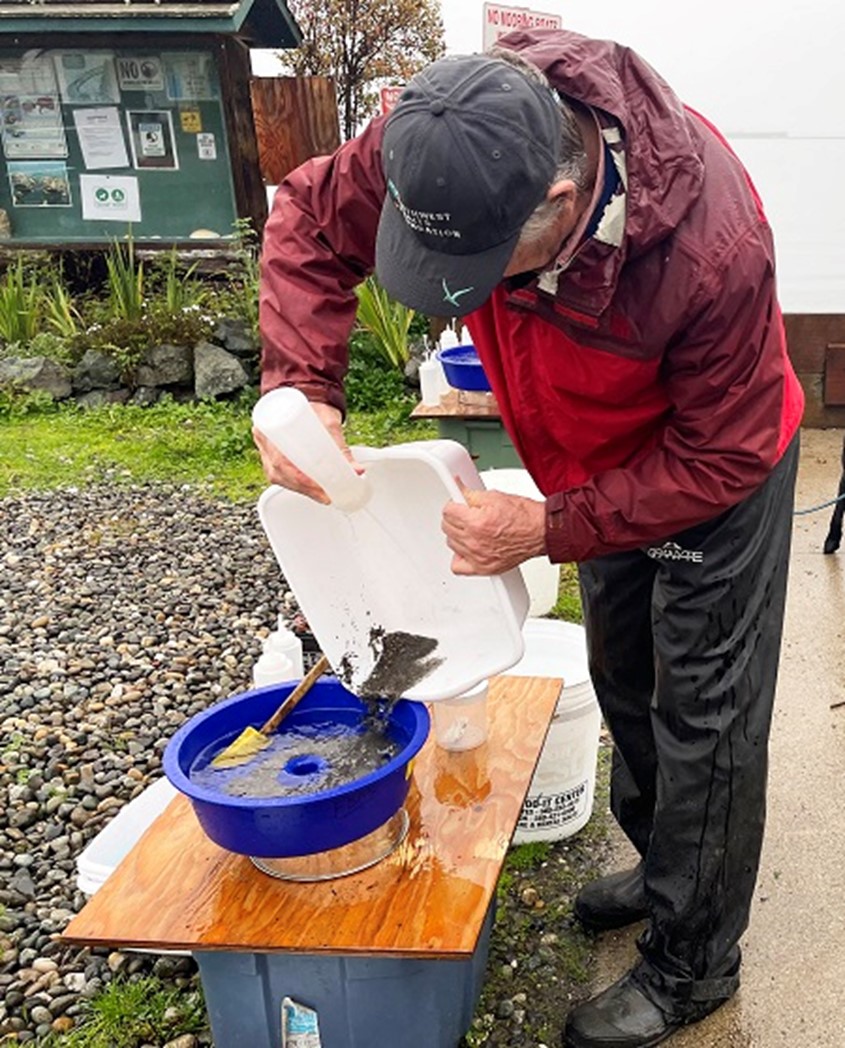 Finding forage fish!
Throughout 2021, dedicated MRC volunteers working on documenting forage fish spawning areas collected and filtered an incredible 464 beach samples. This effort adds to WA Department of Fish and Wildlife's (WDFW) long-term monitoring database. Kate Olson from WDFW provided a summary of the 2021 forage fish sampling data to MRC volunteers during a recent check-in meeting.

Both sand lance and surf smelt eggs were collected at long-term monitoring sites in Clallam, Jefferson, and Island counties by MRC volunteers. Skagit and Whatcom county volunteers found surf smelt spawning, and volunteers in Snohomish County documented sand lance spawning.

Click here to view out the results from the forage fish surveys on WDFW's interactive web map.
The Northwest Straits Commission is a regional coordinating body comprised of people who care about the marine areas where they live, and who work together to protect and restore marine resources.
The Northwest Straits Commission carries out regional conservation projects and supports the work of seven Marine Resources Committees through funding, technical support, training and regional coordination.
Find us on:  Facebook   Twitter   Instagram   LinkedIn
More About Us and the Northwest Straits Region »
July 2022 Commission meeting
July 29
Jefferson MRC seeks derelict crab pots

Jefferson MRC

Jefferson MRC is working with the Sea Dragons, a student team that does underwater robotics, to survey for derelict crab pots in the area. This short video from MRC member and project lead Jeff Taylor shows a day on the water with them as they test out the towed side scan sonar at Adelma Beach. This survey effort is part of a test project that the MRC is doing to see if they can use a low cost ROV to remove lost gear in Discovery Bay.

Welcome Nathan

Northwest Straits

Hi, everyone! I'm Nathan Woods, the new Program Coordinator for the NW Straits Commission. It's an honor to be part of such an important organization and I look forward to helping out in any way I can. I worked for over a decade coordinating events and doing hands-on work with volunteers as Operations Manager at Pigs Peace Sanctuary. I hope my experience there will make me a valuable member of the NW Straits team.

In 2019 I obtained a BA in Environmental Policy from Western Washington University after also studying environmental science extensively. I have always been passionate about protecting and restoring the environment. Being part of the NW Straits Commission is a dream come true for me and I am excited to get to know you all!

Congrats Salish Sea Stewards Grads

Skagit MRC

With 40 hours of training under their belts, the 24 graduates of the 2022 Salish Sea Stewards class are equipped and eager to volunteer. They join a group of truly dedicated folks doing amazing work in our community to protect and restore our shorelines. Welcome and congratulations!
Member Spotlight: Judy Surber
Jefferson MRC
For over 15 years, Judy Surber has served on the Jefferson MRC, bringing a wealth of knowledge on land-use planning and monitoring. Judy was asked to join the MRC when the need for a liaison between the City of Port Townsend and the MRC arose in 2001. Since then she's spent several years as chair, using her valuable skills in facilitating public process and building consensus.
Continue Reading »
Upcoming Events
July 2022 Commission meeting

Friday
July 29
10am

Check back for agenda and meeting materials. 

August 2022 Commission meeting

Friday
August 26
10am

Check back for agenda and meeting materials. 

September 2022 Commission meeting

Friday
September 30
10am

Check back for agenda and meeting materials.