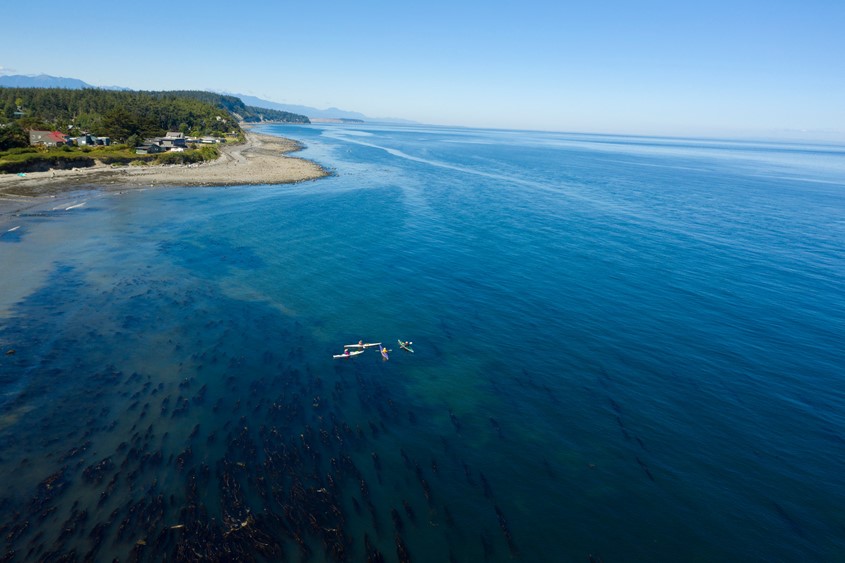 Pacific Sand Lance and Bull Kelp
For the first time in six years of kayak based bull kelp surveys at Ebey's Landing on Whidbey Island, volunteers were able to document Pacific sand lance feeding in one of the bull kelp beds! Here's a short video captured by Vernon Brisley of these important forage fish nestled amongst bull kelp fronds during an afternoon snack. Bonus points if you can spot a couple of Pacific herring who decided to hang out with the sand lance school.
In case you are uncertain about what Pacific herring look like, check out this video taken in the same bed with the sand lance. These videos provide excellent documentation of how important bull kelp beds are for juvenile forage fish.
"Underwater videos and pictures provide windows into all the life thriving in bull kelp beds," says Linda Rhodes, former Island MRC member and leader of the Ebey's Landing kelp surveys. "It's not only the charismatic critters, like fish, that we want to see, but also the less noticeable occupants, like co-existing algae and other kelp."
"Documenting the role of bull kelp within our local ecosystem has value for researchers and provides a visual communication tool for our community about the importance of this seasonal habitat," says Rhodes.
Loving this underwater footage of all the life found in our local kelp beds? Visit Island MRCs Kelp Monitoring page for even more videos!
The Northwest Straits Commission is a regional coordinating body comprised of people who care about the marine areas where they live, and who work together to protect and restore marine resources.
The Northwest Straits Commission carries out regional conservation projects and supports the work of seven Marine Resources Committees through funding, technical support, training and regional coordination.
Find us on:  Facebook   Twitter   Instagram   LinkedIn
More About Us and the Northwest Straits Region »
October Commission Meeting
October 29
Zoom
Let it rain!

Jefferson MRC

Just in time for the rainy days ahead, Jefferson MRC and their partners with the City of Port Townsend and WSU Extension installed another rain garden at Benton and Clay Streets in Port Townsend. Volunteer participation isn't allowed again yet due to COVID-19 restrictions, so City and WSU staff got the digging and planting done, resulting in another 640 square feet of garden that will filter stormwater before it reaches Port Townsend Bay. 

This garden is likely to be a welcome neighborhood amenity, as the local community members who passed by were excited to see it being planted. The adjacent homeowner is committed to caring for the new garden, providing necessary and  ongoing maintenance to help this garden thrive. Learn more about Jefferson MRC's rain garden projects on their website at www.jeffersonmrc.org.   

Coastal Cleanup in the Salish Sea

San Juan MRC

Last month's International Coastal Cleanup and Great Islands Cleanup events resulted in many events around the Salish Sea and a lot of litter and debris getting picked up from local beaches, thanks to the many volunteers who participated. Cleaning beaches is a great way to get outside and improve the Salish Sea environment, while still allowing for social distancing. 
 
Whatcom and San Juan MRCs each participated or co-hosted events, joining with partners to collect hundreds of pounds of plastic and other trash, with sites from Semiahmoo to Lopez Island. Learn more about how to reduce your plastic waste and help keep beaches clean on the Plastic Free Salish Sea website.

Representative Rick Larsen learns about Snohomish MRC pilings project

Snohomish MRC

Congressman Rick Larsen recently met with Snohomish MRC representatives to share information and the final report from their Snohomish Estuary Pilings Prioritization for Removal Project, which mapped 15,564 pilings on private and public lands within the estuary and developed a prioritization plan for removal based on the highest potential to improve estuary habitat and water quality. 

The goal of the project is to provide detailed information to agencies and private landowners of high-priority piling removal opportunities. In the next phase of the project MRC members and County staff will continue to engage in conversations with partners, stakeholders, and private landowners around opportunities to remove high-priority pilings. Learn more about the project and read the final report on their website at www.snocomrc.org. 
Member Spotlight: Ryan McLaughlin
Whatcom MRC
Ryan moved to the Pacific Northwest in 2010 working as a field scientist and scientific diver for the University of Washington and a private environmental consulting company.
Continue Reading »
Upcoming Events
October Commission Meeting

Thursday
October 29
10:00 am-1:00 pm

Click here to join the Zoom meeting.

Meeting ID: 875 1078 0809
Password: 133082
Dial in: 253 215 8782

For meeting security, you'll be placed in a waiting room before being directly admitted to the meeting.

Zoom

Thursday
November 19
4:00 pm-5:00 pm

This event is a follow-up discussion from San Juan MRCs symposium presentation on their oil spill risk consequences assessment. Join this discussion to review existing resources and consider possible roles for MRCs relating to oil spill prevention and response. The PDF linked in the title summarizes available resources and questions to consider, please review before the meeting.

 

Join Zoom Meeting

https://us02web.zoom.us/j/85812051557?pwd=QjB1b05iZUlJTi93OGQ5YThlOVdvdz09

 

Meeting ID: 858 1205 1557

Passcode: 581516

+1 253 215 8782 US (Tacoma)

December Commission Meeting (1)

Friday
December 11
10:00 AM-12:00 PM

Zoom