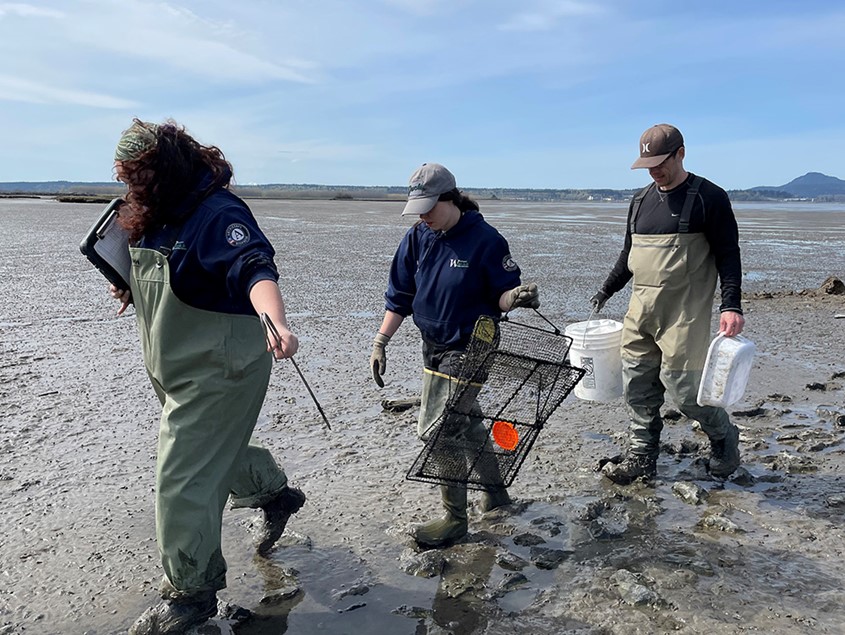 European green crab and the Washington Conservation Corps
We shared a series of posts on our social media from Washington Conservation Corps as they join us as partners in finding and removing invasive European green crab. Check out our Facebook, Twitter, and Instagram for the full series.
Want to get involved with green crab?
If you see a European green crab, dead or alive, report it to https://wdfw.wa.gov/greencrab.
To learn more about the European Green Crab, visit wsg.washington.edu/crabteam.
To keep updated on our trapping efforts, subscribe to our newsletter.
The Northwest Straits Commission is a regional coordinating body comprised of people who care about the marine areas where they live, and who work together to protect and restore marine resources.
The Northwest Straits Commission carries out regional conservation projects and supports the work of seven Marine Resources Committees through funding, technical support, training and regional coordination.
Find us on:  Facebook   Twitter   Instagram   LinkedIn
More About Us and the Northwest Straits Region »
Spring rain gardening

Jefferson MRC

Jefferson MRC's rain garden team hosted two spring work parties where MRC members and staff were joined by community volunteers to weed and add mulch to six of the previously-installed rain gardens in Port Townsend.

Many thanks to everyone for helping to make sure these rain gardens continue to filter water that's headed for Puget Sound! Click here to learn more about Jefferson MRC's rain gardens.

Beach seine with kids

Whatcom MRC

Whatcom MRC launched a new Beach Seine with Kids program this spring, and their first field trip in late April was a great success! MRC and community volunteers hosted a 4th-grade class from a local Bellingham elementary school, with support from a Lummi Natural Resources team. In addition to decent weather and tides at just the right height, the group found 333 salmon smolts in the small net!

Thanks to all who contributed to this event, including Lummi Nation Tribal Elder Steve Solomon, the Lummi Natural Resources field crew, MRC members and other volunteers, Bellingham School District staff, and chaperones!

First green crab of the season

Northwest Straits

Northwest Straits Commission staff started the 2022 European green crab trapping season strong, deploying over 150 traps daily every other week across both Skagit and Whatcom counties. A new WCC crew has joined in the effort, heading-up trapping efforts in Samish Bay.

In mid-April, both the Whatcom and Skagit county crews captured their first crabs of the year, and have now removed a combined total of 12 green crabs from northern Puget Sound.

Click here to learn more about our work on invasive green crab.
Member Spotlight: Phil Green
San Juan MRC
Phil Green joined the San Juan MRC in August, 2013 though he has been attending MRC meetings regularly for many years. Born and raised in Massachusetts, Phil made his way to Washington State in 1973 for a job with the National Park Service.
Continue Reading »
Upcoming Events
Friday
May 27
10am

Click here for the meeting agenda and materials. 

To join the meeting by Zoom, click here. 

Meeting ID: 894 0488 6888
Passcode: 792644

Zoom

Friday
June 24
10am

Check back for meeting agenda and materials. 

To join the Zoom meeting, click here. 

Meeting ID: 873 3389 3733
Passcode: 98273

 

Zoom

July 2022 Commission meeting

Friday
July 29
10am

Check back for agenda and meeting materials.