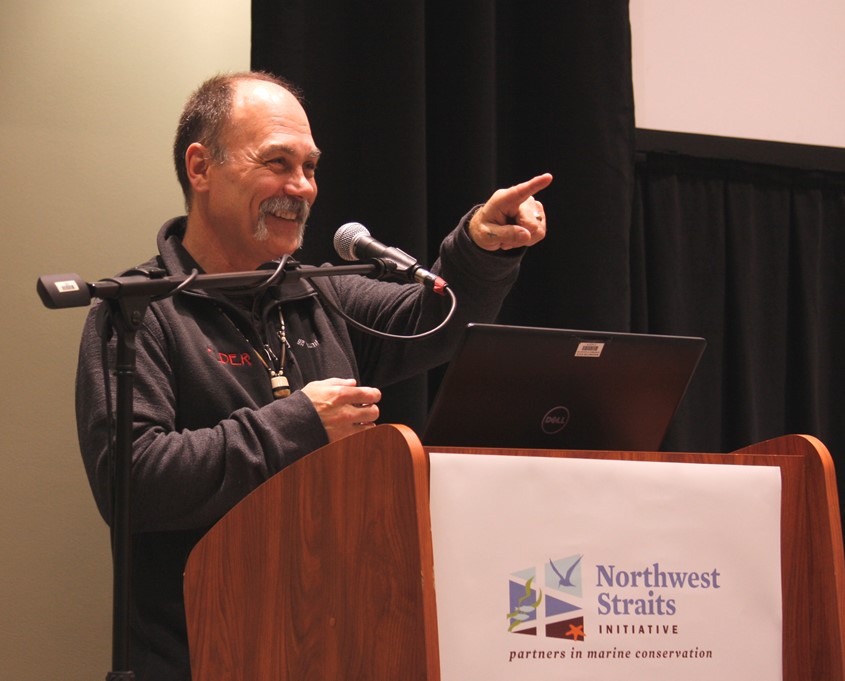 2019 Northwest Straits Conference - Everett
The 21st annual Northwest Straits conference was the highlight of November, and as always a high point of the year for us. The collective energy of more than 130 MRC members, staff, partners, volunteers and expert presenters reminds us how important this work is, and we all leave energized and ready for the coming year.
As one participant shared after the event, "This conference is always one of the most inspiring events I attend because it helps me see the power of collective action AND it renews my faith in citizen-based science." This year we were fortunate to have our Science Advisory Committee lead us in an activity around our collective actions, along with other fantastic presentations from regional stars in the Salish Sea restoration community, including Dr. John Rybczyk, Dr. Rob Williams, Dr. Julia Parrish, Dr. Tish Conway-Cranos, Rebecca Benjamin, and Cheryl Lowe. This year's keynote speaker, Dr. Kirk Johnson of the Smithsonian National Museum of Natural History, took the group on a journey back in time to explore the what the Salish Sea region was like in the distant past. Special bonuses included custom tattoo drawings from artist Ray Troll and a live podcast recording by OCTOpod.
We were joined at the event by a host of inspiring elected officials. Our thanks to Chairman Shawn Yanity of the Stillaguamish Tribe of Indians, U.S. Representative Suzan DelBene, Washington Senator Liz Lovelett, and Washington Representative Debra Lekanoff for taking time to share words of encouragement to this dedicated group of volunteers!
As we close the books on one more successful event, feel free to browse the conference web page to check out presentations, photos and other materials here.
The Northwest Straits Commission is a regional coordinating body comprised of people who care about the marine areas where they live, and who work together to protect and restore marine resources.
The Northwest Straits Commission carries out regional conservation projects and supports the work of seven Marine Resources Committees through funding, technical support, training and regional coordination.
Find us on Facebook.     Follow us on Twitter.
More About Us and the Northwest Straits Region »
January Commission Meeting
January 31
Coupeville LIbrary, Whidbey Island
Kids on the Beach Science Symposium

Skagit MRC

Conway School 8th graders hopped on a bus to their 2019 Kids on the Beach Science Symposium last week at Padilla Bay Reserve. The program starts with class time spent developing a research question, followed by a fieldwork day on the beach to collect data, and wraps up with a science symposium where they have an opportunity to share the results of their research on beach enhancement and surf smelt spawning and fish species richness.

Their presentations showed that they came away with a great understanding of the scientific process and learned a lot about restoration and forage fish. As one student exclaimed, "I would come back to do it all again!" That's exactly what Skagit MRC had in mind for this project - to inspire the next generation of scientists. Learn more about the program at www.skagitmrc.org.

Whatcom MRC celebrates 20 years!

Skagit MRC

Whatcom County Council members recently got a boost of inspiration and positive news as members of the Whatcom MRC and their project partners and volunteers celebrated their 20th anniversary with a presentation at the November Whatcom County Surface Water Work Session. The MRC shared highlights of their work over time as well as recent projects and accomplishments, all adding up to a great value to the community. Great work Whatcom MRC! You can learn mnore about their work here.

Job announcement: Jefferson MRC is hiring!

Jefferson MRC

Jefferson MRC has an opening for a staff coordinator. This is a great opportunity for someone in Jefferson County with an interest in the Salish Sea! Be part of the Northwest Straits family and work with a fantastic team of volunteers. Learn more about the position and apply here. The position is open until filled, but applications will be reviewed beginning on December 4, 2019.
Member Spotlight: Judy Surber
Jefferson MRC
For over 15 years, Judy Surber has served on the Jefferson MRC, bringing a wealth of knowledge on land-use planning and monitoring. Judy was asked to join the MRC when the need for a liaison between the City of Port Townsend and the MRC arose in 2001. Since then she's spent several years as chair, using her valuable skills in facilitating public process and building consensus.
Continue Reading »
Upcoming Events
January Commission Meeting

Friday
January 31
10:00 AM-3:00 PM

Coupeville LIbrary, Whidbey Island

February NWS Commission Meeting

Friday
February 28
10:00 AM-12:00 PM

To join the WebEx meeting, click here. Enter your name and email address and click "Join."

For audio conference, dial: 1-415-655-0001, access code: 808 743 589

WebEx

2020 NWS Initiative Retreat

Thursday-Friday
March 26-March 27