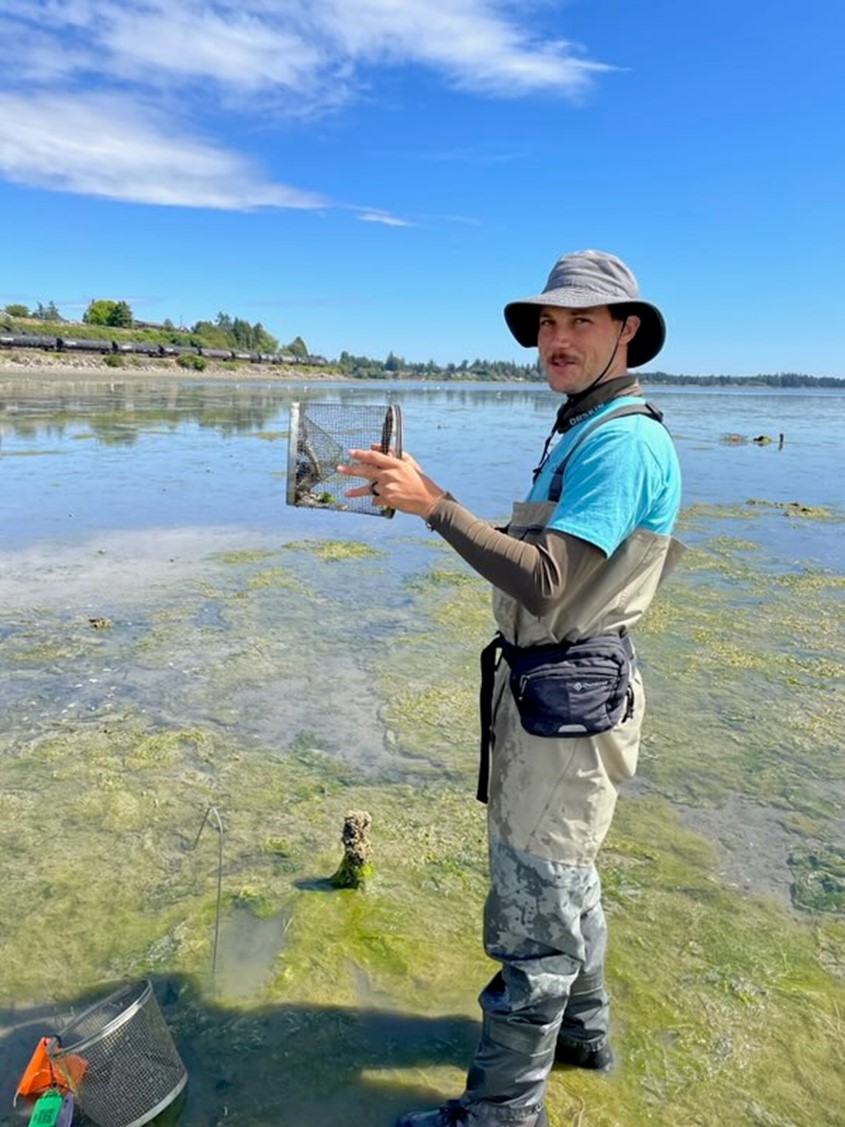 Congrats and thank you, Antonio!
As our invasive green crab trapping season wrapped up, we also said goodbye to our Marine & Nearshore Project Technician, Antonio Jones. The 2022 field season was the second year that Antonio joined us as a Veterans Conservation Corps member. His hard work and dedication contributed to setting thousands of traps and catching more than 300 European green crabs in Drayton Harbor near Blaine, WA during the 2022 season.
In addition to completing his work with the NW Straits Commission, Antonio recently graduated from Western Washington University with a degree in Environmental Studies. We wish Antonio all the best as he pursues a new career field in marine science!
We're hiring!
The Northwest Straits Commission is hiring a Communications Coordinator. Click here to learn more and apply. Open until filled.
The Northwest Straits Commission is a regional coordinating body comprised of people who care about the marine areas where they live, and who work together to protect and restore marine resources.
The Northwest Straits Commission carries out regional conservation projects and supports the work of seven Marine Resources Committees through funding, technical support, training and regional coordination.
Find us on:  Facebook   Twitter   Instagram   LinkedIn
More About Us and the Northwest Straits Region »
January 2023 Commission meeting
January 27
Member updates

Whatcom MRC

Many thanks to departing San Juan MRC members Carl Davis and Ivan Reiff, as well as Whatcom MRC's Eleanor Hines, who also served as chair of the MRC. We appreciate all of the time and dedication to the Salish Sea that each of you shared!

Interested in MRC membership? San Juan and Whatcom MRCs are seeking new members. Learn more at the links below:
San Juan MRC
Whatcom MRC

Coupeville Wharf video

Island MRC


Back in July, Island MRC worked with Sound Water Stewards, Atlantis Steam, and Blue Skies Drone to get video from above and below the Coupeville Wharf. The MRC helped to identify the underwater organisms found in the film and taught the Atlantis Steam students about the importance of our marine ecosystem.

The video covers topics like history and natural history of the local area and will be hosted and shown at the Coupeville Wharf. Click here to watch!

2023 Salish Sea Stewards

Skagit MRC

The Salish Sea Stewards is a volunteer program implemented by the Skagit MRC and Padilla Bay Reserve. After a free 40-hour training, Salish Sea Stewards pledge to complete 40 hours of volunteer work along the shores of the Salish Sea in one year.

Interested in becoming a 2023 Salish Sea Steward or know someone who might be? The 2023 trainings will be held Tuesday afternoons from February 7th to April 25th. Learn more and register for the training at www.skagitmrc.org.
Member Spotlight: Kelly Zupich
Island MRC
Kelly is passionate about the marine environment and her values and interests align well with the mission of the Island County MRC. For the last 7 years, Kelly has devoted most of her life to volunteering and working for local environmental organizations, such as The Guillemot Research Group and Sound Water Stewards of Island county.
Continue Reading »
Upcoming Events
January 2023 Commission meeting

Friday
January 27
10am

Click here for agenda and meeting materials. 

Join Zoom Meeting - click here


Meeting ID: 859 1356 5239

Passcode: 585868

February 2023 Commission meeting

Friday
February 24
10am-3pm

Check back for the agenda and meeting materials. 

Location: 

22712 6th Ave NE
Arlington, WA 98223

Stillaguamish Tribe Natural Resources

Northwest Straits Retreat

Thursday-Friday
March 30-March 31


Retreat for members of the Northwest Straits Commission. Location and agenda pending.