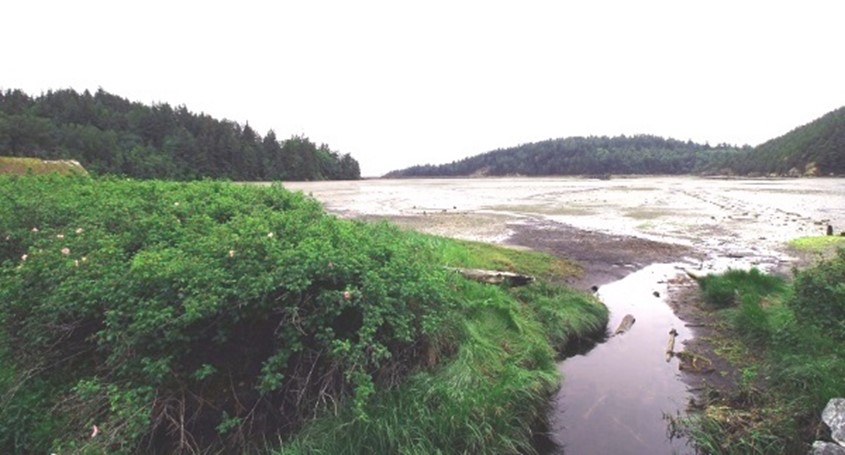 Whatcom MRC: focus on North Chuckanut Bay
North Chuckanut Bay has been closed to recreational shellfish harvest since the mid-1990s due to water quality issues, although the bay supports many species of clams. Five years ago, Whatcom MRC reinvigorated water quality work in the bay, with a goal of restoring the recreational shellfish area. Since then, they've done intensive water quality sampling in both the marine and freshwater, septic system evaluations, and increased community outreach.

The MRC's community outreach includes their most recent newsletter to the Chuckanut watershed neighborhood with information about the water quality sampling being conducted by the MRC, along with information on wildlife tracking, rebates for small farm improvements and septic system evaluations.

MRC staff and Whatcom County staff recently developed a comprehensive report of all of the efforts in the area to improve water quality, mostly by the Whatcom MRC, which was shared with the Washington Department of Health to help inform a discussion about potential next steps. The document describes water quality patterns, on-the-ground work completed, continuing efforts and other recommendations. Follow the MRC's progress on this effort on their website.
The Northwest Straits Commission is a regional coordinating body comprised of people who care about the marine areas where they live, and who work together to protect and restore marine resources.
The Northwest Straits Commission carries out regional conservation projects and supports the work of seven Marine Resources Committees through funding, technical support, training and regional coordination.
Find us on Facebook.     Follow us on Twitter.
More About Us and the Northwest Straits Region »
December Commission Meeting
December 06
WebEx
Raingarden success in Quilcene

Jefferson MRC

Jefferson MRC partnered with WSU Extension to install a new rain garden in Quilcene last month. Nine volunteers, including Greg Brotherton, one of the Jefferson County Commissioners and Cliff Moore, the new WSU Jefferson County Extension Director, joined the staff of both organizations to create a lovely new space where road runoff will be filtered and cleaned before entering a creek that flows directly into Dabob Bay. Students from the local school also joined for a brief hands-on class, in preparation for their work on another rain garden project on their school grounds later this fall.

This garden brings the total completed by Jefferson MRC and partners to 10 gardens installed covering nearly 8,000 square feet. Track the MRC's progress on rain gardens on their website.

Skagit students learn marine science hands-on

Skagit MRC

Skagit MRC's successful program to engage local students in research activities, "Kids on the Beach", continued this month with Conway School's 8th graders. One class spent their field day beach seining and looking at fish diversity and abundance, while another collected samples to look for forage fish eggs. Following their post-fieldwork classroom work, they'll be ready to present the results of their work at a symposium next month.

In addition to Conway kids, Skagit volunteers created a special one-day program for a 5th grade school group, who were able to try out forage fish sampling at Camp Kirby on Samish Island. The Kids on the Beach program is led by the Skagit MRC and supported by a fantastic and collaborative team of people and organizations.

A key to the success of the program is the volunteers who come out to share their expertise and help these emerging scientists on fieldwork days. As one shared after a recent day on the beach, "This added another great event with great volunteers to my list of many. I love to think that we made a difference in at least one little still-forming brain and nothing beats leading by example, which we do very, very well. Our group picture really says it all, those smiles are real and so is our love for these events...and it shows!"

Thanks to all who are part of this program! To learn more or find out how you can volunteer, check out their website.

Island MRC hosts creosote ID workshop

Island MRC

Island MRC hosted a creosote identification and reporting workshop on Whidbey and Camano islands this month, featuring an overview of creosote and its impacts on the environment, as well as tips to identify loose creosote-treated debris. Chris Robertson with Washington Department of Natural Resources presented to the group of 27 attendees.

Participants were introduced to the MyCoast phone app as a reporting tool, and had the opportunity during the workshop to try their skills in the field by identifying and reporting creosote on local beaches. MyCoast allows individuals to notify state resource managers about loose creosote by submitting reports, and 94% of attendees at Island MRC's workshop indicated that they plan to use the app to report creosote in the future.

Learn more about MyCoast at https://mycoast.org/wa, or download it from the iPhone app store or the Google app store.
Member Spotlight: Todd Woodard
Skagit MRC
Todd Woodard is a member of the Skagit MRC, representing the Samish Indian Nation, where he is the director of the Department of Natural Resources. Todd was born in Chicago and moved around the United States before landing in Washington in 2001. In high school, Jacque Cousteau inspired him to learn about the ocean and investigate a career as a marine biologist. A summer working at the Chicago Aquarium helped him learn about marine life, but a trip to the Florida Keys reinforced his desire to become an ocean advocate.
Continue Reading »
Upcoming Events
December Commission Meeting

Friday
December 06
10:00 AM-12:00 PM

WebEx