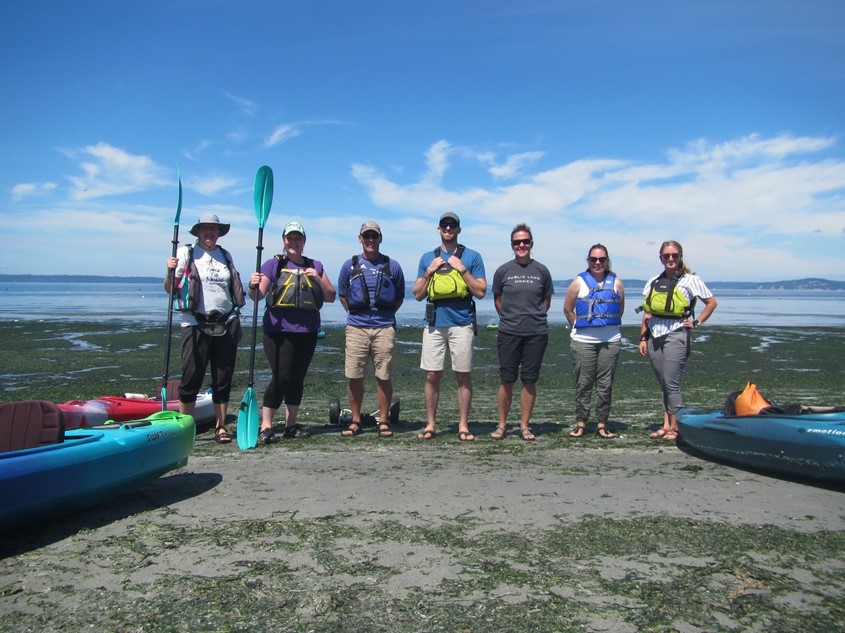 Summer kelp surveys
In August, the Snohomish MRC Kelp Team was joined by County Council Member Megan Dunn and her Legislative Aide, Paula Rhyne, to monitor bull kelp at their Edmonds site.
Marine Resources Committees in six counties participate in this effort to monitor how much kelp remains in the region and how it changes over time.
Learn more about the kelp monitoring project here. You can also view the collected kelp data in our SoundIQ web mapping application here. 
Photo left to right: Megan Dunn, Paula Rhyne, Tom Doerge (MRC member), Alex Pittman (MRC staff), Traci Sanderson (community volunteer; former MRC member), Brie Townsend (MRC member), Elisa Dawson (MRC staff).
The Northwest Straits Commission is a regional coordinating body comprised of people who care about the marine areas where they live, and who work together to protect and restore marine resources.
The Northwest Straits Commission carries out regional conservation projects and supports the work of seven Marine Resources Committees through funding, technical support, training and regional coordination.
Find us on:  Facebook   Twitter   Instagram   LinkedIn
More About Us and the Northwest Straits Region »
October 2021 Commission Meeting
October 29
Welcome Leah!

Northwest Straits

This month we are pleased to welcome Leah Robison as the Northwest Straits Commission Ecosystem Projects Assistant. Leah will be coordinating and providing support to various projects and programs such as green crab trapping and forage fish spawn monitoring. Read more about Leah here. 

Oyster check up

Jefferson MRC

Jefferson MRC members and volunteers spent some time out on the beach checking up on how their Olympia oyster restoration site fared after the summer heat wave. The MRC has worked on restoring these native oysters in Discovery Bay since 2013.

After monitoring the site and analyzing the data, they were relieved to see that the oyster population fared surprisingly well during the heat wave, with no significant die off and good recruitment from last year. Learn more about Jefferson MRC's Olympia oyster project here.

Clallam MRC Intern Celebration

Clallam MRC

Clallam MRC held their annual 2021 Internship Celebration recently to mark the conclusion of their summer internship season. The virtual format did not diminish from the attendees' enthusiasm and the impressive presentations given by the three students from the program.

Each delivered an overview to the group with data, pictures and summary findings from their respective field projects that they completed with an assigned mentor from the MRC. Click here to read more about Clallam MRC's 2021 interns.
Member Spotlight: Kelly Zupich
Island MRC
Kelly is passionate about the marine environment and her values and interests align well with the mission of the Island County MRC. For the last 7 years, Kelly has devoted most of her life to volunteering and working for local environmental organizations, such as The Guillemot Research Group and Sound Water Stewards of Island county.
Continue Reading »
Upcoming Events
October 2021 Commission Meeting

Friday
October 29
10:00 am-12:00 pm

Please click this link for virtual Zoom meeting access

Meeting ID: 838 9452 1362
Passcode: 216985

Dial in: #1-253 215 8782

 

2021 Northwest Straits Conference

Thursday
November 18
3:30pm-5:00pm

Our annual conference will be held virtually this year, as a series of four virtual informative sessions centered on climate change impacts and local action in the Salish Sea region. This is the first event in the series, open by invitation only to MRC members, staff, and other Northwest Straits Initiative participants. More information will be sent by email. 

Zoom

December 2021 Commission Meeting

Friday
December 10
10:00 am-12:00 pm

Zoom