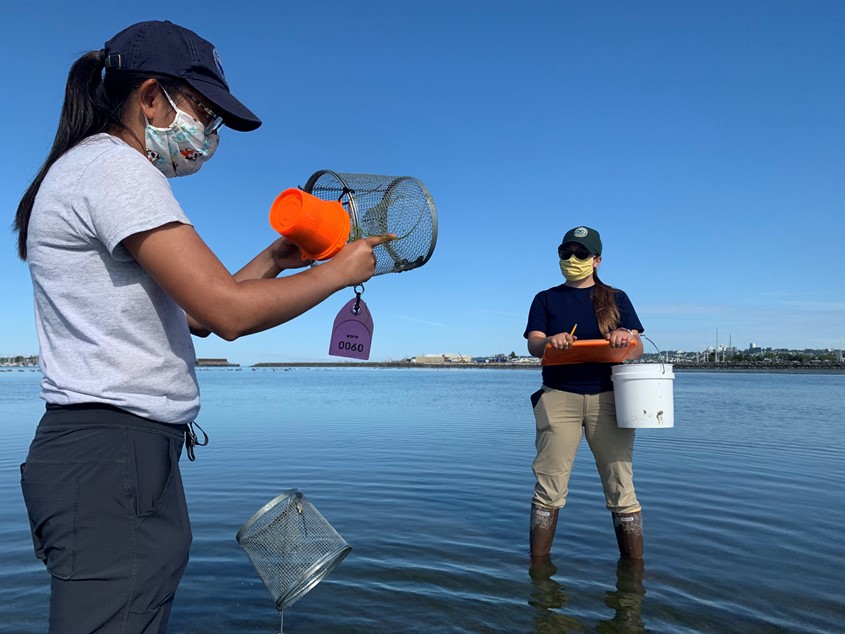 European green crab update
Considered one of the world's worst invasive species, European green crabs can cause a lot of ecological and economic damage. The Commission is excited to join a collaborative team with the Washington Department of Fish and Wildlife (WDFW) and Washington Sea Grant to continue their removal efforts in the green crab hotspot in Drayton Harbor, WA. The team has now found more than 90 green crabs in the area since trapping began in early June 2020.
All of those green crabs wouldn't have been found without support from others. Crew members from the Washington Conservation Corps and Puget Sound Corps have been instrumental in helping with trapping efforts around Drayton Harbor. With their help, the team was able to explore more potential habitat in Drayton Harbor and set more traps to remove as many green crabs as possible.
In coordination with the Whatcom County MRC, the Commission, WDFW, and WA Sea Grant will host a webinar about green crab management in Drayton Harbor on August 12 from 5pm – 6pm.
The Northwest Straits Commission is a regional coordinating body comprised of people who care about the marine areas where they live, and who work together to protect and restore marine resources.
The Northwest Straits Commission carries out regional conservation projects and supports the work of seven Marine Resources Committees through funding, technical support, training and regional coordination.
Find us on:  Facebook   Twitter   Instagram   LinkedIn
More About Us and the Northwest Straits Region »
August Commission Meeting
August 28
Zoom
Plastic Free Salish Sea Initiative launched!

San Juan MRC

San Juan MRC is focused on a vision of eliminating plastic waste in the county, and this month they've shared a great new community resource this month with the official launch of their Plastic Free Salish Sea Initiative. This initiative is spearheaded by the San Juan MRC, and they've partnered with organizations and individuals around the county to change the way we view plastic and to clean up local beaches.

Even if you don't live in or visit the San Juan islands, you can find useful information, resources and toolkits to consider for your own community. Check out the website at http://plasticfreesalishsea.org/

Planting a summer garden

Jefferson MRC

Summer is a great time for gardening - congratulations to the Jefferson MRC's for completing installation of their first rain garden of the year, located in the Cape George community. While community volunteers are usually involved in building the rain gardens, this installation was limited to staff out of COVID-19 safety precautions.

Advance planning for this rain garden also included a virtual training workshop for professional landscapers and master gardener level volunteers, as the MRC hopes to encourage more rain gardens throughout the local area.

Learn more about the Jefferson MRC's rain garden projects on their website at https://www.jeffersonmrc.org/projects/rain-gardens/

Clever COVID adaptations

Skagit MRC

Meet the newest addition to Team Forage Fish: a tool, seen in the picture above, affectionately known as the "Skagit Surf Smelt Survey Squad Socially Correct Sieve-Sloshing-Wand"! The name - and distance between volunteers - is thanks to the clever apparatus designed by super volunteer Tom Flanagan.

Forage fish spawning surveys are best collected and processed by a team of at least two people. Not only for the camaraderie, but because the process requires an extra set of hands to slosh the sieve while running water through the sediment sample to sort out the fine sediments and hopefully forage fish eggs.

This new invention allows these volunteer teams to get back on the beach and process their samples while staying safe. We're always impressed by the innovation and dedication of MRC volunteers. Great job!

You can't see it, but they are smiling behind those masks! Learn more about forage fish surveys here.
Member Spotlight: Linda Rhodes
Island MRC
Linda Rhodes, PhD, of Greenbank is a research microbiologist at the National Oceanographic & Atmospheric Administration's (NOAA) Northwest Fisheries Science Center in Seattle. She has conducted research in salmon infectious disease and immunology and in aquatic toxicology around Puget Sound since the mid-1970s.
Continue Reading »
Upcoming Events
Wednesday
August 12
5pm-6pm

Online event: Collaboratively managing the recent invasion of European green crabs in Drayton Harbor. Hosted by the Whatcom MRC and Whatcom Watersheds Information Network, with speakers from the Northwest Straits Commission, Washington Sea Grant and the Washington Department of Fish and Wildlife. Click here for more information. 

Register by August 11 at https://tinyurl.com/draytonharborEGC

Or click here to view livestream on Facebook. 

Online

August Commission Meeting

Friday
August 28
10:00 AM-12:00 PM

Click here to join the Zoom meeting.

Meeting ID: 848 8126 8274
Password: 880028
Dial in: 253-215-8782

For meeting security, you'll be placed in a waiting room before being directly admitted to the meeting.

Zoom

September Commission Meeting

Friday
September 25
10:00 AM-12:00 PM

Zoom