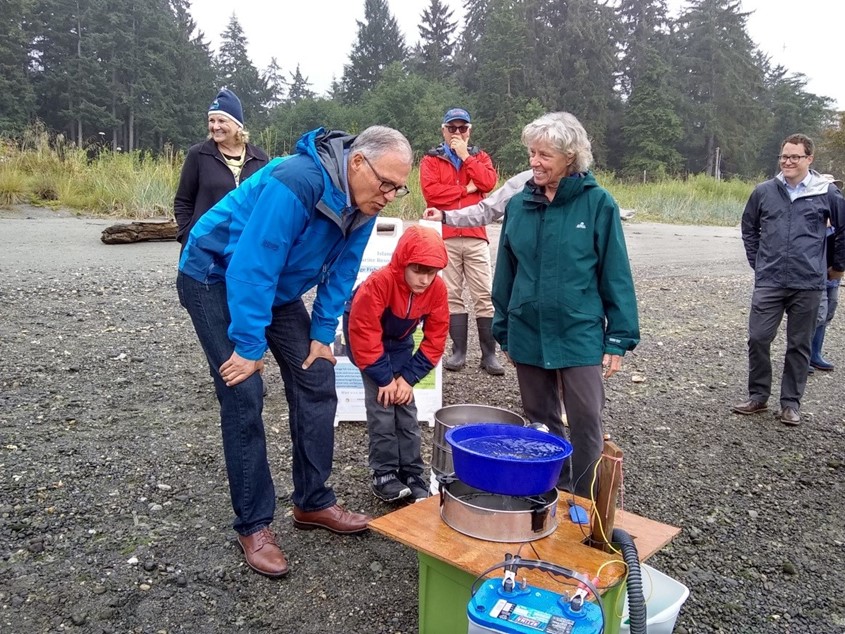 Governor Inslee visits Cornet Bay
Over 10 years of collaborative conservation at Cornet Bay recently caught Governor Inslee's eye, and on July 17th he joined numerous project partners out on the beach to learn how this project became a premier example of restoration in Puget Sound. Volunteers from Island County Marine Resources Committee and partner organizations described how hard shore armor removal and native plant restoration brought Cornet Bay one step closer to its natural state.

The tour also highlighted how monitoring forage fish and salmon are an important aspect of understanding the effectiveness of restoration actions. With 1,600 feet of shoreline restored along with two acres of natural beach and the first surf smelt spawning event in known history at the site, Governor Inslee walked away with an excellent understanding of how we can work collectively to achieve ambitious recovery goals for Puget Sound. To learn more about this work, click here.
The Northwest Straits Commission is a regional coordinating body comprised of people who care about the marine areas where they live, and who work together to protect and restore marine resources.
The Northwest Straits Commission carries out regional conservation projects and supports the work of seven Marine Resources Committees through funding, technical support, training and regional coordination.
Find us on Facebook.     Follow us on Twitter.
More About Us and the Northwest Straits Region »
September Commission Meeting
September 27
WebEx
Welcome, Clallam Summer Interns!

Northwest Straits Commission

Clallam MRC has kicked off their 2019 summer intern program, with a group of five enthusiastic interns joining the team this season. Sending a warm welcome and thanks to them as they take on some important local projects. 

Mark your calendar to join the MRC and community members to learn about their work at an Intern Celebration at Feiro Marine Life Center August 19, 2019 from 5:30-7pm!  Learn more about the program on their website.

The Commission gets a glimpse of the future

Northwest Straits Initiative

Our June meeting was packed with presentations on what is around the corner for 2020. Representatives from the MRCs shared just one of the many projects they'll be working on in their counties in the coming year.

Learn more about the work of the MRCs on our website.

MRC oyster projects featured in new Story Map

Back in 2002, Skagit MRC was one of the first organizations to take on the work of restoring native Olympia oysters in Puget Sound. Since then, several other MRCs and many other organizations have established projects up and down the West Coast.

A new Story Map published by the Tijuana River NERR through a grant from the National Estuarine Research Reserve Science Collaborative, highlights the many projects, including those being carried out by the Clallam, Jefferson, Skagit and Whatcom MRCs. Check it out here.
Member Spotlight: Franchesca Perez
Snohomish MRC
Franchesca Perez joined Snohomish MRC in 2011. She grew up near the beach and learned the hard way she needs quick access to the marine environment to be happy. Franchesca works as marine biologist for the Stillaguamish Tribe developing their Marine Stewardship and Shellfish Program.
Continue Reading »
Upcoming Events
Saturday
August 24


Save the date!

Fidalgo Bay Resort

Sunday
September 01
12:00 PM-1:30 PM

Join the Jefferson MRC  and wild edible and medicinal plants specialist Nancy Slick for a fun walk on the beach and learn about different kinds of seaweeds and shoreline plants (how they grow, edible and medicinal uses) as well as agates, common marine critters, and how to identify different kinds of shells.

 

RSVP required; program is free. 

Marrowstone Point Light House (Fort Flagler State Park)

Friday
September 06
10:00 AM-1:00 PM

 Join Island MRC and Skagit Fisheries Enhancement Group in maintaining their restoration sites.

Cornet Bay