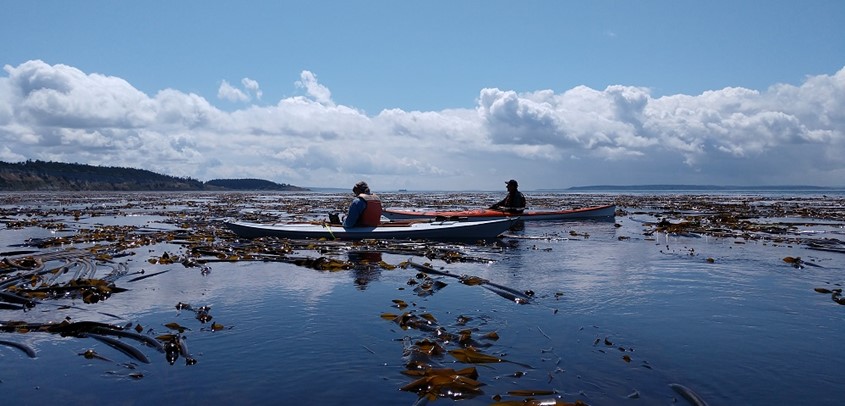 Mapping bull kelp forest canopies with aerial imagery
Kelp forests are a vital natural resource that provide critical habitat to a range of marine life, fix nutrients for nearshore food webs, and play a foundational role in shaping the ecosystems of Puget Sound. There is a growing concern that these forests are at risk of significant decline, and recent research has shown that areas such as South Puget Sound have lost most of their historic forest extent.
Many incredible projects are being conducted to monitor the distribution of kelp forests around Puget Sound, however additional data is needed to achieve the complete Sound-wide assessment necessary to discern long-term trends and identify areas that are declining and/or at the highest risk.
We're excited to share with you a new StoryMap about a recent collaboration between the WA State Department of Natural Resources and the Northwest Straits Commission. The StoryMap is about a project designed to assess whether drones and fixed-wing aerial imaging platforms would be suitable to complement the work of the volunteer kayak-based kelp survey program led by the MRCs. Check out the StoryMap to see the results!
The Northwest Straits Commission is a regional coordinating body comprised of people who care about the marine areas where they live, and who work together to protect and restore marine resources.
The Northwest Straits Commission carries out regional conservation projects and supports the work of seven Marine Resources Committees through funding, technical support, training and regional coordination.
Find us on:  Facebook   Twitter   Instagram   LinkedIn
More About Us and the Northwest Straits Region »
January 2022 Commission meeting
January 28
Zoom
Removing derelict vessels from the Snohomish estuary

Snohomish MRC

Snohomish MRC and Snohomish County have worked with the WA State Department of Natural Resources (DNR) since 2018 to support the removal of derelict boats from the Snohomish River estuary and Everett nearshore, addressing a pollution and habitat concern that has impacted the Snohomish River Estuary for years.

At the end of 2021 they wrapped up another season of removing vessels, with an additional four removals completed. Click here to learn more about derelict vessel removal operations in Snohomish County.

Creatures featured on local outreach cards

Clallam MRC

If you're out and about in Clallam County, keep an eye out for one of the MRC's creature feature outreach cards with fun facts about some of the marine species found in the area. The MRC hopes to use these cards to increase awareness about the vital role each species plays in the local ecosystem and share ways to help reduce impacts to marine life.

Climate change symposium series

Northwest Straits

We're halfway through our four-part symposium series focused on climate change in the Northwest Straits. These events are open to all members of the MRCs, but even if you aren't attending, the recordings are available to watch afterwards. Check out the first two at the links below:

Session 1: Recreation – Featuring Dr. Meade Krosby, Katelyn Bosley, and Janna Nichols on different aspects of climate change and recreation. Watch the recording here. A planned presentation from Amber Forest, the State Parks presenter who had to cancel due to flooding issues, is also available to view as a pdf here.

Session 2: Coastal Resilience – Dr. Ian Miller and Lisa Kaufman provided excellent presentations on sea level rise and coastal resilience. Watch the recording here.
Member Spotlight: Paul Dinnel
Skagit MRC
Dr. Dinnel is a specialist in the areas of marine ecology and toxicology, with a special interest in shellfish resources. Many of the projects that Dr. Dinnel has led have involved questions of water and sediment quality related to effluents, dredging and historical pollution.
Continue Reading »
Upcoming Events
Wednesday
January 26
3:30pm-5:00pm

Annual MRC Kelp Kayak Survey Update highlighting the kelp work from 2021. 

Click here to join the Zoom event. 

Meeting ID: 898 3383 5849

Passcode: 328478

Zoom

January 2022 Commission meeting

Friday
January 28
10am-12pm

Meeting materials and details will be added. 

Click here to join the meeting. 

Dial in at 253-215-8782. 

Zoom

Climate Change Symposium Series - 4

Thursday
February 17
3:30pm-5:00pm

Our 2021 conference will be held as a symposium series of four virtual events centered on climate change impacts and local action in the Salish Sea region. This is the final event in the series, open by invitation only to MRC members, staff, and other Northwest Straits Initiative participants. More information will be sent by email. 

Zoom