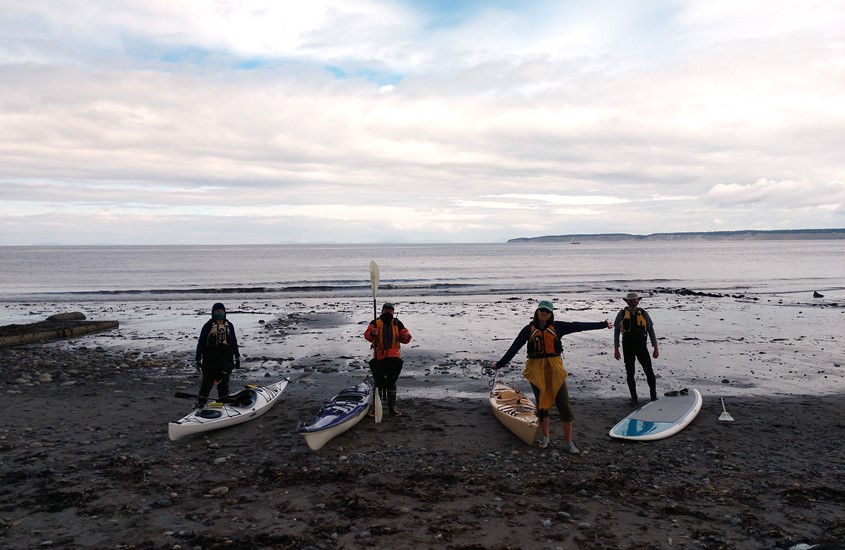 Preparing for a summer of bull kelp
Bull kelp is calling our MRCs back to the water. Spring is when we start planning for our summer of kayak-based bull kelp monitoring. In addition to regional meetings and safety discussions, individual teams of volunteers take to the water to have a 'dry run' to practice the monitoring protocols and train new and returning volunteers. Last week the Jefferson MRC North Beach monitoring team did just that. No bull kelp found at the surface just yet, but it is only a matter of time. Our bull kelp monitoring helps to fill a critical gap in our understanding of trends of bull kelp in the Northwest Straits region.
We are fortunate that kayaking lends itself well to maintaining safe distancing while still enabling small groups to get outside and work together as a team. Thanks to our fabulous volunteers for demonstrating safe on the water and on the beach best practices. All we need now are kelp themed face masks for #TeamKelp!
Learn more about our kelp program.
The Northwest Straits Commission is a regional coordinating body comprised of people who care about the marine areas where they live, and who work together to protect and restore marine resources.
The Northwest Straits Commission carries out regional conservation projects and supports the work of seven Marine Resources Committees through funding, technical support, training and regional coordination.
Find us on:  Facebook   Twitter   Instagram   LinkedIn
More About Us and the Northwest Straits Region »
June Commission Meeting
June 26
WebEx
Boating with whales

San Juan MRC

Vessel disturbance is a threat to the Southern Resident killer whales, so in 2018 the San Juan MRC launched a pilot study and outreach campaign to shift boater behavior. A whale warning flag was introduced as a prompt to alert boaters to the presence of whales, and project partners created materials to share dockside and at local and regional events to ensure that others knew what the flags meant.

After two years of the program throughout the summer boating seasons, the MRC has recently published a report about the effectiveness of the flag to raise compliance and increase awareness of the Be Whale Wise vessel regulations and guidelines for best boating practices around whales. Click here to check out the results of their pilot study and what they learned in their final report.

Anchor out for eelgrass!

Jefferson MRC

The start of summer boating season is always something to look forward to, perhaps especially this year when many other activities will be limited. In Port Townsend, a sure sign of boating season is when the voluntary no anchor zone buoys arrive to remind boaters to anchor outside the eelgrass beds. This week Jefferson MRC replaced those winter marker buoys with summer navigational buoys.

Eelgrass beds are home to salmon, crab, and other marine life, and in a popular anchorage like Port Townsend, frequent anchor dragging can add up to a lot of damage. In most cases, vessels only have to move offshore a few boat lengths to eliminate the anchor impact, and deeper water provides a better place to set an anchor than the softer sediment preferred by eelgrass, where boats are more prone to dragging and drifting.

Click here to learn more about Jefferson MRC's voluntary no anchor zones. 

Skagit Kids on the Beach

Skagit MRC

Social distancing guidelines have forced Skagit MRC to get creative with this year's Kids on the Beach program, which is being carried out by educators at Padilla Bay Reserve. Program leads have developed a curriculum that includes a mix of online and offline activities, including videos, games, coloring pages, science journals, and a list of questions. Educators have also developed and distributed a curriculum for students who are unable to access the internet. Nine classes with more than 200 elementary and middle school students from Sedro Woolley, Concrete, and La Conner in Skagit County as well as Friday Harbor, Mukilteo and Everett are participating.
Member Spotlight: Atina Casas
Whatcom MRC
Atina Casas has been a Whatcom MRC member for over 5 years. As a scientist, she values the opportunity the MRC provides to collect data about our local marine environment that otherwise might not be collected, and to share this information with the public and elected officials.
Continue Reading »
Upcoming Events
Virtual MRC Symposium: Session #4

Thursday
June 04
3:30 pm-5:00 pm

This is the fourth of a multi-part series called the Virtual MRC Symposium. Representatives from Clallam MRC will highlight projects, successes and lessons learned during this session. Register here. 

Virtual MRC Symposium: Session #5

Thursday
June 18
3:30 pm-5:00 pm

This is the fifth of a multi-part series called the Virtual MRC Symposium. Representatives from Snohomish MRC will highlight projects, successes and lessons learned during this session. Register here. 

WebEx

June Commission Meeting

Friday
June 26
10:00 AM-1:00 PM

 To join the WebEx meeting, click here. Enter your name and email address and click "Join."

For audio conference, dial: 1-415-655-0001, access code: 286 483 983

WebEx