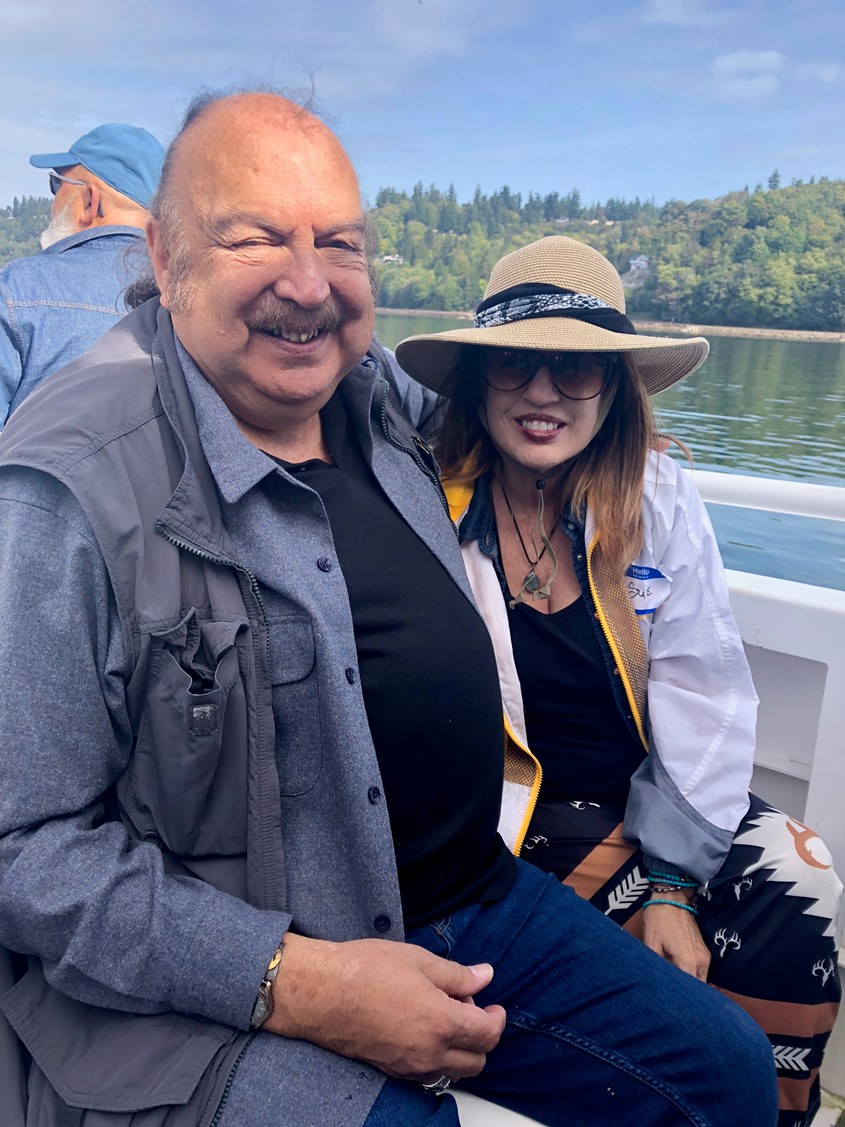 Snohomish Estuary Project Tour
In celebration of Snohomish MRC's 20th anniversary, a special project tour was arranged to showcase the success of restoration efforts led by the MRC. Northwest Straits Initiative members, project partners, funders and staff members of local elected officials were all on board for the tour to Howarth Park, Meadowdale Beach, Langus Park and Steamboat Slough on Wednesday.
The first stop was Howarth Park, where the group was able to see the result of tireless efforts to restore an area previously uninhabitable by forage fish and other wildlife. The goal of the project was to improve nearshore habitat at four locations along a 4.5 mile stretch of railroad impounded shoreline between Mukilteo and Everett, and the mission was achieved!
Tour attendees learned that the restored beach is home to four nourishment sites that benefit juvenile salmon and forage fish, as well as being a lovely place for the public to visit now. This wonderful success story demonstrates the importance of our collective impact on marine conservation and emphasizes the need to continue our work to conserve the Salish Sea.
To learn more about Snohomish MRC, visit their website.
The Northwest Straits Commission is a regional coordinating body comprised of people who care about the marine areas where they live, and who work together to protect and restore marine resources.
The Northwest Straits Commission carries out regional conservation projects and supports the work of seven Marine Resources Committees through funding, technical support, training and regional coordination.
Find us on Facebook.     Follow us on Twitter.
More About Us and the Northwest Straits Region »
December Commission Meeting
December 06
WebEx
Searching for Seaweed

Jefferson MRC

Jefferson MRC sponsored a 'Searching for Seaweed' beach walk over Labor Day weekend to highlight marine habitats and ecological connections through an informative program about seaweeds, sea grasses and other things we find on the beach. Over 30 people attended, which gave the MRC a chance to introduce themselves to a new audience, teach people a little about which species are edible, and also remind them about state seaweed harvesting regulations. If you weren't able to attend, you can still use their handy resource page and harvesting guidelines.

Learn more about the Jefferson MRC on their website.

Wrapping up another season of kelp

Northwest Straits Initiative

2019 marks the fifth year of kayak-based kelp surveys collected by MRCs in Island, Jefferson, and Snohomish. September is the last month of kelp surveys and as we begin reviewing data it is hard to stop daydreaming about warm summer days on the water paddling along kelp fronds. Did you know you can see our kelp data from previous years on Sound IQ? Make sure to check back soon for the 2019 data.

All smiles at the Wooden Boat Festival

Jefferson MRC

Jefferson MRC, WSU Extension and WA Sea Grant joined forces this year to host an engaging educational booth at the 2019 Wooden Boat Festival in Port Townsend. Kids loved tossing forage fish bean bags to "feed the salmon", while boaters were challenged to figure out what's wrong with an anchor sitting in (plastic) eelgrass or learned about resources for shoreline landowners or classes they could take. Thanks to all for contributing to this fun and informative event!
Member Spotlight: Dr. Megan Dethier
San Juan MRC
Dr. Megan Dethier is a Research Professor in the Biology Department at the University of Washington but is in full-time residence at the Friday Harbor Laboratories, where she is Associate Director for Academics and the Environment. She did her undergraduate work at Carleton College in Minnesota, then PhD work at the University of Washington. Since ~1978 she has been in working on the shoreline ecology of the Pacific Northwest.
Continue Reading »
Upcoming Events
Friday-Saturday
November 15-November 16


This annual conference celebrates the work of the Northwest Straits Initiative including all seven Marine Resource Committees.

*Invite only 

Courtyard By Mariott and Angel of the Winds Arena in Everett, WA

December Commission Meeting

Friday
December 06
10:00 AM-12:00 PM

WebEx