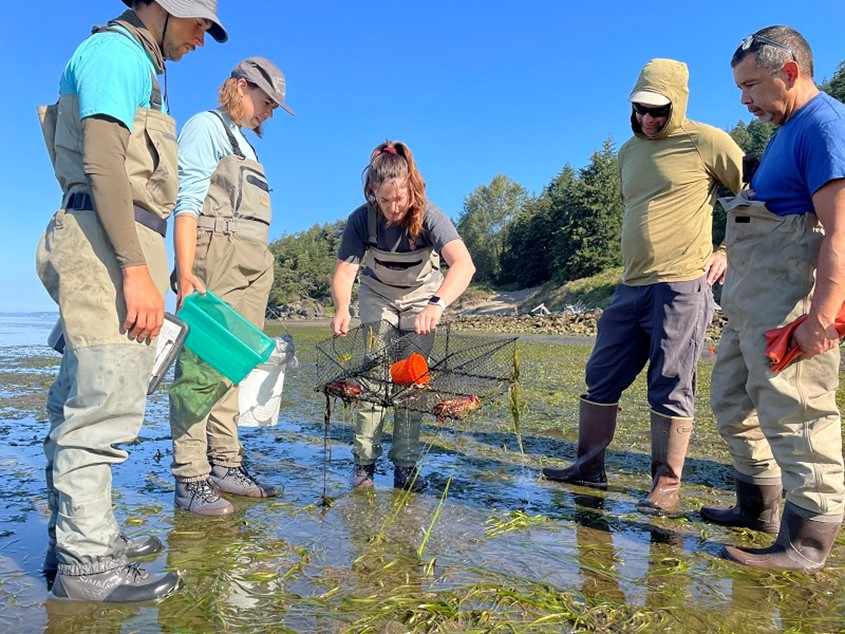 Expanding European green crab trapping through collaboration
Northwest Straits Commission staff recently helped coordinate two new collaborative European green crab trapping efforts in Skagit County.
August 10-11: NW Straits Commission, NW Straits Foundation, and Upper Skagit Indian Tribe joined forces to set 30 traps at Clayton Beach and the neighboring Upper Skagit land.
August 22-25: NW Straits Commission helped coordinate a European green crab trapping survey of Fidalgo Bay Aquatic Reserve.700+ traps were set by 23 trappers from 9 organizations: NW Straits Commission, Padilla Bay Reserve, Puget Sound Corps, Samish Indian Nation, Swinomish Indian Tribal Community, Veterans Conservation Corps, WA Dept. of Fish and Wildlife, WA Dept. of Natural Resources, and WA Sea Grant.
Fortunately, no European green crabs were captured during either effort! Click here to learn more about our green crab efforts.
The Northwest Straits Commission is a regional coordinating body comprised of people who care about the marine areas where they live, and who work together to protect and restore marine resources.
The Northwest Straits Commission carries out regional conservation projects and supports the work of seven Marine Resources Committees through funding, technical support, training and regional coordination.
Find us on:  Facebook   Twitter   Instagram   LinkedIn
More About Us and the Northwest Straits Region »
September 2022 Commission meeting
September 30
Jefferson rain gardens are growing!

Jefferson MRC

Jefferson MRC hosted summer gardening events to water, weed, and monitor the 16 rain gardens throughout Port Townsend that they have planted over the years. Rain gardens filter stormwater runoff to remove contaminants before water enters the bay. The gardens also provide an educational opportunity for community members through signage that explain why the rain gardens were installed, how they work, and who maintains them.

Volunteer maintenance includes weeding and mulching gardens to keep them thriving and functioning well. The MRC is also gearing up for installation of their newest garden later this month, planned for Port Hadlock to improve water quality entering South Port Townsend Bay. Click here to sign up to help plant the new rain garden. 

Fidalgo Bay Day fun for the family

Skagit MRC

Skagit MRC's 18th annual Fidalgo Bay Day at Fidalgo Bay Resort was a great success with 20 participating organizations and activities for all ages. The event kicked off with a welcome from Samish Elder Rosie Cayou James and remarks by Jay Lind from Skagit MRC. 

Crafts, interactive displays, and games drew people in to the booths, and a chowder competition among four local restaurants, Taylor Shellfish oysters, and a no-host salmon barbeque contributed a taste of the Salish Sea. Thanks to all the organizations and businesses that participated!

Read more about the event and watch for the next one on Skagit MRC's website

San Juan MRC shows off local conservation projects

San Juan MRC

San Juan MRC representatives recently hosted a site visit with Representative Rick Larsen at False Bay to share information with him about their work to conduct outreach to beach visitors about the biodiversity of the bay, why it is protected, the importance of eelgrass, and why visitors must keep their dogs on leash. The MRC also shared information about their monitoring efforts with Friday Harbor Labs, which is looking to better understand the growth of algae in the Bay.

Representative Larsen spoke with them about ongoing marine resource conservation projects in the area and the MRC discussed how their federal funding supports their local projects. Learn more about San Juan MRC's work in False Bay here.
Member Spotlight: Natasha Cuomo
Snohomish MRC
Natasha Cuomo was inspired to help restore and protect the environment after moving here from Macedonia and seeing the wealth of marine resources in the Pacific Northwest. She is a restoration ecologist representing the Tulalip Tribes on the Snohomish MRC. Her specialty is in restoring salmon habitat, especially Chinook and coho in estuaries and rivers.
Continue Reading »
Upcoming Events
September 2022 Commission meeting

Friday
September 30
10am

Click here for agenda and meeting materials. 

Join Zoom Meeting Click here

Meeting ID: 827 0526 3892

Passcode: 483535

 

 

October 2022 Commission meeting

Friday
October 28
10am

Check back for agenda and meeting materials. 

Join Zoom Meeting Click here

Meeting ID: 870 3181 3923

Passcode: 961546

December 2022 Commission meeting

Friday
December 09
10am

Check back for agenda and meeting materials. 

Join Zoom Meeting Click here

Meeting ID: 814 9176 3145

Passcode: 787870