Derelict Vessel Removed from Tribal Tidelands

FOR IMMEDIATE RELEASE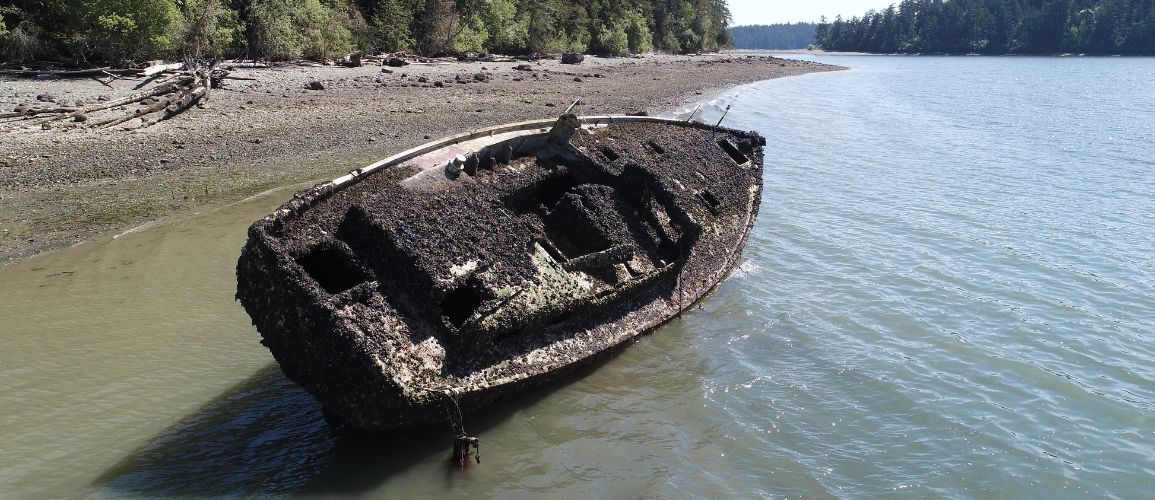 Windjammer, Similk Bay. Photo: Jason Thompson, Shoreline Specialist, Swinomish Indian Tribal Community
LA CONNER, WA – July 26, 2023 – The Swinomish Indian Tribal Community, Department of Natural Resources, and Northwest Straits Commission have teamed up in an innovative partnership to remove derelict vessels from Swinomish land.
Since 2009, a roughly 65-foot derelict sailboat, known as "Windjammer", has been abandoned and partially submerged along the intertidal waters of Similk Bay, Skagit County, north of the Kukutali Preserve on Swinomish Tribal tidelands. The vessel removal took place on July 20th, and all parties involved were excited to see it go.
 Similk Bay is an embayment of ecologic and cultural value supporting eelgrass meadows and forage fish spawning beaches. The Swinomish Indian Tribal Community and partners have also removed derelict crab pots and are working to restore a historic pocket beach at the head of the Bay.
"The tidelands north of the Kukutali Preserve represents some of the last remaining undeveloped shorelines on the Swinomish Reservation. Swinomish is thankful for the opportunity to partner with Northwest Straits Commission and the Department of Natural Resources to remove this abandoned vessel and restore the the tidelands to their historic condition. Ensuring a clean, healthy marine environment is critical to preserving traditional practices and protecting the Treaty-reserved rights of the Swinomish people," said Steve Edwards, Chairman of the Swinomish Indian Tribal Community.
"The intertidal area in this region is very rich in species diversity. Swinomish Fisheries has long known that this stretch of beach could serve as an important area for future bio-cultural restoration projects but our ability to move forward on those ideas has been thwarted by the presence of the derelict sailboat. The removal of the sailboat opens up opportunities for future work toward improving fisheries resources for the Tribe," said Julie Barber, Senior Shellfish Biologist with the Swinomish Tribe.
For over a decade, the Windjammer has slowly deteriorated and impacted access to Swinomish tidelands. Due to the Windjammer's vintage and size, it is presumed that asbestos-containing material, lead paint, and PCBs may be present and pose a risk to marine life and public safety.
Derelict vessels pose a significant threat to our coastal environments. These vessels not only deteriorate over time, leaking pollutants into the water, but they also obstruct waterways, endanger marine life, and diminish the recreational value of our coastlines. DNR currently has more than 300 vessels of concern identified for removal in Washington's waterways.
"We all share Washington's waterways, so we also need to share experience and expertise in keeping these vital habitats safe and clean. I'm proud to lend my agency's expertise in removing derelict vessels to this great project, and thankful to the Northwest Straits Commission for this innovative solution," Said Commissioner of Public Lands Hilary Franz.
Historically, derelict vessels abandoned on tribal tidelands have been ineligible for removal through the State Derelict Vessel Removal Program, which is set-aside for vessels on Washington State Aquatic Lands. This can put burden of removal on tribes when vessels are intentionally or unintentionally stranded tribal tidelands.
Removal efforts for the Windjammer were made possible when Northwest Straits Commission (NWSC) received congressionally directed funding in January 2023, selected as a funding priority by Senator Patty Murray. A portion of the funds are being directed towards derelict vessel removals by a collaborative working group made up by the seven county-based Marine Resources Committees (MRCs) and tribal partners within the Northwest Straits region. The partners compiled a prioritized list of derelict vessels within their communities where removals are likely to benefit the nearshore and marine ecosystems, treaty rights, recreation, and access. The Windjammer is one of two vessels identified in SITC lands that will be removed.
Federal funds have provided a unique opportunity for NWSC to form a collaborative team bringing together DNR to remove derelict vessels that have been prioritized by local MRCs and tribes.  
"After years of this vessel negatively impacting tribal access and marine ecosystems, we are thrilled to have worked with fantastic partners at the Swinomish Indian Tribal Community and DNR to remove the Windjammer from Similk Bay. A big thanks to Senator Murray for securing the resources that have helped foster this wonderful partnership," said Lucas Hart, Director of Northwest Straits Commission.
---
Partner & Contact information
Swinomish Indian Tribal Community
The Swinomish Indian Tribal Community is a federally recognized Indian Tribe with more than 1000 members. Swinomish is a legal successor to signatories of the 1855 Treaty of Point Elliott. Its Reservation is located 65 miles North of Seattle, Washington on Fidalgo Island.
Contact: Swinomish Media Response, Swinomish Indian Tribal Community,  media@swinomish.nsn.us
Department of Natural Resources - As steward of the state's 2.6 million acres of aquatic lands, the state Department of Natural Resources manages the Derelict Vessel Removal Program. Since launching the program in 2002, DNR has removed more than 1,000 abandoned or neglected vessels from Washington's waterways, making beaches, navigation channels and precious aquatic habitats safer and healthier.
Contact: Joe Smillie, Communications Manager, Washington Department of Natural Resources | 360-688-3392 | joe.smillie@dnr.wa.gov
The Northwest Straits Initiative - Is a community-led collaboration working to protect and restore the marine environment of northwest Washington. The NWS Initiative is made up of the NWS Commission, Foundation and seven local Marine Resources Committees. We protect and restore the marine environment of northwest Washington by collaborating with tribal, economic, recreational, and environmental interests in on-the-ground restoration, education, and monitoring projects. 
Contact: Jessica Owens, Communications Coordinator, Northwest Straits Commission | owens@nwstraits.org | 564-900-0575