Back to Our Work
Sound IQ
GOAL
The goal of SoundIQ is to make Northwest Straits Initiative data easily accessible and useful to a variety of users.
Overview
SoundIQ is the Northwest Straits Commission's web-based application to share data collected by MRCs and the Commission in an easily-accessible map format. MRC data on SoundIQ can be viewed in combination with complementary data from other sources.
How it works
SoundIQ incorporates data from all seven Northwest Straits counties. SoundIQ was upgraded to a software platform called Geocortex in 2015, which supports the system for use on mobile devices and improves use and access. 
What can you do with SoundIQ?
Learn about MRC projects
Find MRC data and reports
View and change visible map data layers
Print or share a map
Search and download data
Get inspired to fill additional data gaps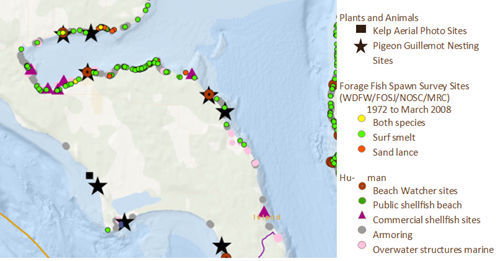 Click here for the step-by-step guide for navigating SoundIQ. 
SoundIQ is a partnership between Northwest Straits Commission, the Marine Resources Committees, Washington State Department of Ecology and the City of Bellingham.